Hi Everyone!
I wish you all a Happy New Year 2017.
I am delighted to announce that we finally released an eagerly awaited feature!
You can finally annotate your compositions.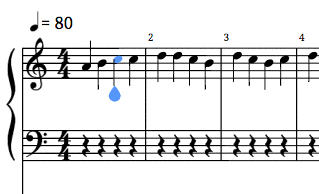 To welcome this new feature in the toolbar we created a new section called "Text" and we seized the opportunity to design great icons for this new section:


You can add them above or below the staff and write as much text as you want. Just keep in mind that the algorithm remains relatively simple so the more text you add, the more you might end up with elements overlapping ;)
I hope you will truly enjoy this feature and that it will help you out when it comes to performing and writing notes down on the go.
Best,
Pierre