Hello everyone,
Last year, we introduced the ability to create and save your own instruments in your account. From staves to transposition, this feature allows you to build your own configurations, save them, and re-use them in the sheet music you create with Flat.
Today, we are excited to launch the first update of custom instruments by adding fully customizable tablatures. You can now add and save your own TAB configuration to your custom instrument. We now support any tablatures between 4 and 14 strings, which means, for example, that you can now easily create TABs for a 7 or 8 strings guitar, your 5 strings bass, or soprano ukulele.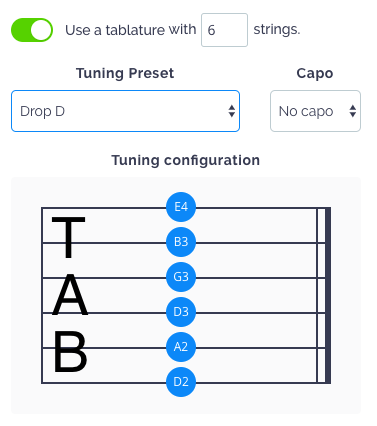 Create your own TAB configuration
To add a tablature to your custom instrument:
Go to your Account settings > Instruments,
Choose a base instrument or create it from zero, select the staves, clefs, and optional transposition settings.
Configure your tablature:

The number of strings (from 4 to 14),
The tuning of the instrument, using one of our presets, or directly on the TAB displayed,
Optionally the capo.

That's all! Use the newly created instrument in your any music score.
Like any tablature created with Flat, and whatever the number of strings or the tuning, we always keep the logic and synchronization between the music notation and the TAB. This means you can quickly switch from one TAB configuration to another, and we will automatically update it for you.
Drummers you are next
We also have great news for the drummers: we will soon add custom unpitched instruments on Flat. This new feature will give you the possibility to freely create your own drum sets: choosing the different elements, their mapping in the staves and keyboard shortcuts.
To learn more about custom instruments and these new features, check out our dedicated help. If you have any feedback or questions, please contact us!
Cheers,
Vincent & The Flat Team