We've released a functionality that enhances the social aspect of Flat, and we think that you'll find it useful!
Notifications
Before today, every action you or one of your collaborators did on Flat was "silent". If you shared a score to a friend, a mail was sent to him, but he couldn't see it on Flat without reloading his scores list. The process was slow and annoying for an user waiting for a specific action from his collaborators.
With this upgrade, we removed a few steps so that everything feels smoother to everyone and to save you some time!
Now, when someone makes an action that concerns you, the notifications icon, constantly available in the top bar, will get its red dot, telling you that you got a new notification.

If you click on it, you will be able to see what it is and to access content if there's one.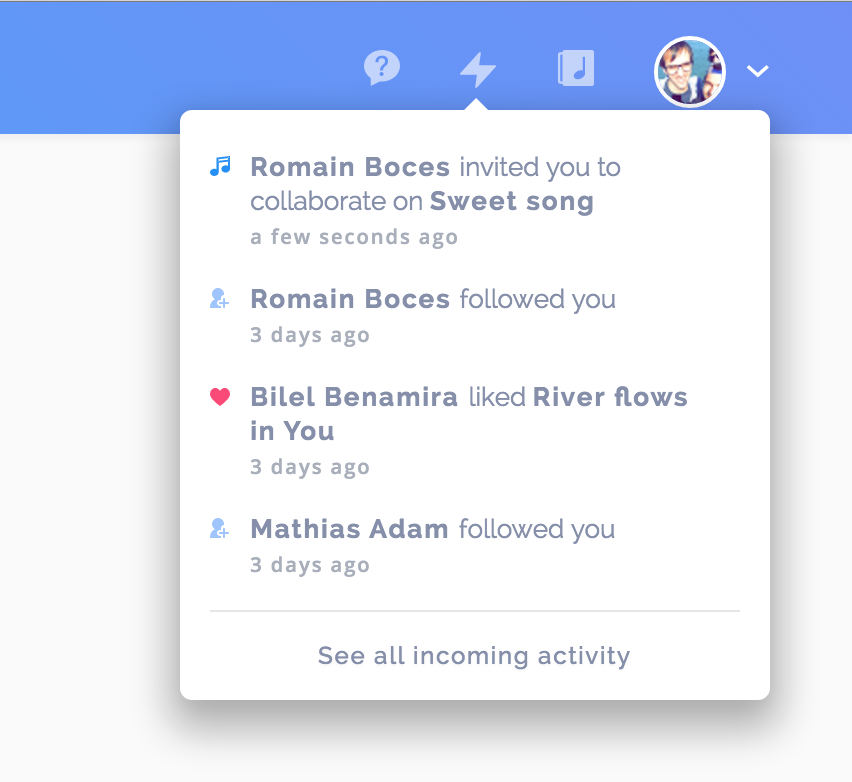 Moreover, if you receive a notification but you're not looking at Flat, you'll notice that the Flat icon in your browser gets its little dot too!

Push
Related, but somehow different, new elements and updates will be pushed to your browser automatically. For instance, let's say that someone shared a new score with you and you're waiting for it in your scores, no need to reload, it will be pushed to your page instantly!
I hope you'll like it, feel free to drop us a word if you do (and if you don't too!)!
Thanks,
Julien