Hello everyone,
We hope this start of the year is well on track for you. At Flat, we released many updates this month, and I would like to share some of them with you today:
Flat for Education
Assignments
We have added new features around the assignments to make the teaching easier.
Cover images
Now you can add some cover images for all your assignments. When creating or updating an assignment, you can use the default covers, upload a picture to use as cover, or choose a beautiful photo from Unsplash.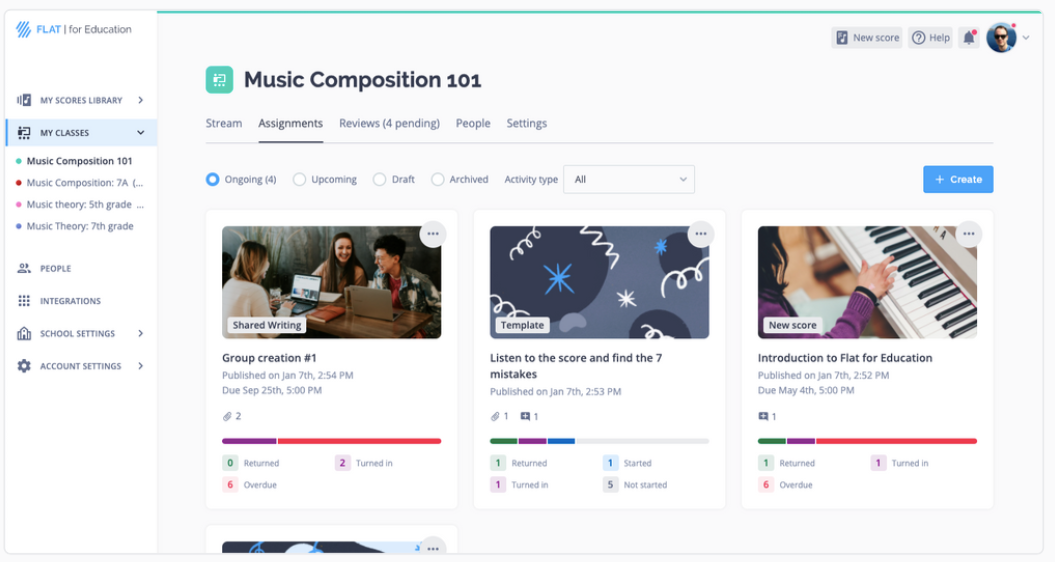 What is more, when viewing the assignments list, you will now have the number of unread comments from students as well as shortcuts to their work when clicking on the different labels ("Turned in", "Started", etc.).
Enhanced filters
Now you can  filter the assignments by type (scores or worksheets). Also, the "ongoing" filter now includes the different assignments your students see, including the ones with a past due date.

This new feature will save you some clicks when reviewing your students work.
Enhanced list of students
The new page for the assignments list now includes custom images & additional information from your students:
The state of their assignments (e.g. Not started, Started, Turned in, Returned/Graded)
Their grades
Information about late assignments
Unread feedback from their teacher(s)

Export your grades as Excel files
A few months ago, we added the ability to export your grades as CSV files. To save you some clicks when opening these files, you can now directly export those files as Excel spreadsheets.
Both formats are now available when you click on "Export grade" on an assignment page: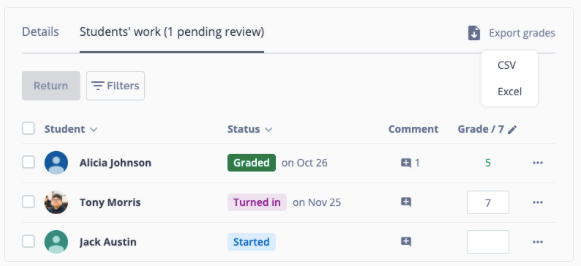 "View as student" feature
This is one of the most requested features for Flat for Education! Now with just one click, you can view the assignments with a testing student account.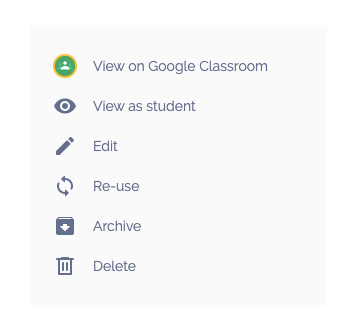 Automatically accept scores invitations
Shared scores will be available in the users' accounts without having to manually approve each invitation. This can be enabled school-wide, saving time for both teachers & students. If you choose to disable this feature, you will receive notifications to  manually accept an invitation to join a shared score.
Personal accounts
Scores sharing
This new feature makes it easier to deal with unsolicited invitations to join collaborations. Now you can accept or ignore invitations to join scores on Flat: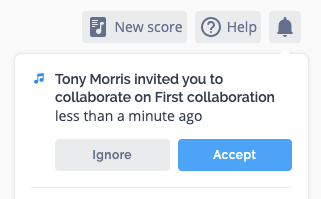 You can accept or ignore the invitations when you receive email or in-app notifications.
iOS app
New keyboards options
We have these new keyboards options to change how notes names are displayed: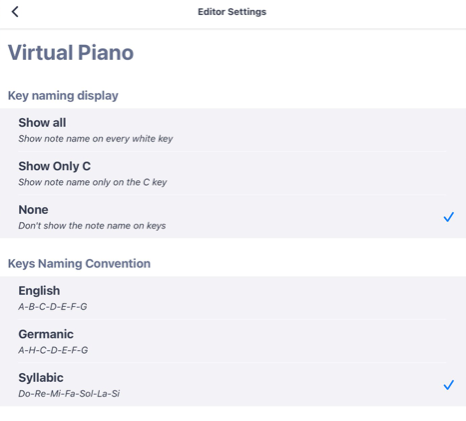 What's next?
We continue to work to improve our platform and these are the upcoming features & updates:
The multi-measure rests in the editor
Hiding empty staves
Rhythm exercises for the worksheets (Flat for Education)
Other news
Besides the updates, we have a couple of other news to share with you.
We wrote two articles that may be interesting for you, in case you haven't yet read them:
The team
🎂 This month Priscila - Product Designer - and Rebeca - Community manager & support - celebrated their first year in Flat!
🇯🇵 Eri - Country Manager Japan - has joined the team.
Community
We have opened new channels in our social networks for our community in Japan! Not following us yet? You can follow us on Twitter & Instagram.
Any feedback?
If you have any questions, feedback or suggestion for our product team, please reach us: hello@flat.io
Have a great day!