"Learning to play music, listening to music, teaching music enables us to connect to our humanity, creativity, expressive capacities.  Students, young, and of any age learning to play an instrument or to write music can invent their own creative world."
These are the words of Julie Leven, Founder & Artistic Director of Shelter Music Boston. Shelter Music Boston is an organization committed to opening up the frontiers of classical music, bringing it to homeless shelters and substance misuse recovery centers.
"We believe all people deserve access to the dignity, creativity, and passion of classical music."
Julie has a strong belief that music can create social change, especially in environments of great need and vulnerability. This is why the organization delivers monthly chamber music concerts to Greater Boston homeless shelters and substance misuse recovery centers, providing classical music as a social service.
"My own experience of playing concerts in homeless shelters has documented that live concerts can inspire hope. More than once an audience member, facing poverty, homelessness, addiction, social isolation, and trauma has told me that hearing a classical music concert in the shelter might have saved a life!"
How did all this start?
It all started a long time ago.

Julie started studying music at nine. Something about the violin, maybe the beauty, the expressiveness & depth, was calling her. That call lasted forever. The emotional and inspirational power of music made her realize that music can and does change a person's life. Her empathy and sensitivity led her in 2009 to put her musical talent to the service of others. After 25 years of experience in the great concert halls of the world and commercial recordings, she decided to create a nonprofit NGO staffed by professional musicians to deliver the beauty of music to people in vulnerable conditions.
The first concert
According to Julie, the first concert was a total revelation. The level of appreciation from the audience was uncanny.
"Performing in environments of great need is a natural evolution of the role classical music should fill in modern society. To have a positive impact on the life of a homeless individual by playing my violin is to honor classical music and the dignity of all people"
What about the covid situation?
A noble cause does not stop under any circumstances. The organization continues to move forward with its project. Due to the pandemic, the concerts are now being delivered virtually, until the conditions allow for face-to-face concerts. As all Shelter Music Boston musicians are paid for their work to provide concerts of the highest artistic standards to sheltered and recovering individuals, SMB artists are some of the very few classical musicians working in the US at this time.
"As of 2021 Shelter Music Boston has delivered over 600 concerts of music by 280 composers to thousands of the most vulnerable citizens of our city. ​ As of May 2020, Shelter Music Boston has created virtual partnerships with our longtime partners and the new organizations listed below.  All of those organizations are now receiving our monthly virtual concerts"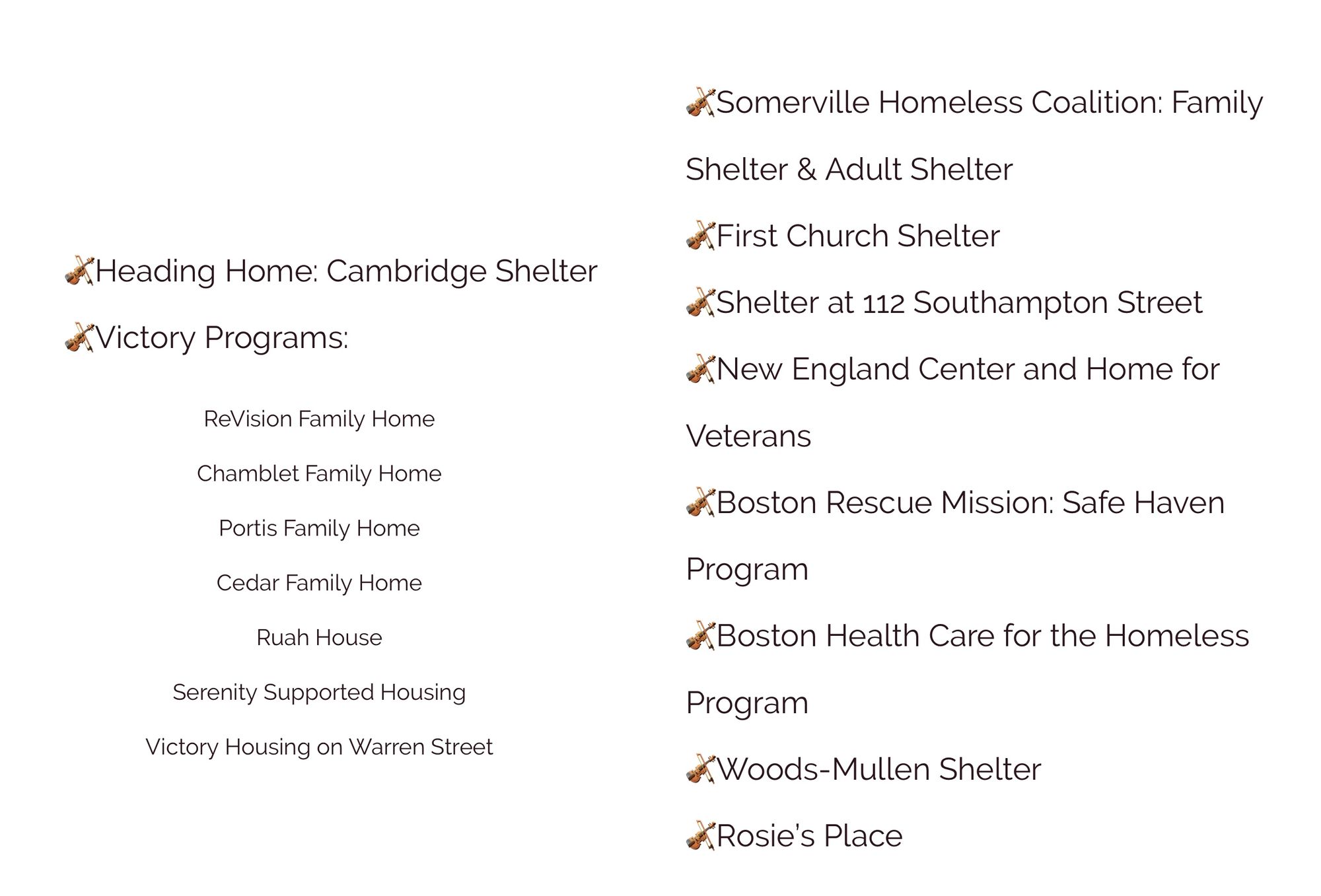 Would you like to hear those beautiful concerts? Subscribe to the Shelter Music Boston YouTube Channel!
You can imagine how surprised and pleased we were when we learn that Julie is part of our Flat community!
"I reached out to FLAT because I needed to create parts from a musical score. I learned that the score I was using had been generated with FLAT software in use at Chinle High School, in Chinle Arizona, on the Navajo reservation. I am collaborating with students at that high school who are all participating in the Native American Composers Apprentice Program and learning how to write string quartets. Music written by these young composers will be recorded by Shelter Music Boston musicians and then delivered virtually to the organizations listed above."
I think the fact Julie involves young high school students in this project is invaluable. Learning and connecting with our social context is vital during the education process of children. Those things enable empathy, which is fundamental to building a better society.

Thank you, Julie, for being part of our community, for bringing hope into the lives of vulnerable people, and for making the world a better place!
About Julie Leven:
She is a professional violinist and Founder & Artistic Director of Shelter Music Boston.
She is a graduate of the Boston University School of Management Institute for Nonprofit Management and Leadership, and a graduate of Oberlin College and Conservatory with degrees in English and Violin Performance.  She is a member of the Handel + Haydn Society Orchestra and the Boston Pops Esplanade Orchestra. She has been a member of the Jerusalem Symphony, and the Aarhus Symfonieorkester in Denmark.  You can hear her as a soloist on the Boston Baroque recordings of Handel Opus 6 Concerti Grossi, the Grammy nominated performance of the Monteverdi Vespers, and the recording of Geminiani Concerti Grossi.
International music festival appearances:
BBC Proms in London
Casals Festival in Puerto Rico
Edinburgh Festival
Haydn Festival in Eisenstadt Austria
Crakow/Warsaw Beethoven Festival
US music festival appearances:
Aston Magna Festival
Cactus Pear Music Festival
Colorado Music Festival
Scrag Mountain Music
Tanglewood.