Hi everyone,
I am super excited to announce our latest update of Flat for Education, our dedicated music notation product for schools and teachers.
First, thank you for your feedback during the past few years. This update includes hundreds of improvements based on your comments and suggestions. We have been working on this one since last Summer, and today we would like to highlight some of the biggest changes that are now available.
Regarding this release schedule: we will progressively migrate all the schools to this version. If you have an admin or a teacher account, you can enable this update today in 1-click in your Flat for Education account. Otherwise, your account will be automatically updated on May 24th, 2020.
This update doesn't affect the content or assignments you already created on Flat for Education. You will get an improved interface with your existing content.
The complete documentation for this latest version is available on our website and our team is always available if you have any questions or feedback.
New navigation
The first thing you will notice is the new navigation. We completely redesigned the web app navigation to make it faster to use, more consistent across our education platform, and more accessible for all your devices.
Education accounts now have their main navigation on the left of your screen. This one allows you to quickly jump between classes and your scores library.
Classes have a more accessible navigation right under the title with useful information for teachers.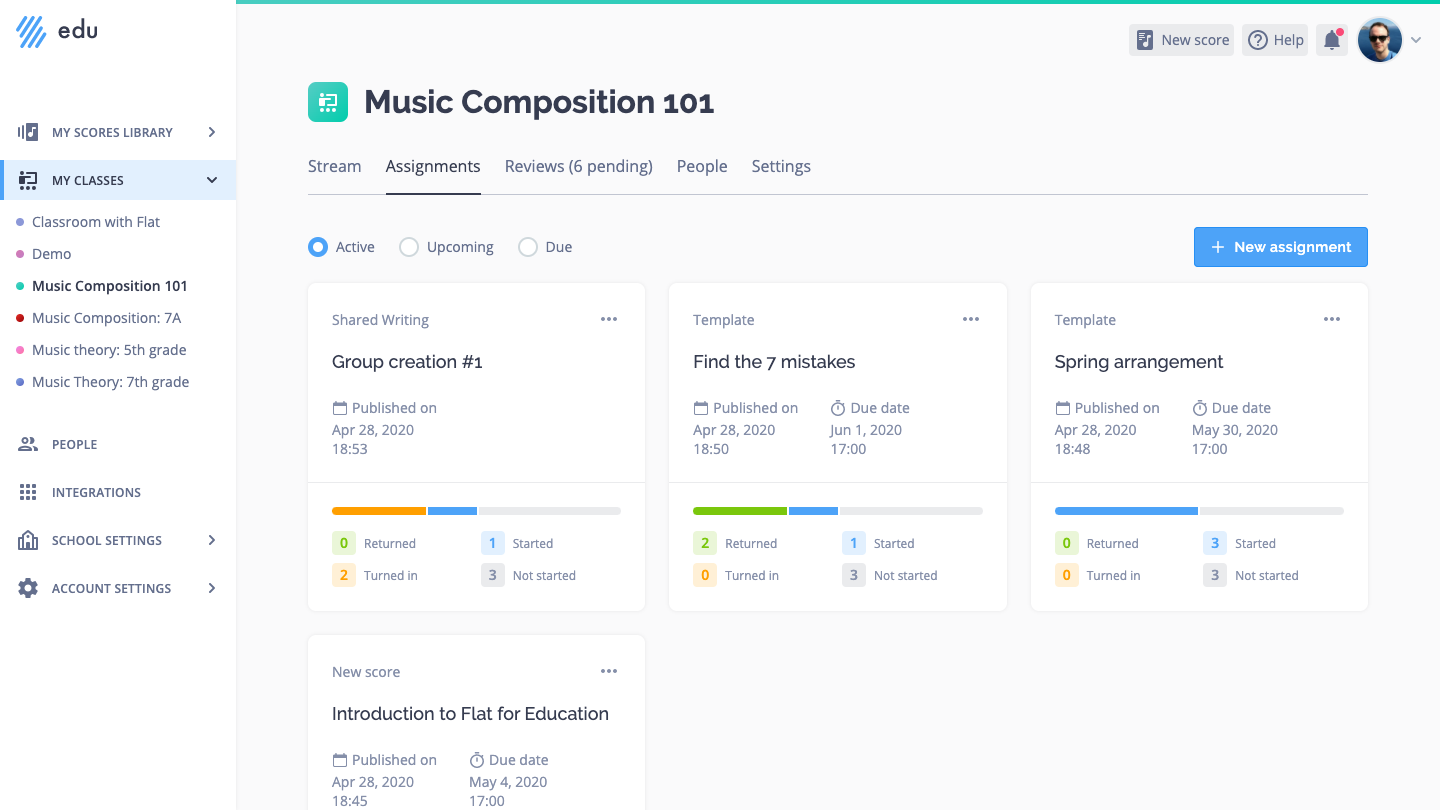 New accounts management and setup pages
On your left navigation you now have a link to a brand-new "People" page to manage all the Flat for Education accounts from your organization.
This new page includes more information (classes and last activity), better search engine, new filters (by role, classes, and license), and sort options to make the management of Flat for Education accounts faster and more convenient.
All our education accounts now have optional first names and last names, which makes it easier for educators to sort lists of students across our app. This information is automatically available if you are using Google or Microsoft accounts with Flat for Education.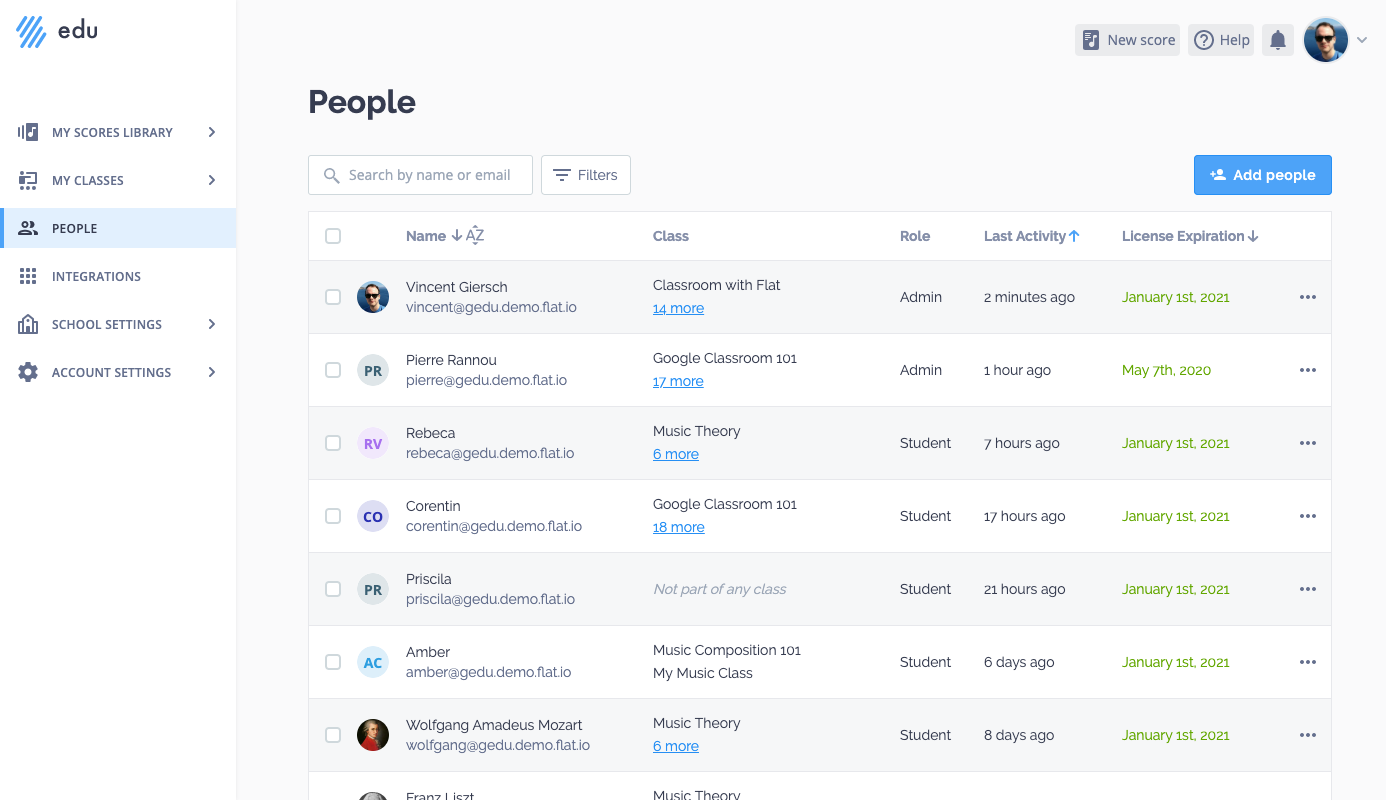 With a growing number of options, we also completely redesigned the setup screens for our education app. They are more personalized based on the apps and LMS you use with Flat for Education.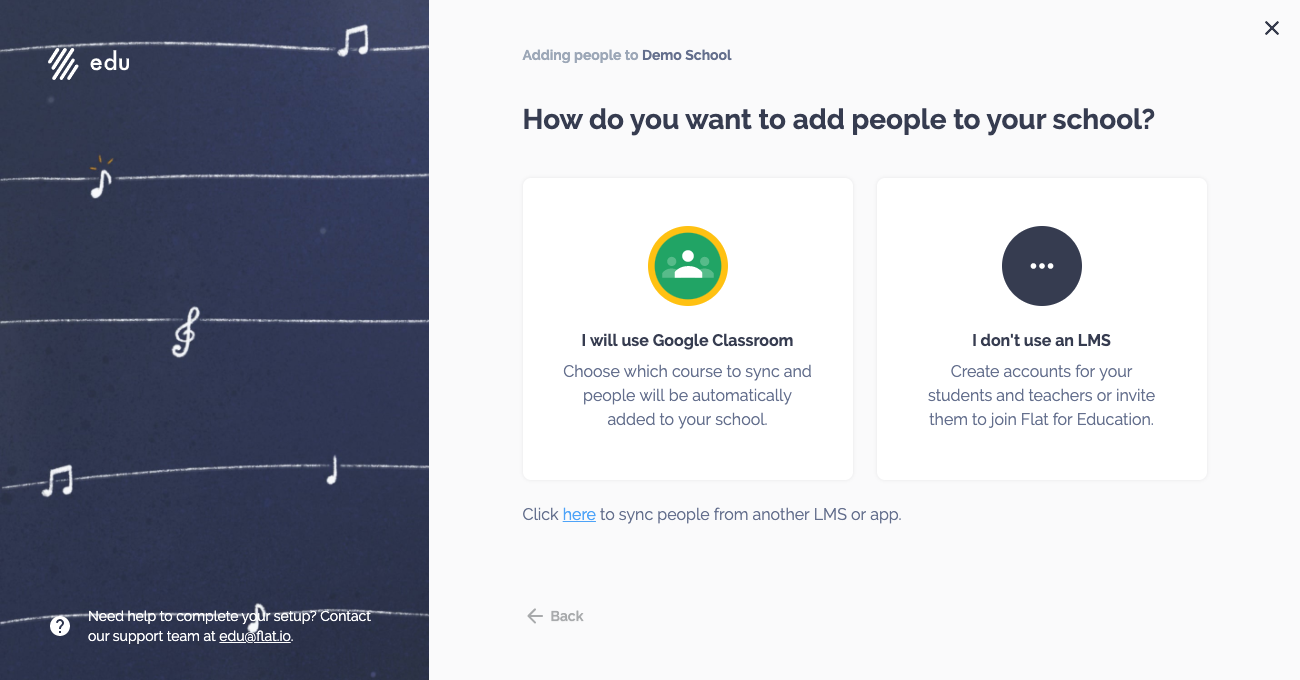 Google Classroom and Microsoft Teams users can now quickly add and synchronize multiple classes at once, and now have a unified experience to add classes from both products.
The manual creation of accounts has also been drastically improved, especially the import of CSV files that comes with a better column matching.
Support Microsoft Teams classes roster sync
We are releasing a new integration with Microsoft Teams: you can now synchronize the rosters from your Teams Classes. In a few clicks, you will have all your Flat for Education accounts ready-to-use and share your first Flat assignment. Learn more in the following blog post.

Assignments updates
This new release also includes many improvements on our different assignments' pages.
First, we completely streamlined the assignment creation interface, especially around the different assignments' modes. These modes are always now clearly displayed for teachers, from the creation to the list of assignments.

If you are using Google Drive, you can now add Drive files to your assignments and posts, even if you are not using Google Classroom. When creating an assignment, at the instructions step, click on "Add file" and pick up the file from your Google Account or upload a new file. Next to this button, you will also find a new "Add link" button to quickly embed or link any webpage into your assignment page.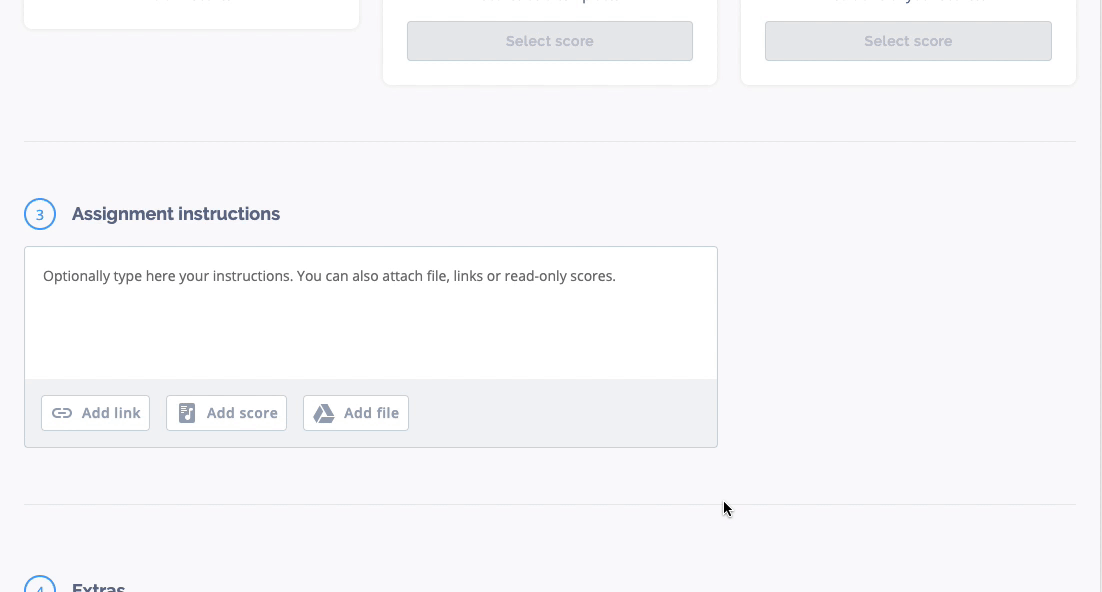 As you may have seen in a screenshot above, the assignments list now includes an overview of your students' work. This allows you to quickly see the activities your students have been working on, and which you can send some feedback.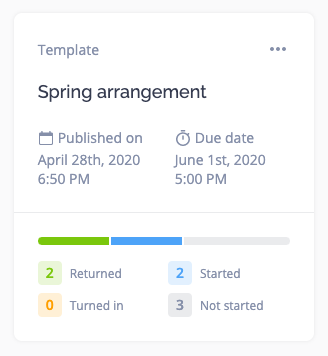 Your assignment view now displays a list of all the students who are part of your class, including the ones who have not work on the activity yet.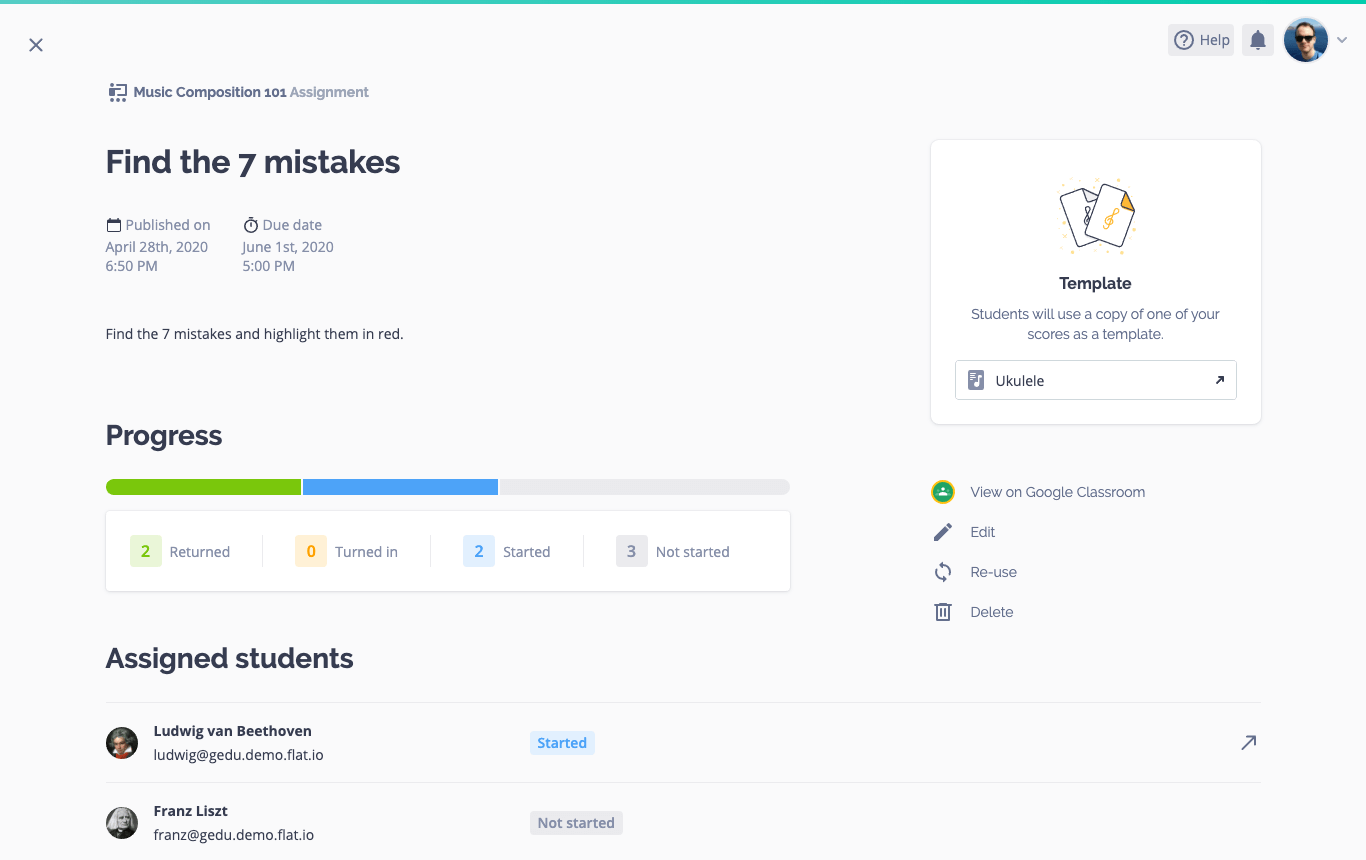 The assignment view also has improved for students: they can directly manage their submission, send existing scores or extra scores. Some specific use cases have been drastically improved. For example, if you add multiple templates to an assignment, your students will clearly see an ordered list with your templates: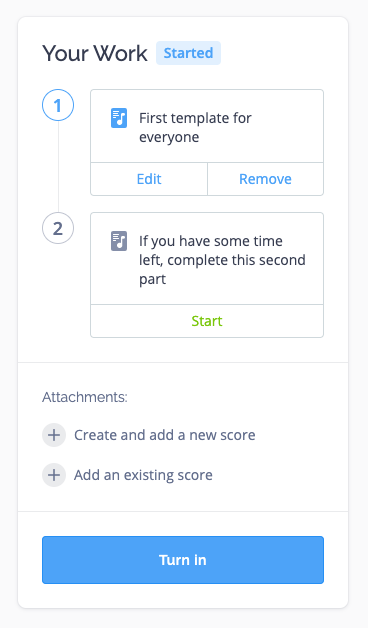 Finally, you now have a brand-new reviews page with a way to display all the work your students turned in for all the assignments of your class (Learn more).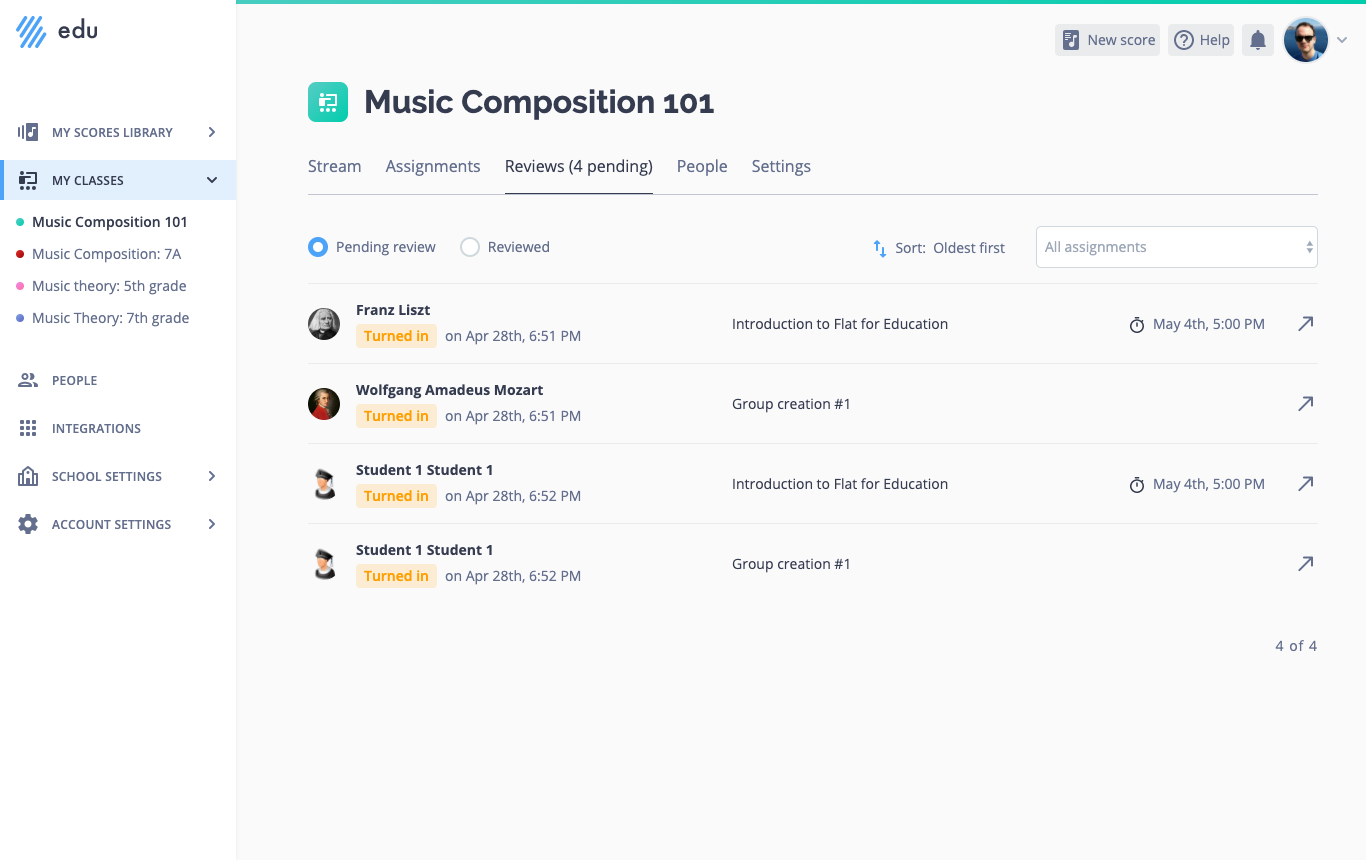 What's next?
If you have a Teacher or Admin account, you can now enable this update in your account when you want. Otherwise it will be able for everyone on May 24th, 2020.
If you have any feedback, questions, or suggestions, please send us a quick email at edu@flat.io, we are available for you anytime.
Our product team is now working on future education updates, we will back before the Summer with new surprises for you!
Vincent & The Flat for Education Team