We interviewed several teachers who use Flat for Education in their daily work. Each discussion was rich, and so we wanted to share their knowledge to help you get the most out of the platform and take your classes to the next level.
👀  Did you know that Flat for Education has a Google add-on?
Challenge: how to efficiently use Music Snippet, the Flat for Education add-on.
Music Snippet was created to help music educators design engaging resources, worksheets, presentations, and even quizzes. The tool makes it very easy to integrate music notation and tablature into your Google Docs and Slides. Users who chose to connect their Flat for Education account will be able to access the entire notation editor as well as save and edit scores.
But how exactly does this Google extension work and how can it be used by music educators and students?
A time-saver for Google users
Without question, this tool is extremely useful for Google users as it allows teachers and students to insert music notations directly into documents and slides without leaving the application. No more need to open a program, create a file, take a screenshot, and copy it into your documents.
This app is easy to insert into documents. It is simple and clear! Not too many buttons to get confused with, even for younger students!
By the way, did you know that Flat for Education seamlessly syncs with Google Classroom?
The features that integrate directly with Google Classroom are solid gold for teachers. THANKS!
Learn how to integrate Flat for Education with Google Classroom in this short video.
2. What can I create with Music Snippet?
We were extremely glad to talk to Ms. Hoover, who advocates for students' voices in the music room and strives to empower students throughout their musical experiences. She also spends time helping teachers transform their classrooms into student-centered learning environments!
Lately, she has been using Flat for Education's add-on and shared some creative ways she's used the product.
Here are the different assignment ideas she shared with us:
Create rhythm flashcards in Google Slides
Create worksheets in Google Docs containing both text and notation
Use Google Slides to display and project a daily rehearsal plan containing notated warm-ups
Have students compose simple melodies or rhythm patterns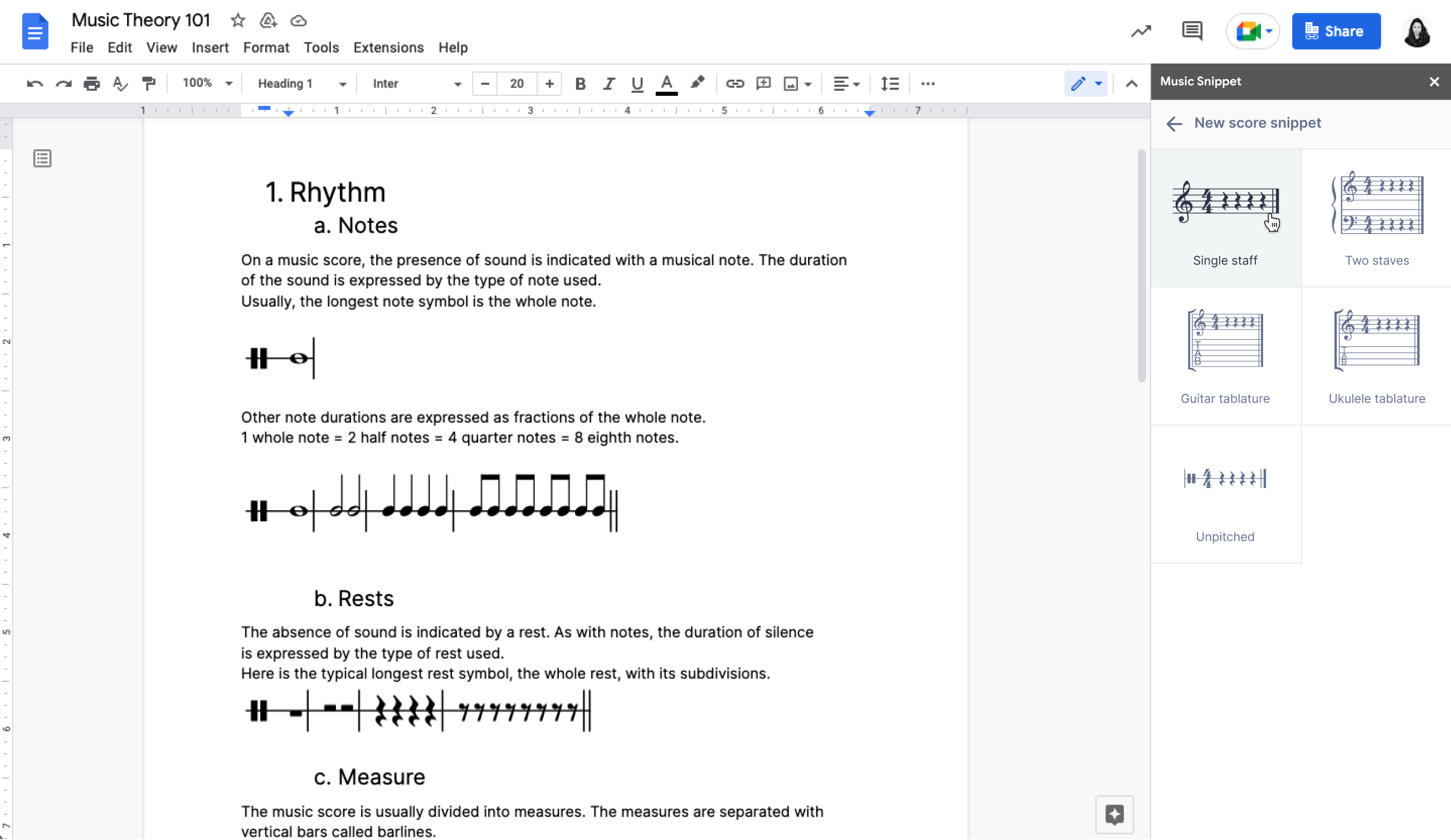 3. How to access Music Snippet?
Music Snippet is intuitive, easy to use, and accessible to all. Here is how to download the add-on and get started!
In Google Slides or Google Docs, go to your add-ons menu and select "Get Add-Ons".
Search for "Music Snippet" and install.
When you are ready to use Flat for Education, return to your add-ons menu to select "Music Snippet" and "Open Music Snippet", from there you can start creating!
Once you've finished creating, select "Add snippet to document" to insert your composition as an image within a document.
Flat for Education users can connect their account to the Music Snippet add-on, allowing them to use the full Flat for Education editor. Additionally, this will allow users to edit compositions and save them in their library.
Results
✅ Access all of Flat for Education's editor functions
✅ Create engaging assignments and worksheets
✅ Insert scores into documents & slides
✅ Access all of your scores created on Flat for Education through Google Slides & Docs
Let us know if there is anything we can do to make your experience better – your feedback is always appreciated. And if you would like to share creative ways you've used Flat for Education and Music Snippet with your students, please reach out to edu@flat.io!