TLDR: Flat is a cloud-based music notation software created early 2015. We offer an easy-to-use interface that gives the ability to composers from all over the world to collaborate in real time on the same creation.
This new version is a radical technological update that makes the service faster, more reliable and much easier for us to maintain.
Here is the complete changelog.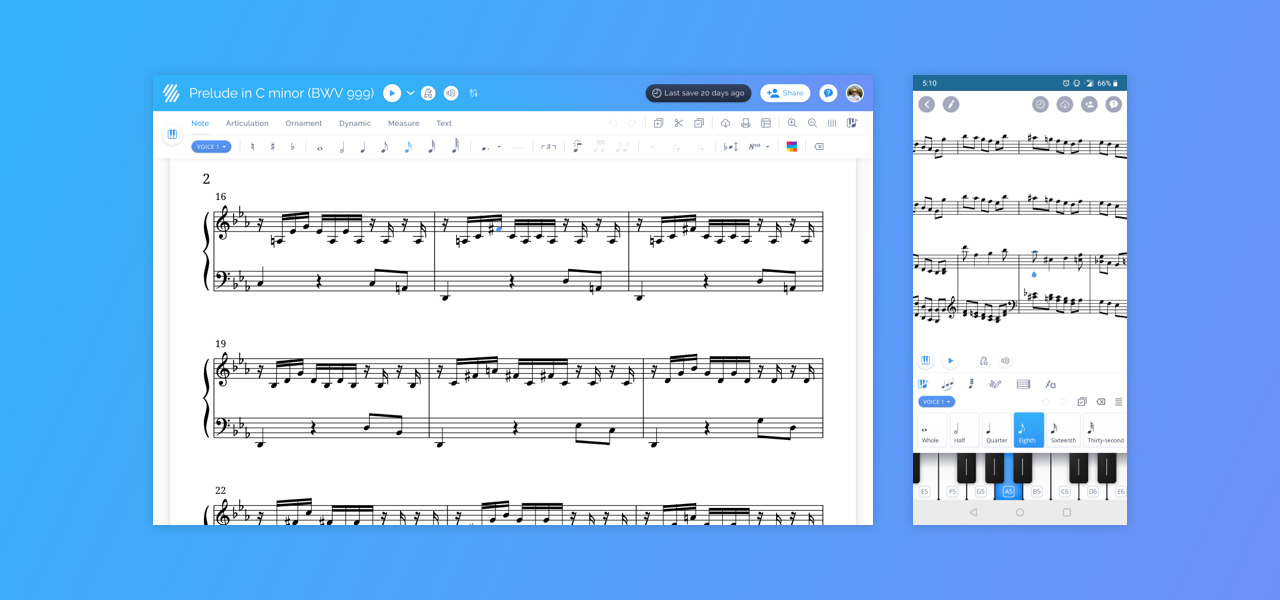 Hi Everyone,
I am super excited to announce that the biggest product update we've done so far is finally available to all!
You can access it directly from your library, it's now the new default version. The old version will remain available for a month.
You can find a complete breakdown of all the new features here.
A Better Faster Stronger version
Nine months ago, we made the decision that in order to keep improving the platform and the user experience, our core tech needed to be entirely reworked.
Based on all our knowledge and following a constantly growing number of suggestions, we started to update our code. We quickly noticed that we were mostly rewriting everything from the ground up instead of just updating things. It was clear that it would take us much more time than we initially planned. We chose to stop adding new features and update the product to focus on this brand new version with 3 key points in mind:
Improve the user experience to make it even easier to use.
Make this interface light enough to be loaded on low-power mobile devices and to be super fast on laptop & desktop computers.
Be sure that your data is always safe wherever you are composing, offline or not. If a bug ever happens we can ensure that it will never happen again thanks to much better organization of our quality assessment.
Three months ago, we finally launched a beta version and started to collect feedback from our power user community. We would like to thank them all for their support and amazing commitment. This major version makes Flat the fastest and most intuitive online music notation software on the market.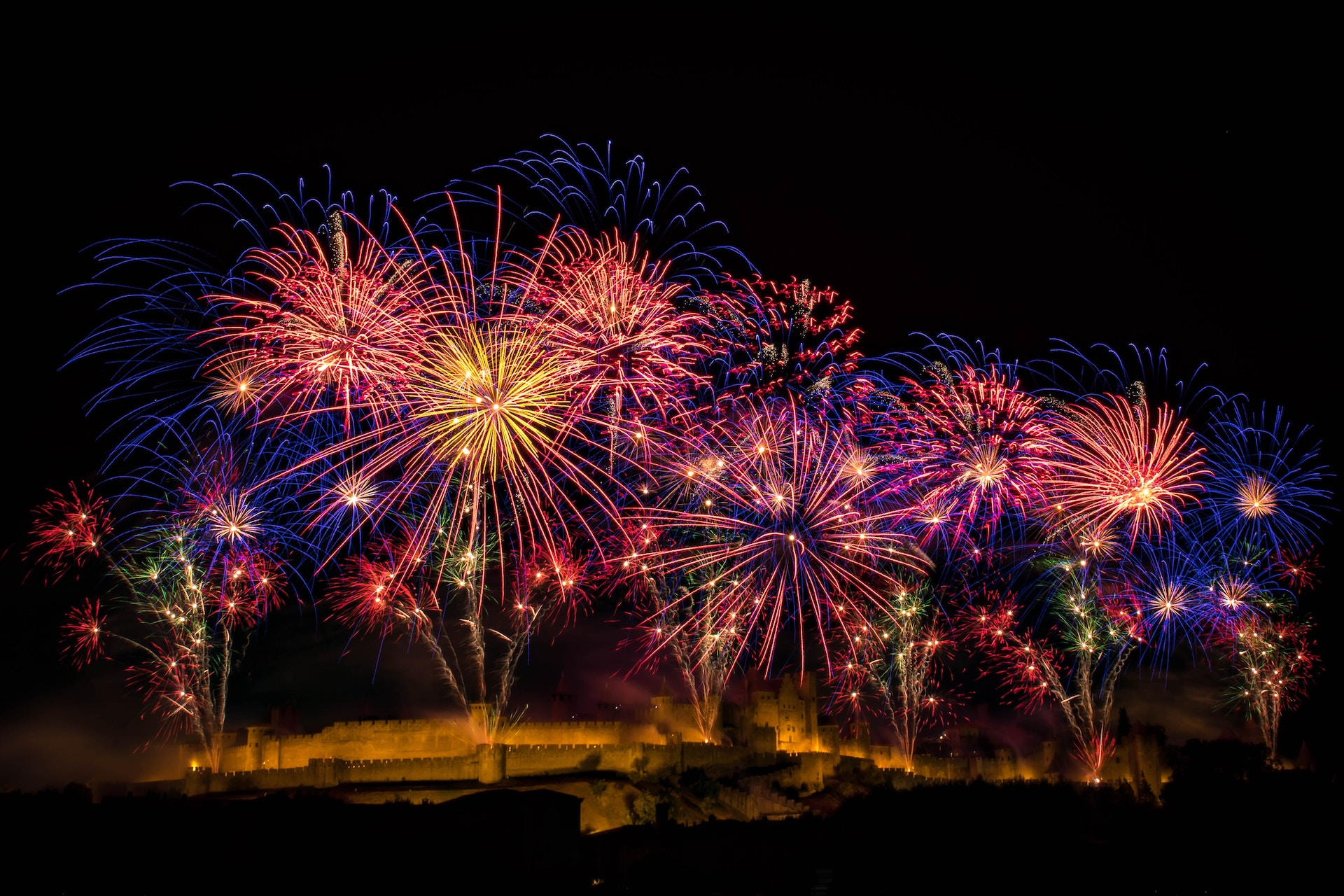 What's inside this new version?
I won't go through all the different features we updated or created since @Vincent already wrote a complete feature breakdown
You can find below a few of the most eagerly awaited ones:
Complete and interactive interface
You don't have to find a tool in the toolbar anymore: you can directly click on all the elements from your score to directly in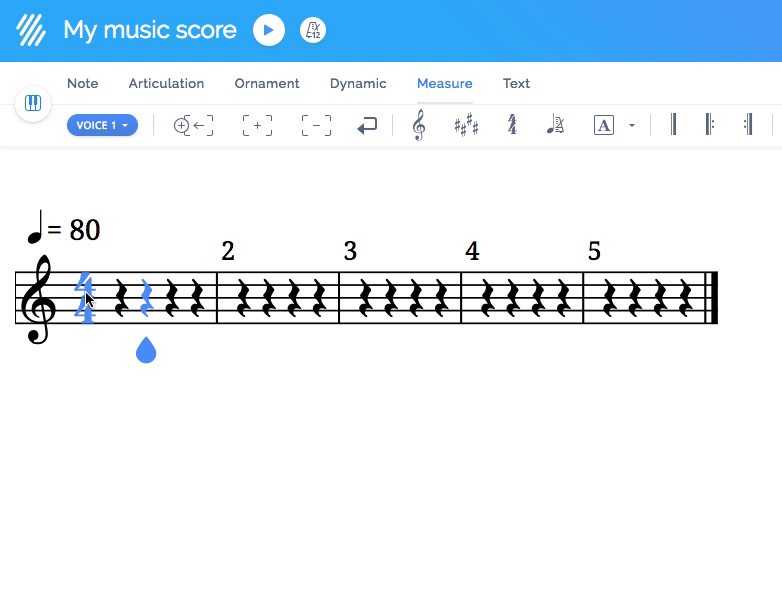 or-new-popovers.gif)](/p/29bd51c9-5d3c-4328-9861-0f36c7231c8b/#saygoodbyetothedialogsinterfaces)
Pick only the parts yots-select-parts.png)](/p/29bd51c9-5d3c-4328-9861-0f36c7231c8b/#choosethepartsdisplayed)
Beaming policy
You are finally able to decide how your notes are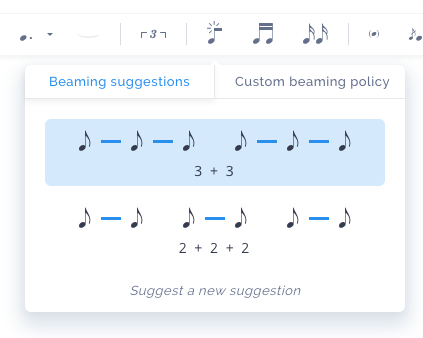 /beaming-policy.png)](/p/29bd51c9-5d3c-4328-9861-0f36c7231c8b/#beaming)
Notes' head colors and shapes
Whether you want to follow the Boomwhacker notation or want to easily color notes' heads, it's now super easy and straightforward as you can see in the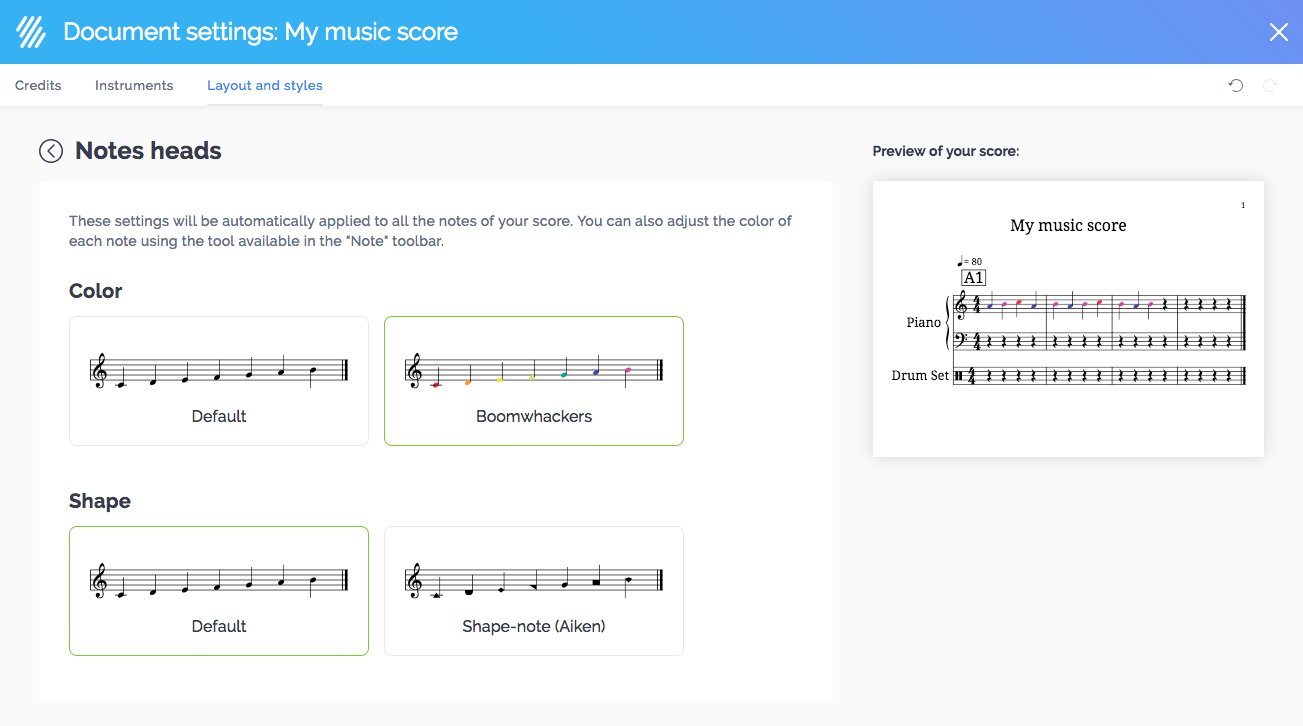 modes-noteshead.png)](/p/29bd51c9-5d3c-4328-9861-0f36c7231c8b/#notesheadscolorsandshapespremium)
Tuplets, Guitar Tuning and Capo, Custom instruments, Transpositions... there is a lot to discover about this outstanding update!
Web Mobile
We built a dedicated mobile web version inspired by our native iOS app. We made sure that it runs smoothly on any kind of touchscreen device to allow you to always compose on the go.
To build the best line of products that fit your musical needs
Now that we released this major update across all our products, I am really excited to say that we will be able to more quickly add new features and music notations in the product.
Our Education platform will be completely updated over the next 3 months to best support music teachers from all over the world.
Our iOS application also benefits from this update and becomes the most advanced free music notation application available in the App Store.
Our Embed is even easier to integrate into your blogs and websites.
Thank you for your patience and support
We received thousands of bits of feedback with outstanding comments that permitted us to accomplish all this. We are super grateful to all of you. We also reset all free trials to allow everyone to try out all the new features.
Please keep sending us your feedback and suggestions at hello@flat.io, we love to hear from you.
None of this would be possible without you!
With love <3
Pierre & The Flat Team