Hi everyone,

The trumpet is a versatile instrument known for its distinctive timbre, making it a prominent figure in a range of musical genres. One crucial skill to acquire for any trumpet player is proper trumpet fingering: knowing how to position your fingers on the instrument to produce the correct notes and enable different musical expressions.

In this article, we will delve into trumpet fingering and how to it can be incorporated in Flat's music notation software.

What is Trumpet Fingering?

Unlike instruments like the piano or guitar, where notes are created by pressing keys or strings, the trumpet changes its pitch through a combination of valve settings and lip techniques. Trumpet fingering refers to how you place your fingers on the valves to produce different sounds.
The trumpet valves

The trumpet typically has three valves (in some particular cases, they can have four). When you press these valves, it changes how the air moves inside the trumpet, making the notes higher or lower. Each valve is connected to a different part of the trumpet, and so when you press them, the instrument makes different sounds. By using different combinations of valves, you can navigate the different notes in the chromatic scale.

Trumpet Fingering Chart

Understanding the fundamental trumpet positions is crucial. That's why we've put together this chart featuring the trumpet's key fingerings.
How to read a trumpet fingering chart


The trumpet has three valves: 1, 2, and 3, as seen in the image below. 

The fingering chart signals which valves you should press using numbers. The possible combinations are:

0 = no valves are pressed
1 = valve 1 is pressed
2 = valve 2 is pressed
3 = valve 3 is pressed
1 2 = valves 1 and 2 are pressed
1 3 = valves 1 and 3 are pressed
2 3 = valves 2 and 3 are pressed
1 2 3 = valves 1, 2, and 3 are pressed.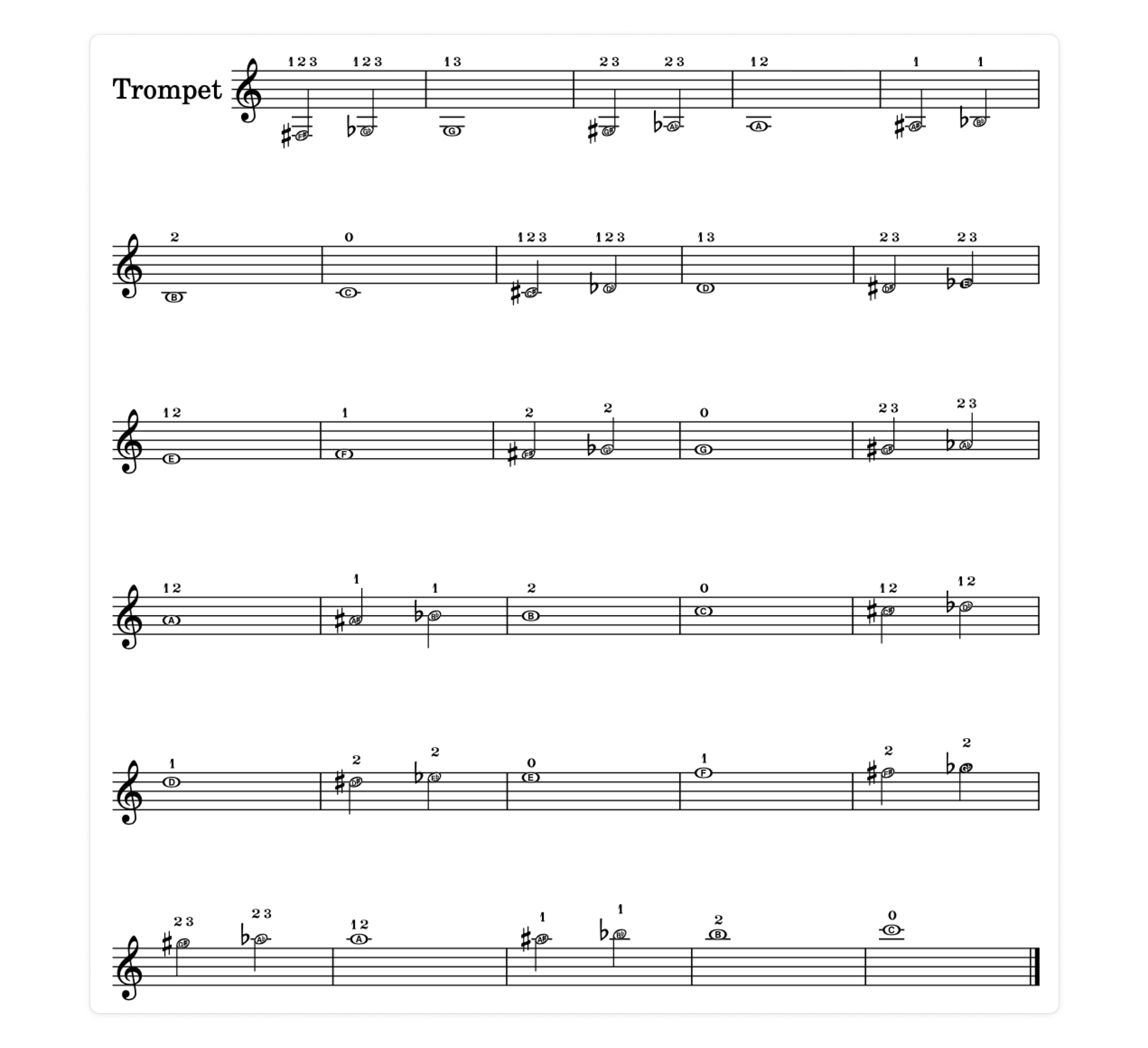 Whether you're just starting out or guiding others as a teacher, I highly recommend downloading and incorporating this valuable resource into your teaching/learning materials.

Download the chart here 👇🏼

Why do different notes have the same fingering?
Some notes on the trumpet use the same finger positions. For example, both D and F use the same fingering (2). This happens because the trumpet's sound depends not only on finger placement, but also on how you control your breath and blow into the trumpet.
Pro tip for learning the trumpet using the fingering chart

When practicing, if you hit a note that leaves you scratching your head, don't sweat it. That's where your trusty fingering chart comes in. Grab a pencil and jot down the fingering under the note. Take it slow and let your fingers get a feel for the passage. After about three rounds, wipe away those penciled-in notes and take another run at the passage to see if you've got the fingering down. If it's still slipping your mind, no worries, just jot the fingering back in. No matter what, keep on jamming!
How to use trumpet fingering in Flat

Given how useful it is, we're thrilled to announce that we've introduced a very simple process for using trumpet fingerings in Flat. Let's check it out!
To enable this feature, just go to your Instruments settings: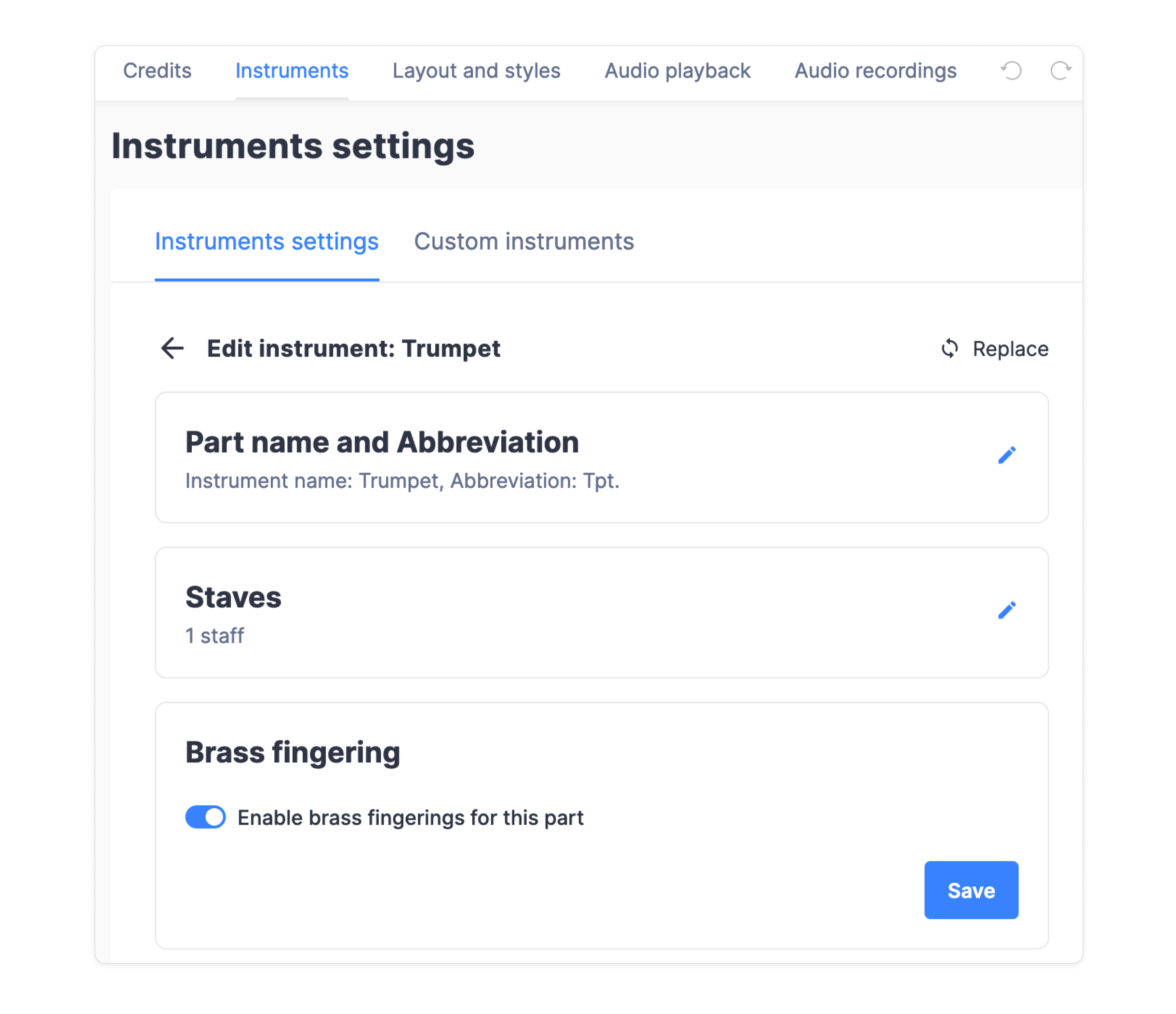 Once enabled, the fingerings indicating which valve to press will be automatically synchronized with the pitches of the notes on the score.

We hope this will make it easier to read and teach trumpet scores!
And don't worry, we're not stopping there – we're also working to add automatic fingering for more brass and woodwind instruments 🎷

Thanks for reading, and happy trumpeting!