For many musicians, music is such a significant part of their life that they may dream of pursuing it as a career. But numerous questions quickly arise: How do you get started? How do you build a music career? What should you do to reach more people? In short, how can you turn that dream into reality?
While this article may not answer all your questions, we wanted to help you get started with some valuable tools that can enhance your music career.


The Path to a Musical Career: Key Considerations

The first thing to note is a hard truth, but a necessary one: Making a dream come true means confronting reality, and reality doesn't always match the idealized version of things we create in our head. Like any profession, pursuing a career in music requires dedication and mastering lots of tasks that don't always have much to do with the music itself. So just remember that to build a music career, you'll need to develop other skills and dedicate time to activities other than simply creating and performing music.

🔥 A helpful way to stay motivated is by regularly checking back in with the reasons you're doing things, particularly those things that may be necessary for your career without being enjoyable. Keep your dream in mind as a kind of guiding light, staying committed and consistent in the process.

As a composer, promoting your music is crucial for gaining recognition and reaching a wider audience. Here are some tips to help you effectively market and promote your music.
Define your audience
Maybe you've always composed for personal pleasure. But even then, haven't you ever wondered about who else would listen to your music? Who do you want your music to reach?
Knowing your audience is crucial for effective promotion and choosing the right communication channels. Understanding who your listeners are allows you to tailor your messages and find the right places to share your music.
How do I define my audience?
You don't need to spend a ton of time researching this, but do take a few minutes to really think about it.

One way to do it is by imagining a fictional person who has all the characteristics of your ideal listener. Think about things like:
Where the person is from
Their age range
Their likes and interests
Other artists they listen to
What they enjoy doing
Where they like to listen to music
Which social media platforms they prefer, etc.


And of course, quite often that ideal listener ends up being someone who shares quite a few similarities with ourselves.
Build an online presence
Sharing music is easier than ever thanks to the internet and social media. As soon as you decide you want others to listen to your music, you'll want to make it accessible to them.

Then you can take further advantage of the power of social media by engaging with your audience. Interact with your followers, respond to comments, and ask for feedback. Building a community around your music can lead to incredible opportunities and connections. Share behind-the-scenes moments or sneak peeks of new tracks, and just generally let your personality shine through.

The internet is a huge stage with lots of places to shine, but don't worry about being everywhere at once! Believe me, trying to juggle too many social media platforms can be overwhelming. Plus, your main focus is being a musician, not an influencer. So here's my friendly advice: have a portfolio where you can showcase your music and choose 1 or 2 social media profiles to concentrate on.
By focusing your efforts on a few platforms, you'll have more time and energy to engage with your followers, share updates, and connect with your fans on a deeper level. Remember, in a world of infinite content, it's all about quality over quantity!
How to create a music portfolio
Having a dedicated portfolio is a fantastic way to display your music in one central place. Think of it as an online hub where fans and industry professionals can easily find your songs and additional information about you.
The first step is to carefully choose where your online hub will be. If you're just starting out, creating a website exclusively for your music may not be feasible or the best choice. A better option could well be to have an awesome community profile in Flat!
How to create a great profile in Flat
We have some great tools available in Flat to create an appealing online portfolio for your musical projects, as well as some tips to make the most out of that space.
The first step is to sign up for Flat and create or import your scores in your library.
💡 Here you can find a tutorial on how to import your existing scores to Flat.
Then you need to create a community profile in your account settings: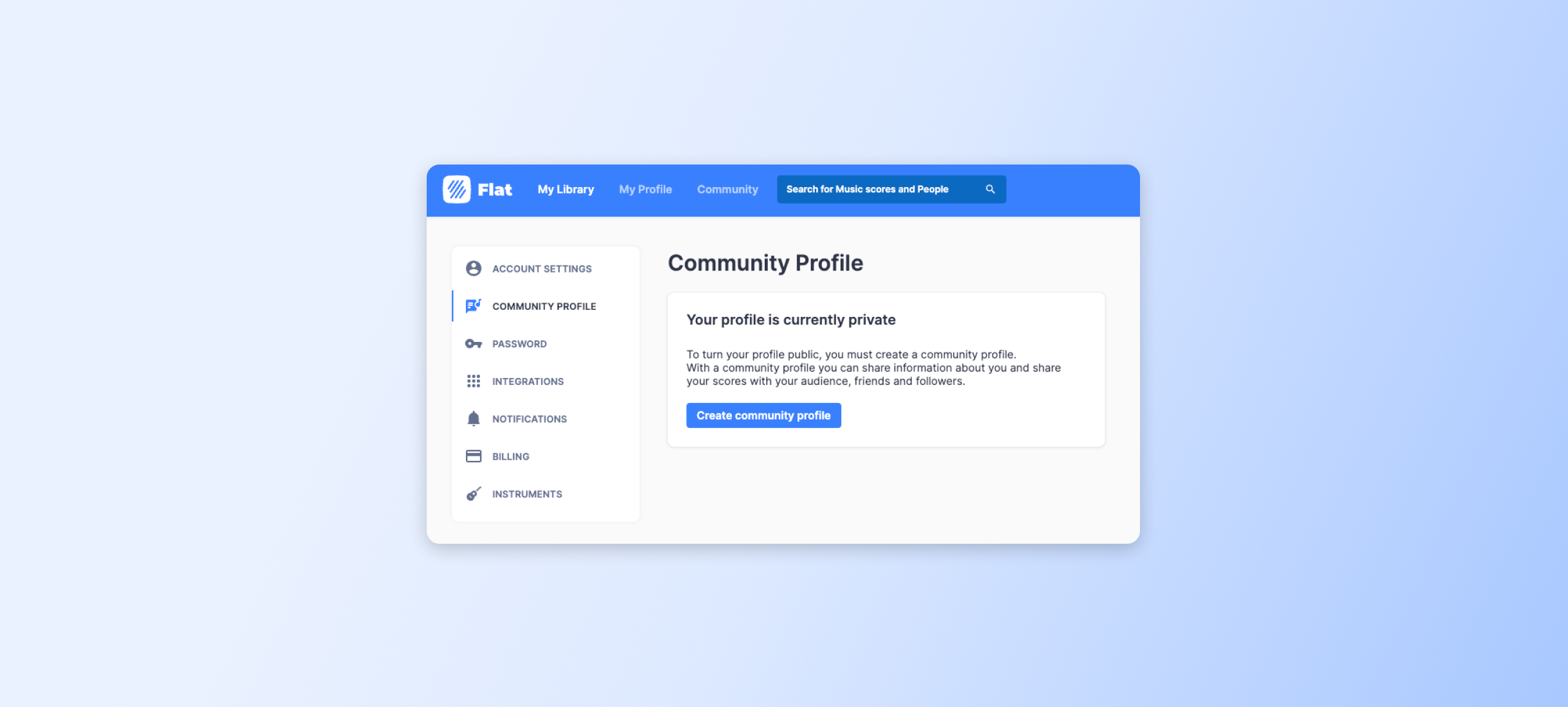 👉🏽 Click here 👈🏾 for a guide on how to create a community profile in Flat.

Now it's time to get creative and vamp up your profile!

So go to your profile and get ready to edit it.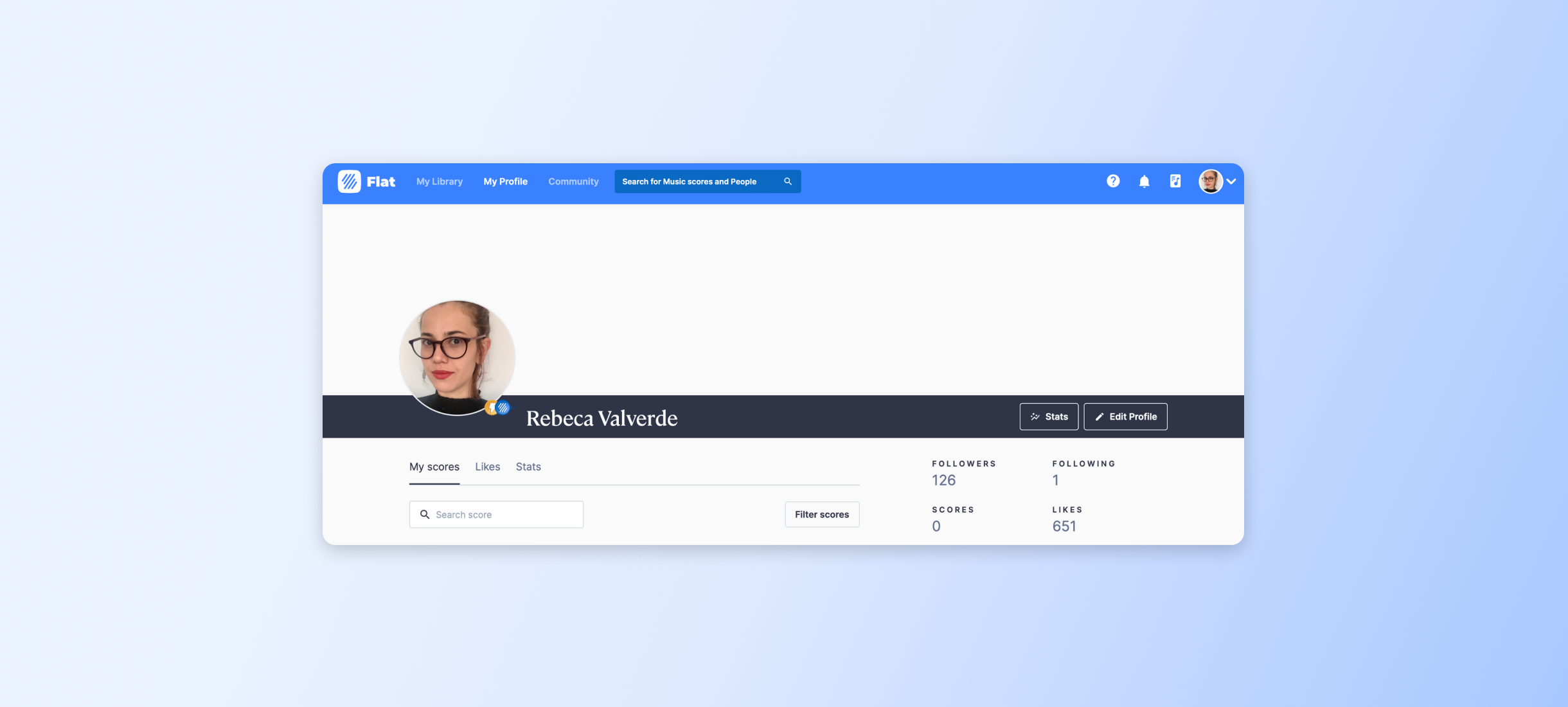 🔥 Key tips
Make sure to include a captivating profile picture and banner that make you stand out and allow people to easily recognize you as an artist. Opt for visuals that showcase your unique style and personality, helping you make a memorable impression.
Use the same display name and username you use in other platforms.
Dedicate some time to create a short but engaging bio.
Be sure to link your other social media profiles, enabling your listeners to get closer to you. This way they can easily connect and stay updated on your latest music and news.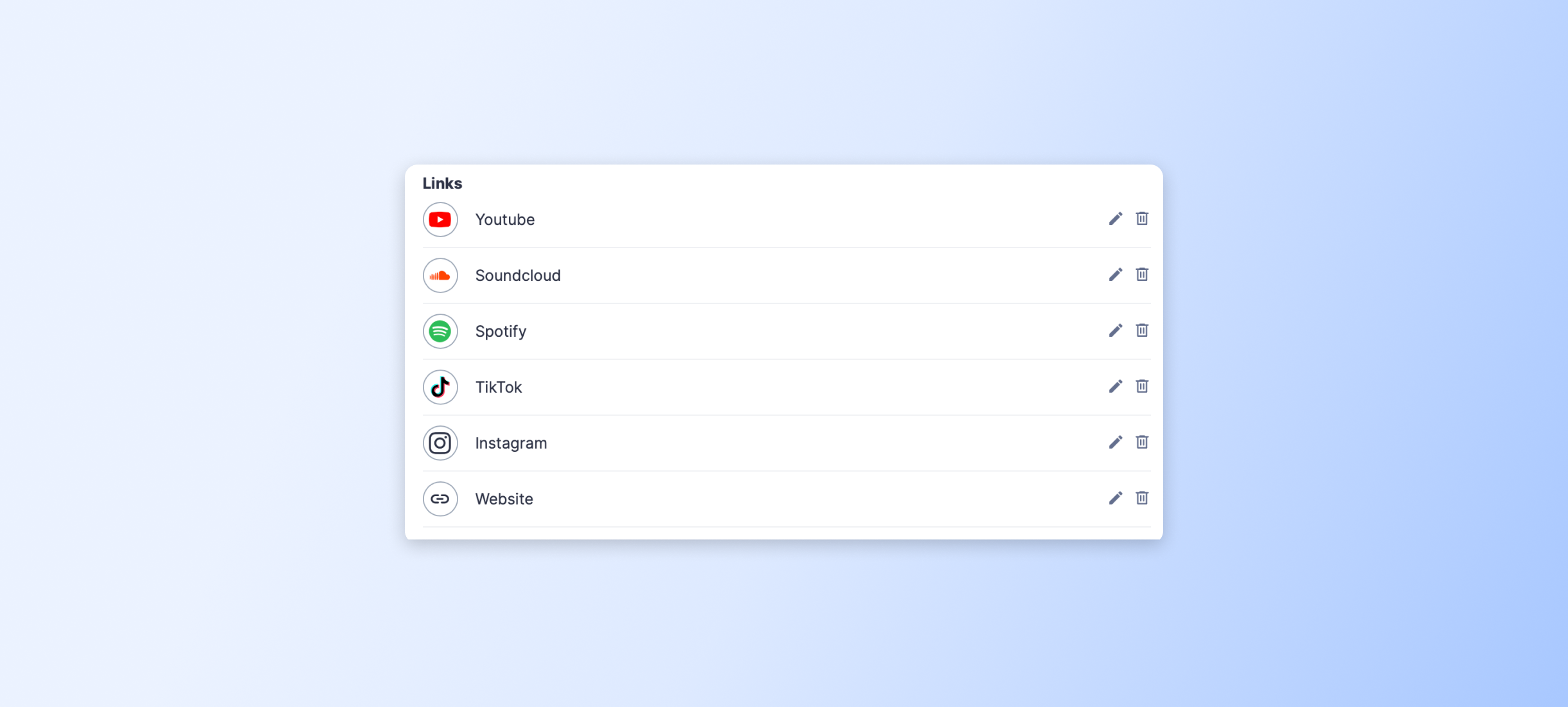 🎶 Be sure to make your scores created in Flat public so that they're visible in your profile.
🍰 And now the cherry on top! You can pin the sheet music you're most proud of, highlighting your best creations on your community profile. We suggest pinning 2 or 3 scores.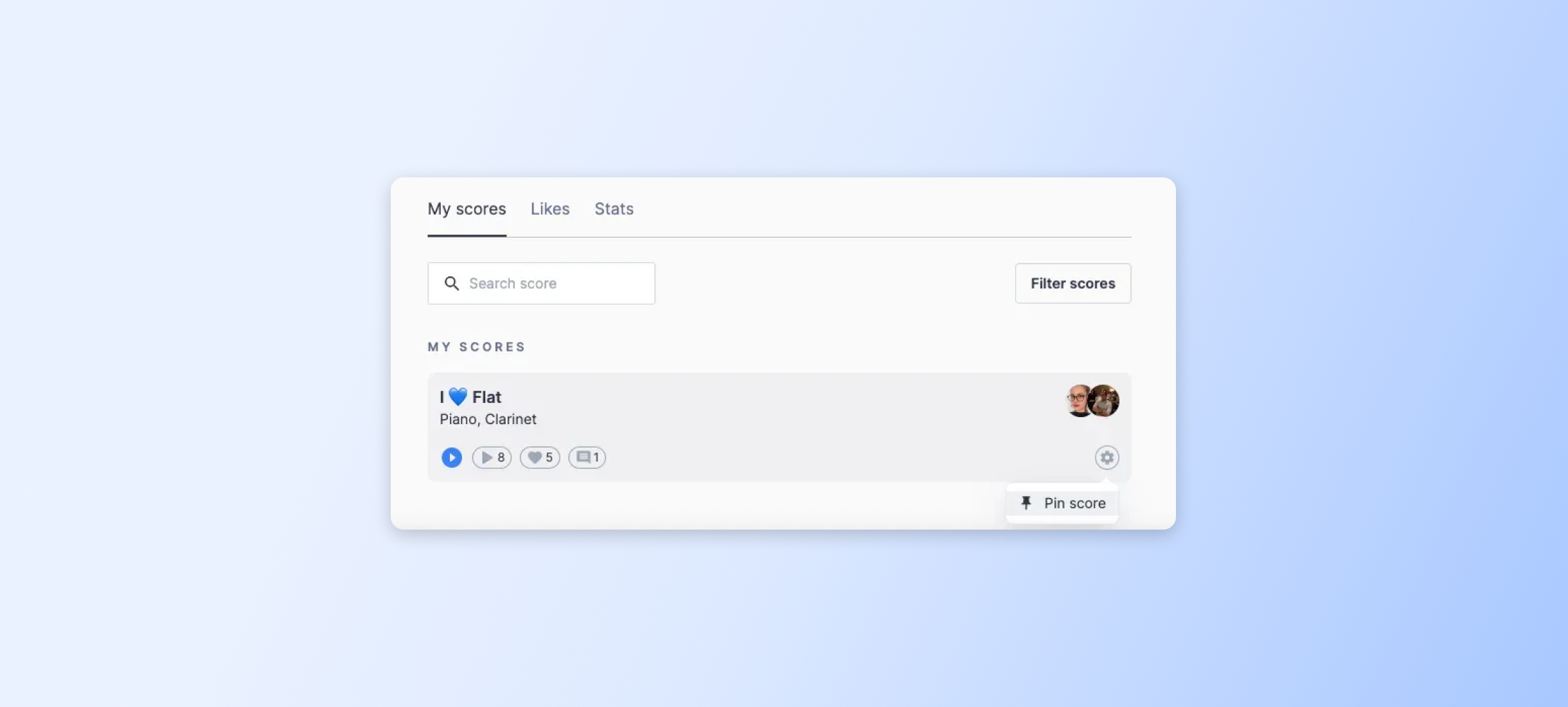 ‼️ Don't forget to update your profile every now and then !!

The importance of networking and collaborations
Networking and collaborations are crucial for building a music career. They connect you with other composers and music professionals, foster creativity, open doors to opportunities like gigs or recording deals, and can generally help you reach a larger audience. Collaborating with fellow musicians is like a creative adventure, letting you learn from each other, share skills, and make incredible music.

💡By combining fan bases, you can promote each other's music and create a buzz.
Building a supportive network of musicians and industry professionals will give you valuable advice, mentorship, and access to resources like recording studios and performance venues. Remember that building genuine relationships is one key to success in the music industry. Stay friendly, professional, and supportive, and you'll increase your chances of shining in your music career.
🔥🎶  Check out this article to discover the keys to a successful musical collab.
Who should I collaborate with?
Collaborate with people who share your vision and are genuinely interested in your work. Here's a great tip I got once: Try to work with individuals slightly ahead of you in experience, so they can teach you, while also making sure their career stage is still relevant to where you are in your own journey.

If you don't know where to find people to collaborate with, join our Discord server! You'll find lots of other Flat composers there.
🔗 https://discord.gg/mkxYuKRxjG
The key to a successful musical career: Having a strategy

A strategy is a well-considered plan that helps you figure out how to reach a particular goal.

Creating a strategy might sound like a big task, but it doesn't have to be overwhelming. You don't need a super-detailed document with all the steps (after all, you don't know what those steps will be yet!), but it's important to set goals, figure out actions you'll try to take in order to reach them, and track your progress. My advice is to set a realistic, medium-term goal (to achieve, say, over the next year) that fits your current career stage. And remember to adjust your strategy as you move forward.

🔥 If you are using Flat as a portfolio, you have the stats page to keep track of your progress!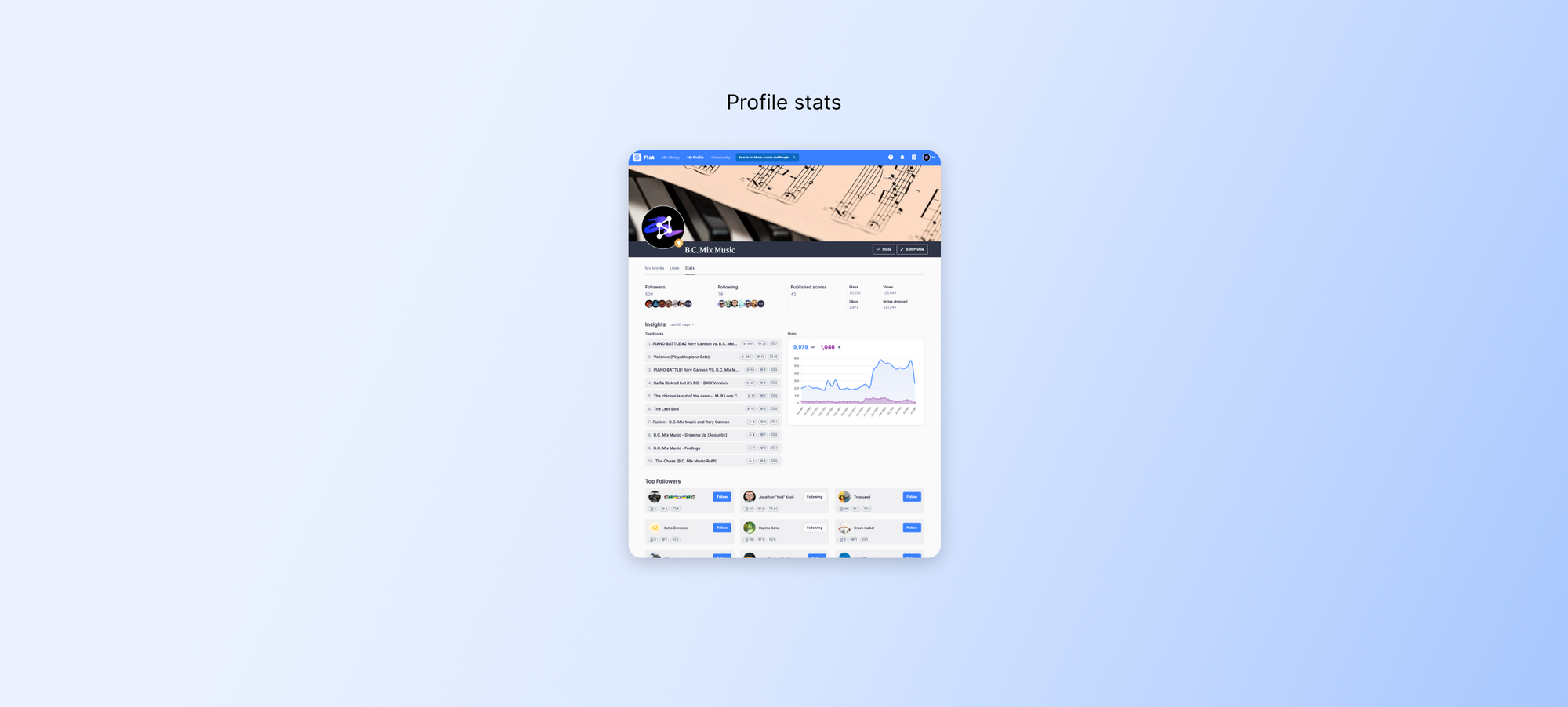 Why is having a strategy important? Many people put in the financial effort to record a song in a professional studio and then share it on every digital platform they can think of, hoping for a miracle. But that doesn't really work.
Think of it this way: the internet is saturated with music and incredibly talented artists. Releasing a song without a strategy is like adding a drop of water to the ocean. A strategy is what takes that drop and turns it into a river, letting you make the most of your efforts and steadily move towards creating the career of your dreams.
And remember that goals are not indicators of success or failure; they are milestones on the horizon that can guide your journey. But in the end, life always has the ability to surprise you and take you to new places!
To close, keep in mind that marketing and promoting your music takes time and consistent effort. Be patient, persistent, and adaptable to changes in the music industry. Stay true to your artistic vision while finding innovative ways to reach new listeners and expand your fan base.

See you next time,