Hi Everyone,
We released some great updates last month, and we would like to share the main ones today with you:
Clef change in the middle of a measure
The biggest update of the month is the support for the clef in the middle of measures. It is now supported across our products, including MusicXML imports and exports, and on both our web and iOS apps.
To provide this update we completely reworked how we store measure attributes in our internal file format. If you are using an older iOS version than 3.1.0 some compatibility issues may happen and these clefs won't be displayed. We recommend you to update the app from the App Store to take advantage of this great enhancement.
Learn how to add or change clefs on Flat
Chromatic scale for the Boomwhackers mode
We updated our automatic Boomwhackers mode to include all the notes of the chromatic scale. This mode is now also available in our iOS app.


Learn how to use our automatic modes for notes heads
New instruments
We added new instruments on Flat, including some premium instruments only available  for our Flat Power and Flat for Education customers:
Hip-Hop Set
Gong
Concert Bass Drum
Claves (available for free accounts as well)
You can also suggest us new instruments directly from the instruments picker when you create a new score. Thank you for the hundreds of suggestions we already received, this helps us prioritize the next instruments we will make available on Flat.
These instruments are also available in our latest iOS update (3.1.0).

iOS updates (3.1.0)
This month we release two important updates for our iOS app. Discover today some of the enhancements and new features available:
Flat Power as an In-App Purchase
One of the most requested features was to be able to purchase our Flat Power subscription directly in-app. That's now available for all our iOS users since our 3.0.0 release.
Importing files using the iOS Document Picker
Last month we enhance the import of scores on iOS to support importing files from your favorite cloud apps, including Google Drive and Dropbox.
This month we directly integrated the iOS Document Picker so you don't need to leave our app to import and edit all your scores (MusicXML, MIDI, MuseScore) and tabs (GuitarPro, PowerTab, and TuxGuitar).
Dead notes & Double Barlines
We added two notations features that were already available in our web app: Dead notes & Double Barlines. They are available in the Notes and Measures toolbars.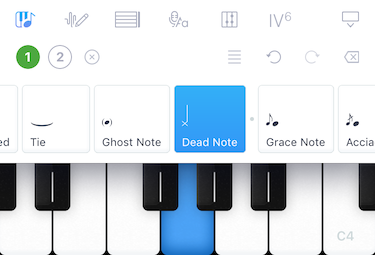 Premium features: Jazz font & Automatic notes heads modes
We added two premium features that were already available on our web app: the support for Jazz font and automatic notes heads modes. In our iOS app, they are available by clicking on the edit button available on the top left of the screen, then under the "Layout & Styles" section.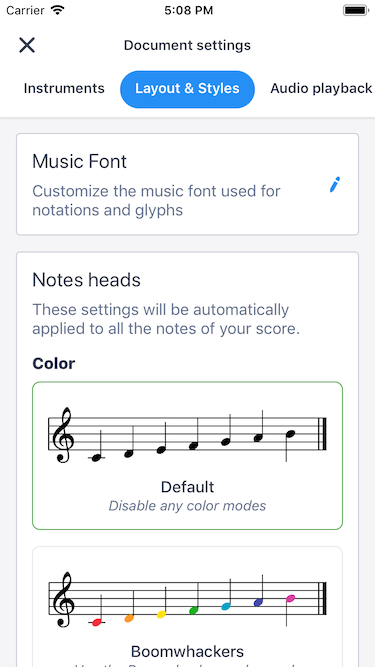 Translations: French, Spanish, Japanese and Russian
We started translating our iOS app in French, Spanish, Japanese and Russian. The language of the app will be automatically set based on your device language.
Thank you
Thanks again for all your feedback, we always love to hear from you! If you have any comments or suggestions, please drop us a line at hello@flat.io.
Cheers,
Vincent & The Flat Team