In today's music creation landscape, music notation software plays an indispensable role. Within that realm, we're proud that Flat has become widely recognized for its versatile, intuitive, and collaborative capabilities.
We get there by having our whole team dedicated to continuously improving your composition experience when using both our web and mobile apps (iOS and Android). Thanks to your invaluable suggestions and feedback, coupled with our teammates' unwavering commitment, we're issuing a significant update that enhances Flat's touch-based usability.
Below, you'll find explanations of all the enhancements. Join us for an exploration of the innovative features that are improving how musicians interact with their compositions, unlocking fresh levels of productivity and inspiration on touch devices.
Note selection

Some of you reported that selecting a specific notehead used to be difficult on touch devices. Specifically, if the note was positioned outside the staff because of its very high or low pitch, you had to click directly on the notehead to select it, which was a bit hard. Now you can select the note just by clicking near it!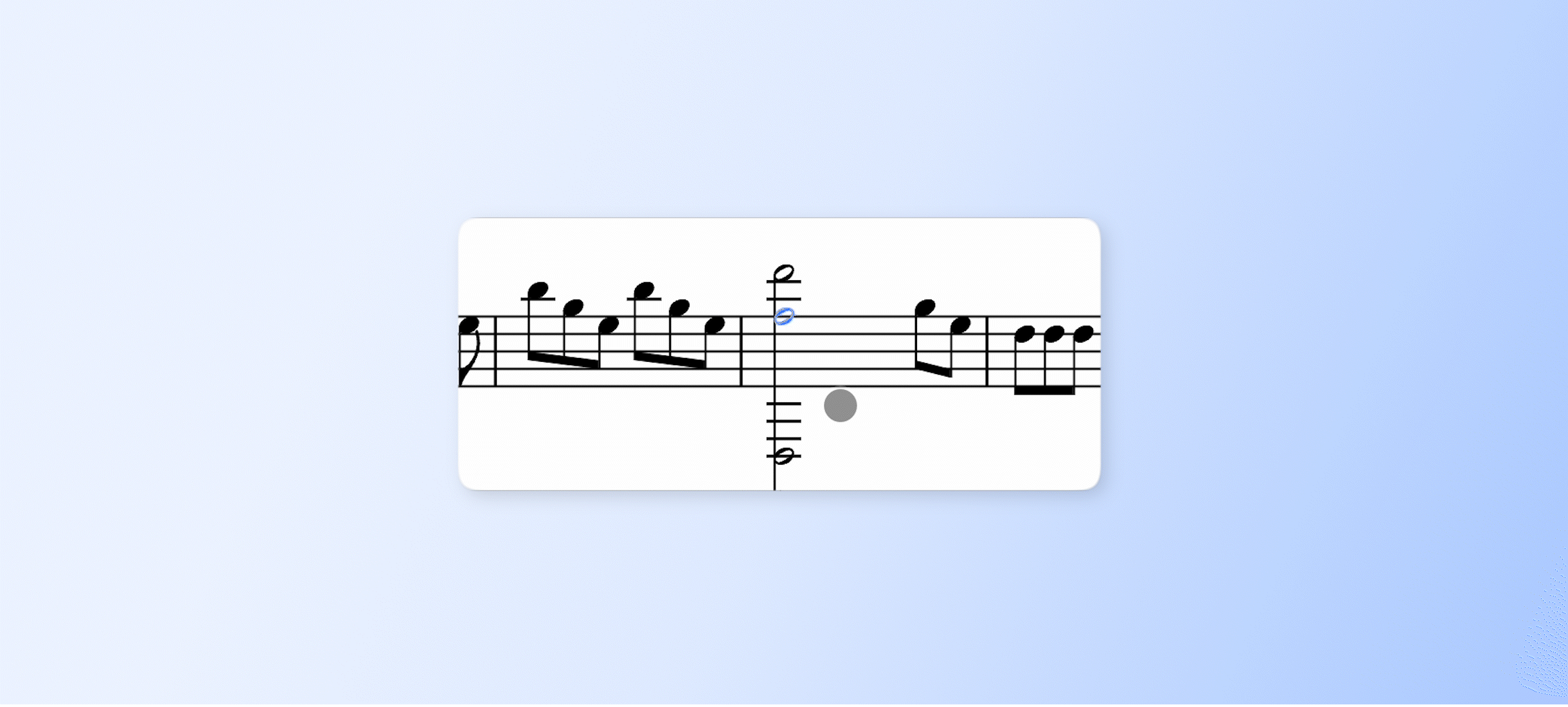 By the way, we offer a wide selection of notehead display settings such as shapes or boomwhacker colors. If you want to learn more about that 👉🏽 click here 👈🏾.
Navigation
Now when you need to scroll through the score, you no longer have to worry about accidentally triggering a range selection. Our improved functionality ensures smooth scrolling unless you touch an anchor or something that is already selected, such as a dynamic.
Range selection

We have made significant improvements to our range selection system, enhancing its precision and usability. The selection mechanism has been refined to ensure more accurate and precise selections, minimizing the chances of accidental or unintended selections.
💡 These improvements aim to provide you with greater control and ease of use, enabling a smoother and more efficient workflow.
Starting a range selection

In order to make range selections more intuitive, we've changed the method of making the selection. Instead of a swipe movement, now you initiate the range selection with a long press, similar to selecting text on a touch device.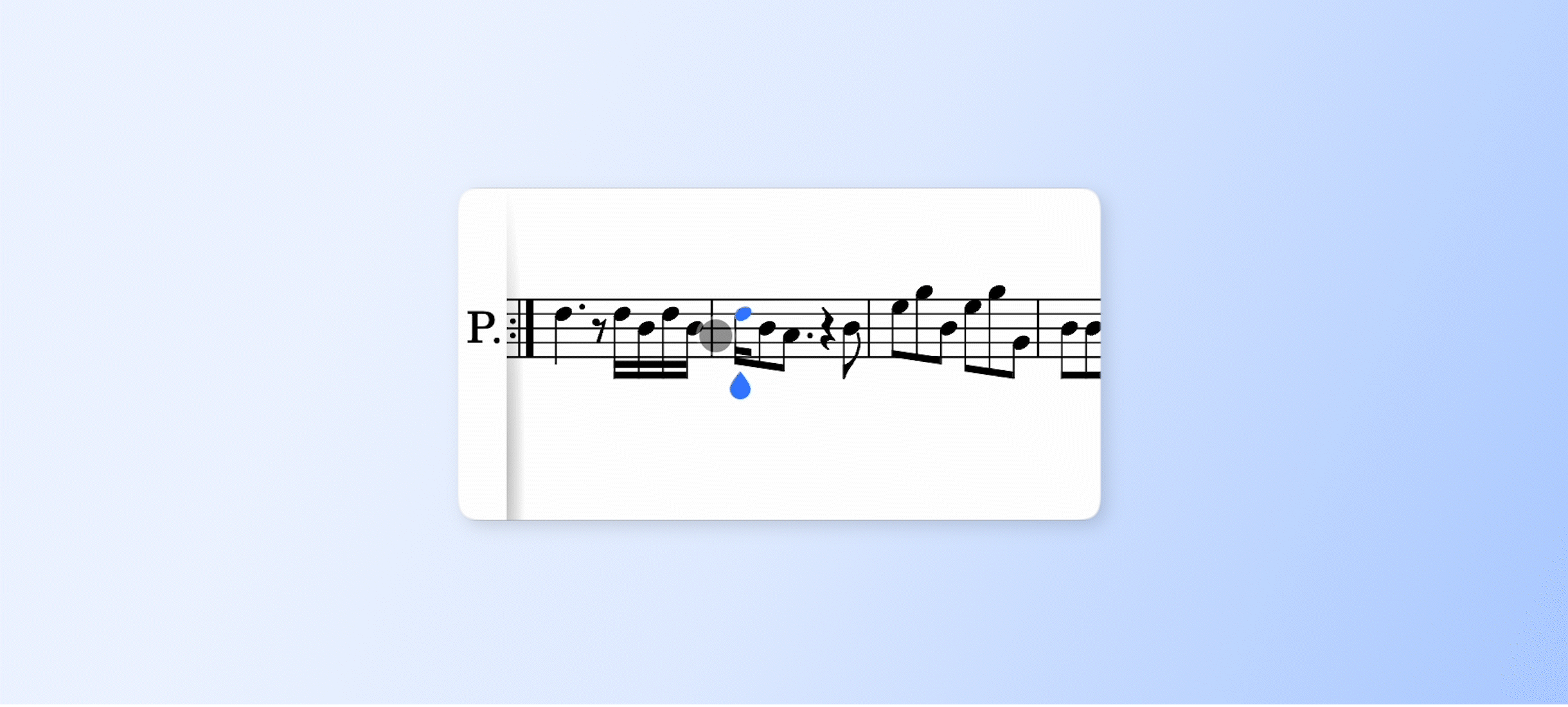 👌🏼 Try out this improved range selection method in your Flat account and enjoy a more efficient music notation experience.


Updating a range selection

You can still easily adjust the selected range by dragging and dropping the anchors, but we made improvements to the anchor selection system to address issues where clicking on an anchor above a note was inconsistent. These enhancements ensure a smoother and more reliable selection process. You can now click on an anchor, even if there is a note beneath it, without any problems.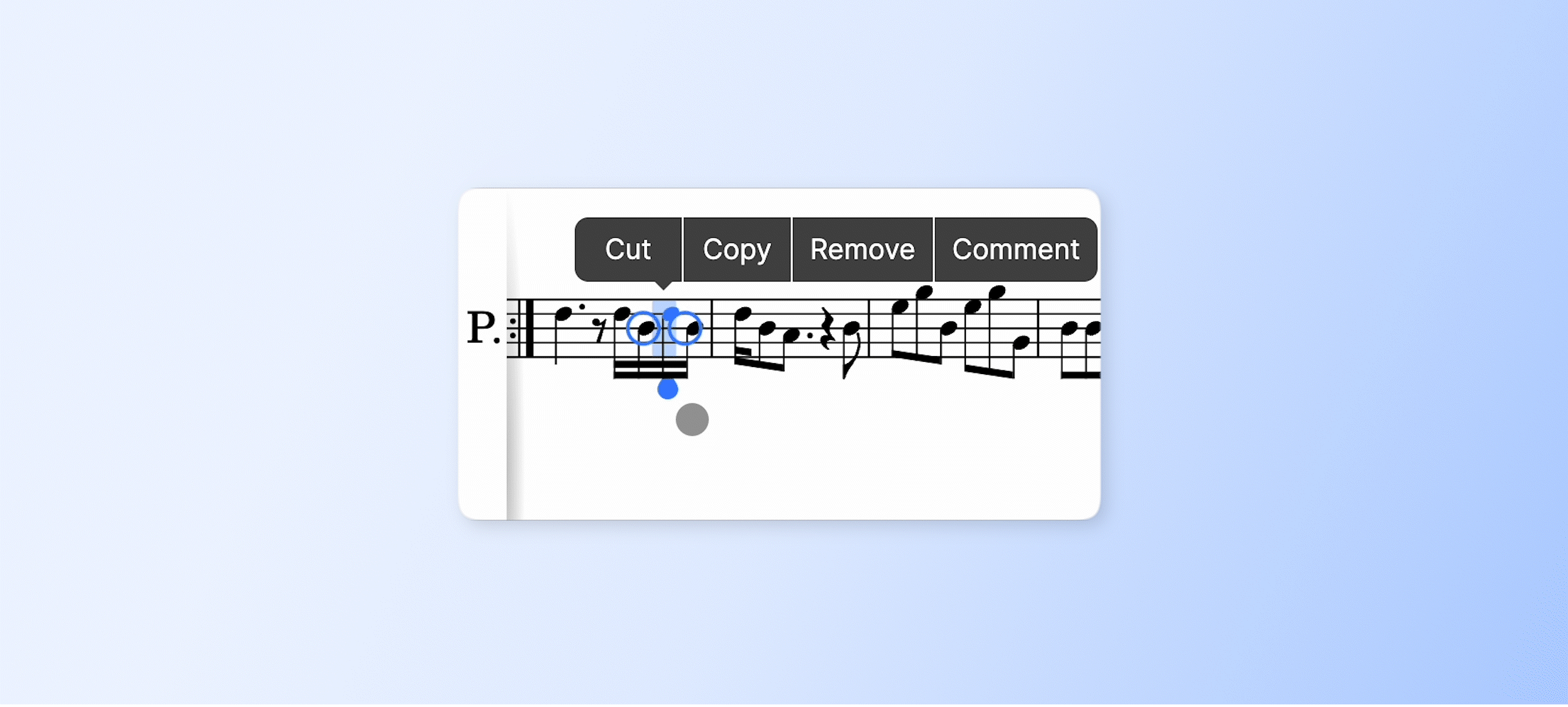 😎 Enjoy the improved anchor selection system and effortlessly edit your musical score with precision.

Scrolling

You can now scroll through your score without losing your range selection.
This improvement makes it much easier to navigate through your musical compositions, as you no longer have to drop and reselect the range every time you scroll.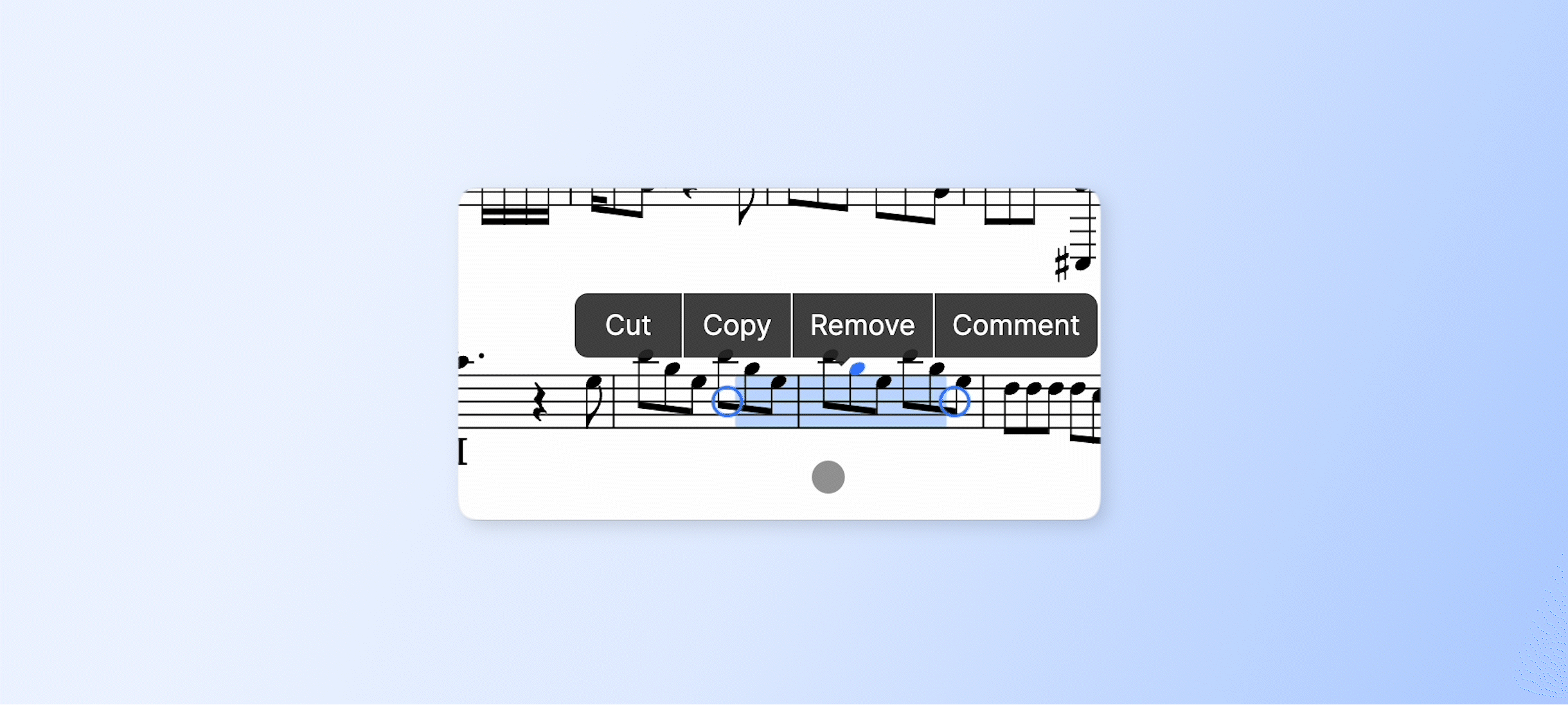 Discarding a selection
If you're wondering how to remove a range selection, we've made it simpler. To remove a range selection, simply click anywhere outside of the anchors, including the space below the score. This will disregard the selected range and allow you to continue your work.
Paste menu

We have made an important change to how you access the paste menu. Instead of a long touch or a second touch on the selected area, just double tap to display the menu. This adjustment was made to avoid confusion when trying to select specific noteheads within a chord, as the previous gestures could inadvertently trigger the menu.
💡 By using the double tap gesture, you can easily access the paste menu while maintaining precise control over notehead selection.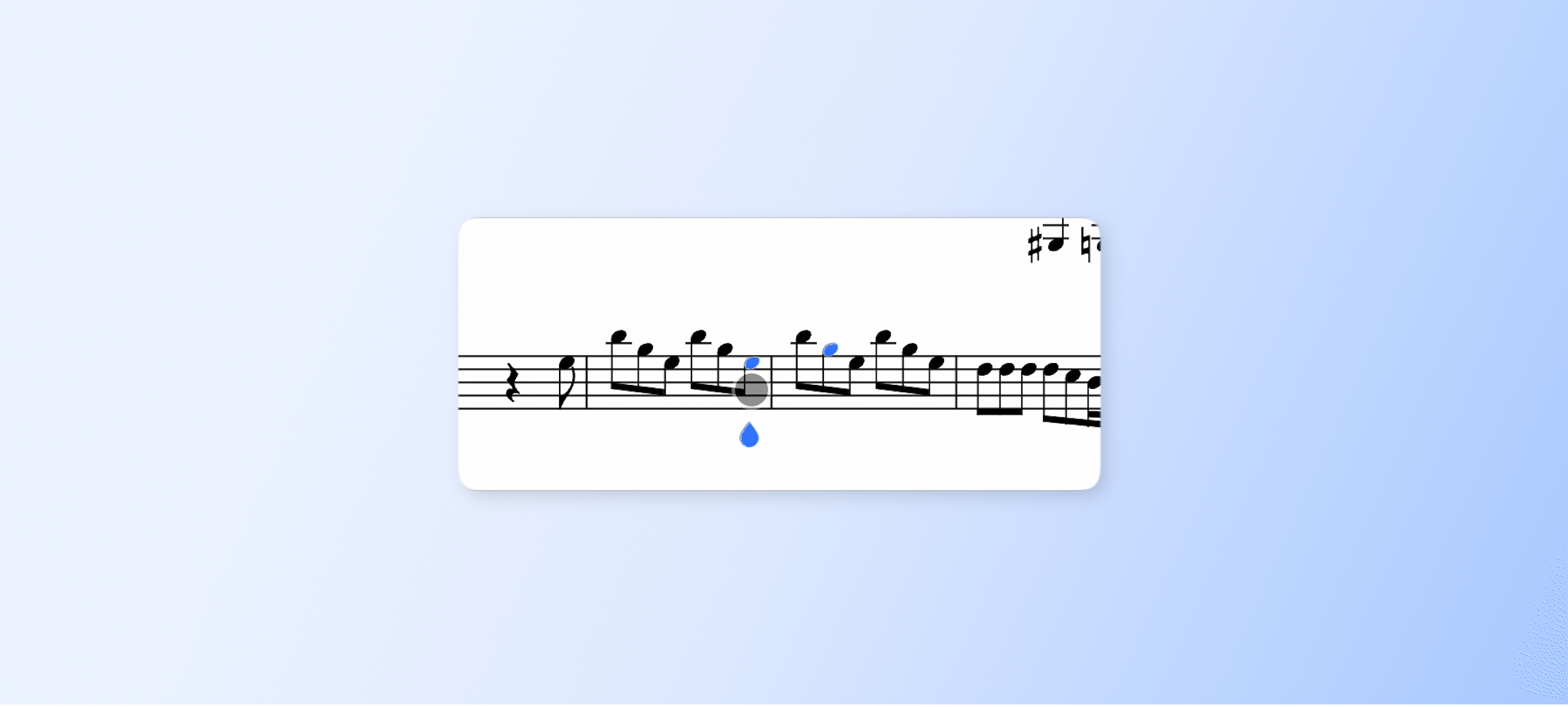 We've also made a change to the position of the paste menu: it is now located above the staff, just like the range selection menu. This ensures consistency and makes it easier for you to access the paste options.

To read more about the copy/paste options in our platform, 👉🏽click here👈🏾.
Zooming

We have updated the zoom system to improve the user experience. Previously, zooming from the top left corner of the score felt unnatural and inconvenient. With the latest update, when you perform a pinch gesture to zoom, it now zooms from the pinched area itself. This change allows for a more intuitive and precise zooming action.

⚡️ You have greater control over the zoom, making it easier to focus on specific sections of your score.
Updating the pitch of a note

We have introduced a new system that allows you to update the pitch of a note more easily. By clicking directly on a notehead, an anchor will appear, which you can drag to adjust the note's pitch.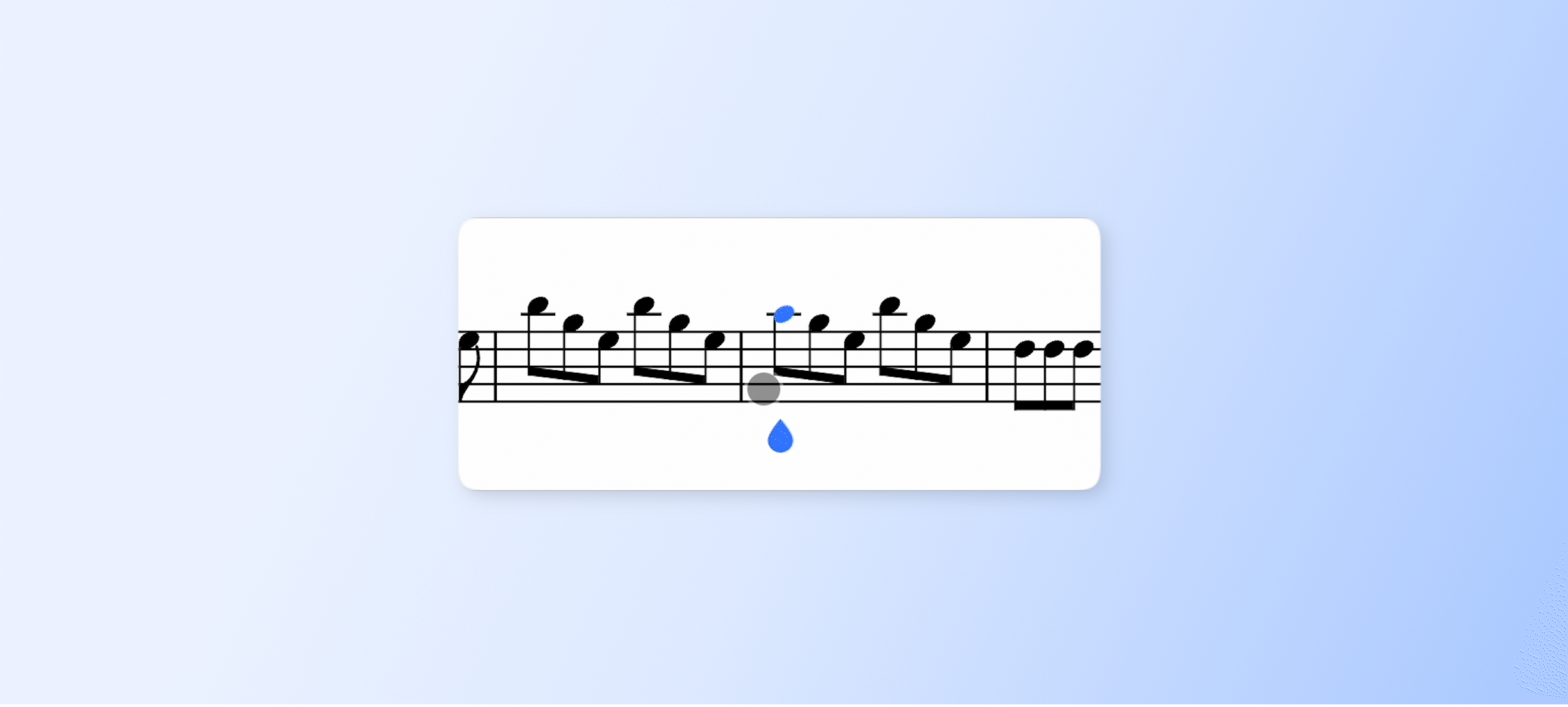 ⚡️This makes it easier to modify the pitch of your notes according to your preferences. Enjoy the enhanced editing experience and create beautiful melodies using this improved pitch adjustment system.

All of these improvements are designed to enhance your workflow and allow you to concentrate on the creative aspects of composing. We understand the importance of your feedback, and we value your suggestions in shaping our music notation software. If you have any feedback or ideas, please don't hesitate to reach out to us at hello@flat.io. Your input has always been – and will always be – invaluable in helping us create the music notation software that meets your needs.

🔥🎶 Keep creating and making beautiful music with our software, and thank you for being a part of our journey!

Best,