Hello dear fellows!
We recently released the Web MIDI Output feature to come along with our new Flat Power offer.
We are extremely excited about it because it opens up new doors for musical playback and production. Moreover we are one of the first websites to use this new technology and definitely the first web-based music sheet editor.
However only few people understand what it means and how to use it.
So, let me explain it first.
What is the MIDI output?
The MIDI output feature allows you to send all the musical information, in real-time, to the destination you want, even outside the web browser.
It means that you can now connect Flat with the thousands of virtual instruments available on the market and even with digital audio workstations. These instruments are used for most of the music you can hear on the radio, on TV and in movies (except the rare cases when it's recorded in an acoustic version).
It means that you can use any synthesizers right now on Flat.
It means that you can now create compositions on Flat that you can turn into high-quality songs ready for mass audience.
Here is an example of a popular Flat song played through the MIDI output to a Kontakt soundbank:
exciting Isn't it? How to use it, then?!
Using the MIDI output
In order to use the MIDI output port with another software, you need to create a virtual MIDI port. Basically, it's just a pipe connecting two programs.
Depending on your operating system, it can be very easy, or merely easy.
On MacOSX, you don't need to download any tier-party software.

In Spotlight, search for MIDI and launch the Audio MIDI Setup utility.
Make sure the MIDI Studio is displayed by selecting it in the Window menu.
Double click on the IAC Driver icon. The IAC Driver Properties window will open.
Now create a new port by clicking on the "+" button, and name it for example "Flat MIDI port".


On Windows and Linux you will need to download a tier-party software, but don't worry, it's completely free. The most popular is probably loopMIDI created by Tobias Erichsen so I will explain how to create the virtual port with that one.

Download the program, unzip it, execute the file, and install it.
Once installed you can launch it by searching for loopMIDI in the Start menu:
Here we are! Just name the port you want to create the way you want ("Flat Virtual Port" e.g.) and click on the "+" button:
The port is now available in Flat's MIDI outputs list.

On ChromeOS, the system doesn't allow you to create a virtual MIDI port yet, but it will probably enable that feature directly in the browser in a close future, so stay tuned!
Once the virtual port is created, select it on Flat, in the MIDI outputs list, here is an example with Native Instrument's Kontakt 5: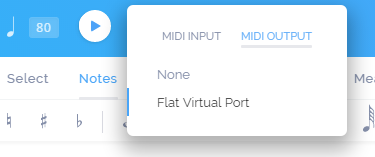 And select it as a MIDI input in the program you want to link with Flat.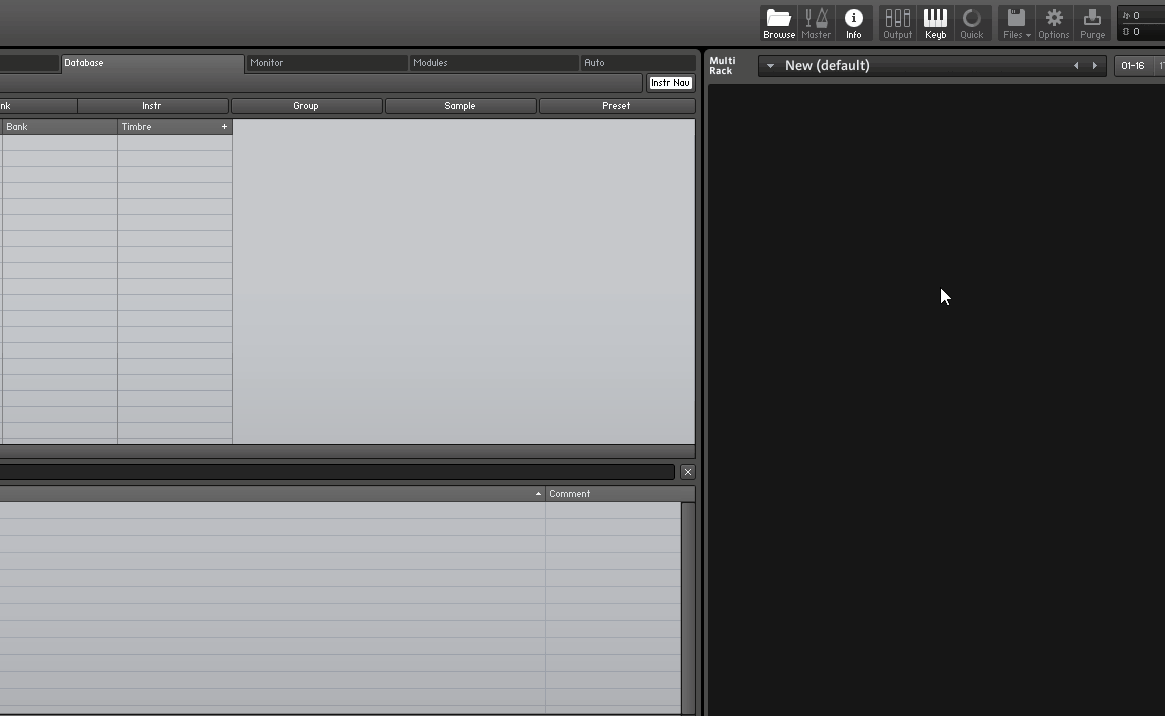 If no MIDI input is available for the virtual instrument, you can use a Digital Audio Workstation (DAW), like Cubase, FL Studio or Ableton Live to embed the virtual instrument, then select the input on those.
Then click play, and let the technology make magic.
All the parts from your score will be connected to a different MIDI channel, in the order they appear (the first part will be connected to MIDI channel 1, the second to MIDI channel 2, ... and so forth). You can connect up to 16 instruments at the same time (that's the MIDI protocol limit).
Feel free to ask us any question about that incredibly rich feature. I really hope that you'll like it as much as we do!
Have a great day!
Corentin