Hi Everyone,
I hope you had a wonderful Summer! We are back with our monthly summary of our product updates, and we have some exciting updates to share with you today:
Editor
New insert mode
We added a brand new insert mode that simplifies the modification of existing scores. Once this mode is enabled, adding a note will push the content to the right instead of replacing existing rests or appending notes to existing chords.
To learn more about this new insert mode and its possibilities, check out our dedicated help page.

Change duration: insert mode
Our change duration tools also have a new insert mode. This one is available as an option that will push/pull all the content of the voice instead of just changing the content within the measure.
To learn more about this new option, check out our dedicated help page.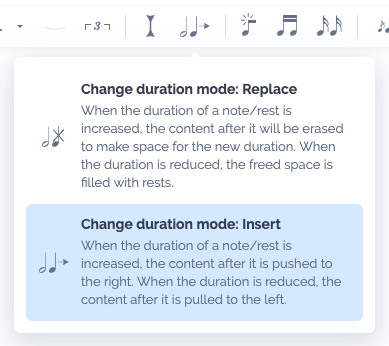 Kodály notation
Flat now allows you to display Kodály notation, directly generated from the content of your scores. We added two different engraving modes for this notation: letters (do re mi fa so la ti), and hand signs.
This feature is only available for our Flat Power and Flat for Education customers. You can learn how to use it with our dedicated help guide.

Harmonics
We added natural and artificial harmonics for guitar and strings players. They are available in the Tab and Articulations toolbars.
Check out our complete help guide about Harmonics to use them in your creations.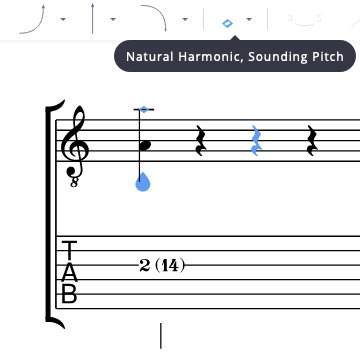 Credits: Arranger
We added a dedicated field in the credits of your score to add information about arrangers. Like other credit texts, you can add it by clicking on the title of your score, and also customize the text font used in the layout settings.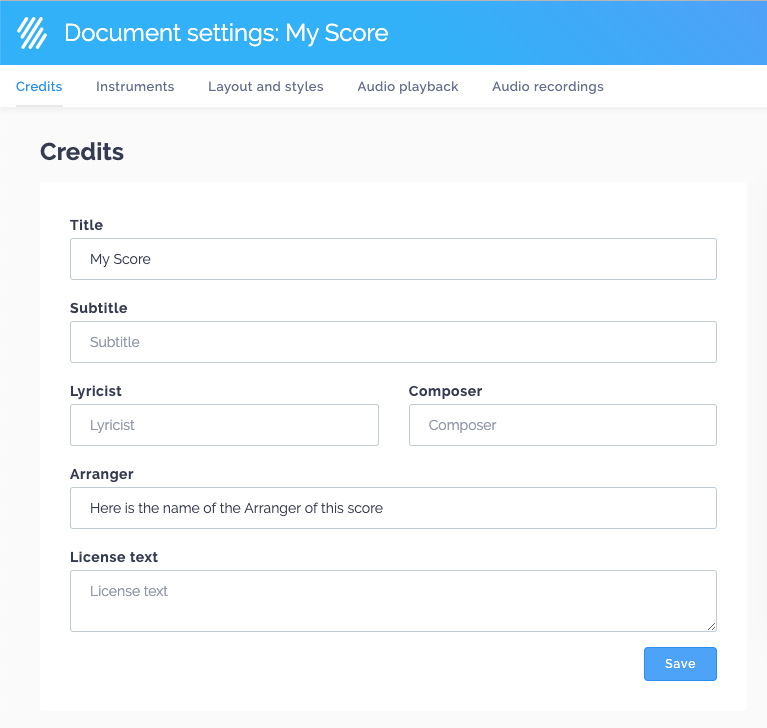 Display of the playable pitch range
When you compose or arrange notation for an instrument you don't play, it can be hard to know the playable pitch range of this instrument. Our visual piano keyboard now clearly displays the pitch range of the current instrument:

Change Tie Direction
Sometimes the automatic engraving rules we have in place to produce beautiful sheet music are not enough, especially when you are using multiple voices. In this case and when using Ties, you can now change their directions in the toolbar: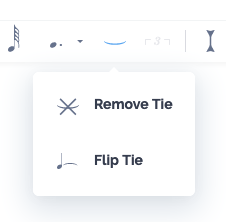 Jazz alternative chords
We added the possibility to add "alt." behind your jazz chords. Now you can introduce some fun to your chord progressions!

iOS update for iOS 13 and iPadOS (4.0.0)
This summer we released 6 updates for our iOS app with many improvements and new features.
The major one (4.0.0) is our support for iOS 13 and iPadOS. We designed a dark mode for all the views of our app and improved the display of split-screens on iPadOS.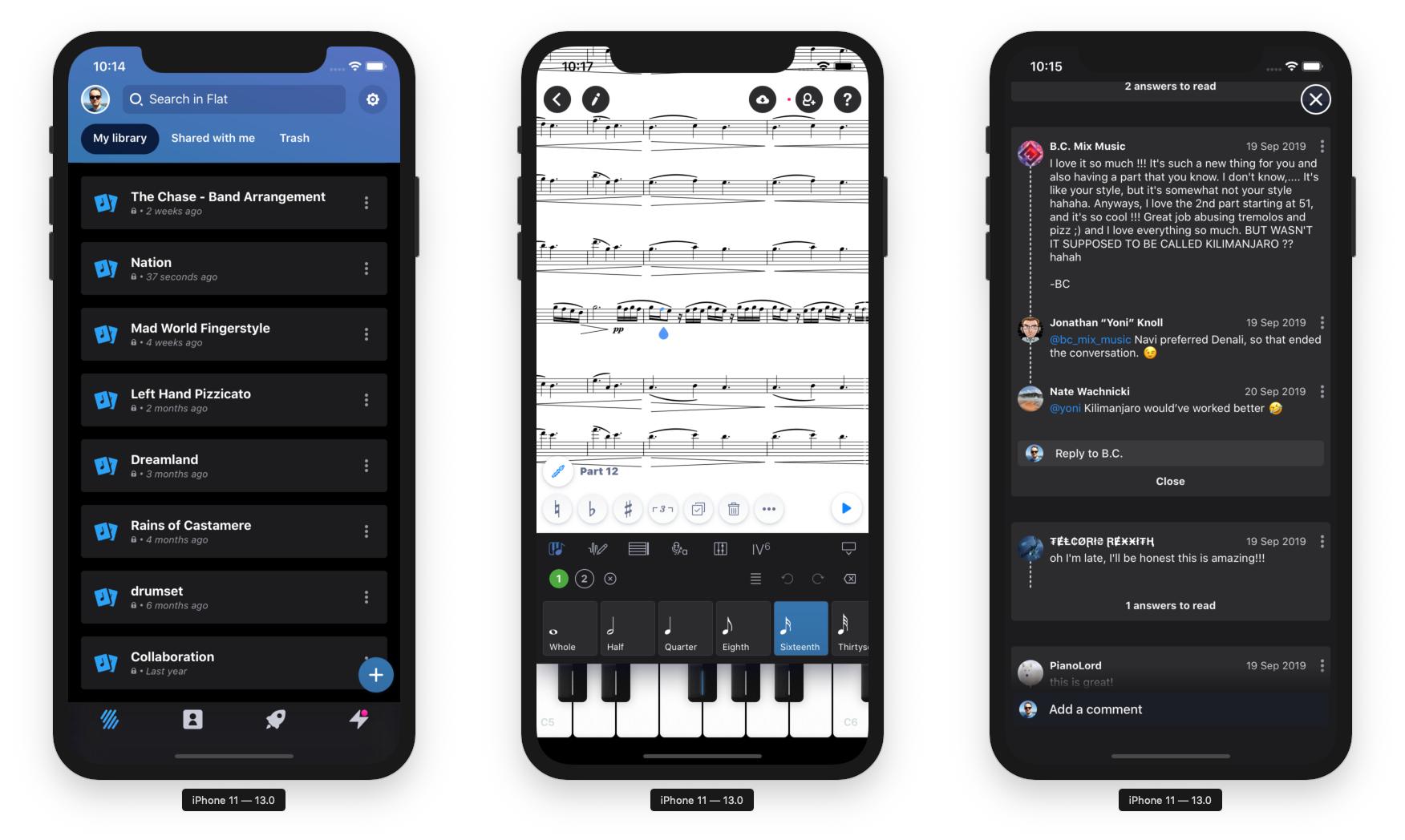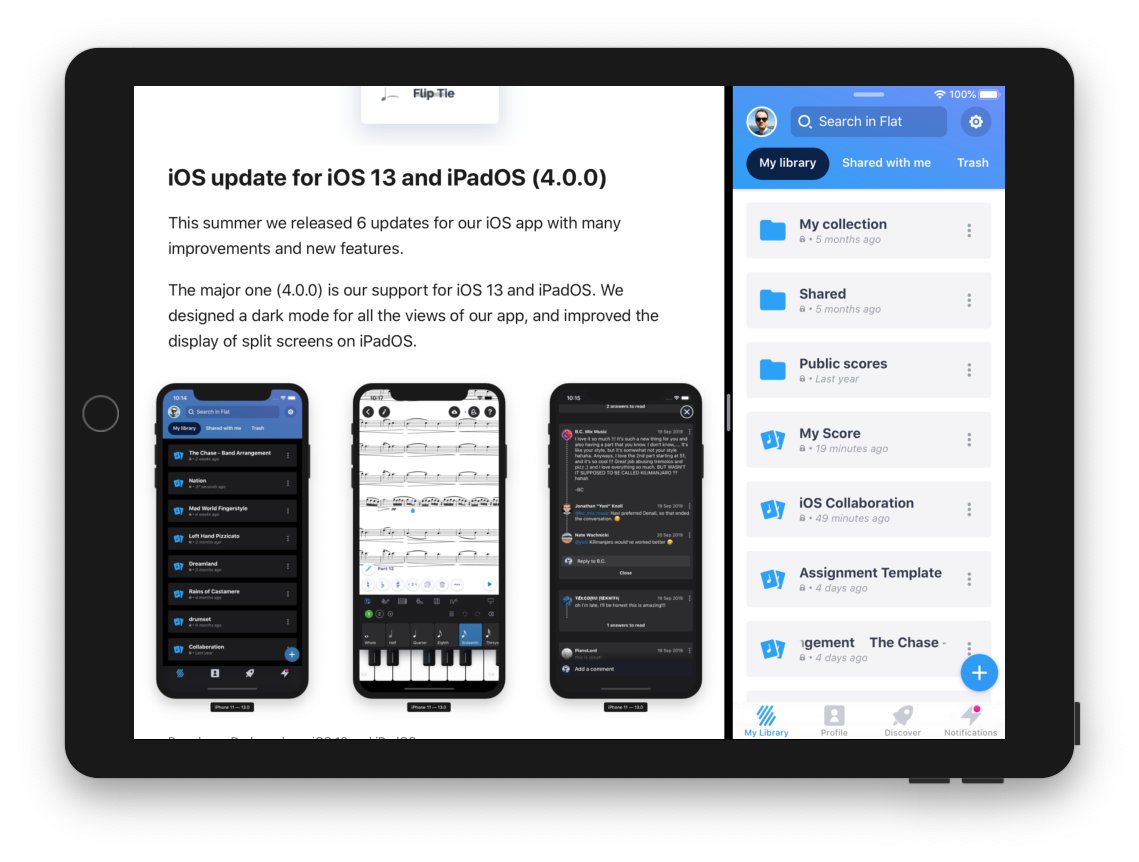 Other notable improvements include:
Piano Keyboard: Support for multi-touch chords input
Cursor: Auto-scroll following the cursor after making modifications
Chords: Added jazz altered chords
New instrument: Alto Clarinet
You can find the complete change of these versions (3.4.0 to 4.0.0) and download the latest update of our iOS app on the App Store.
From the version 4.0.0 of our iOS app, we no longer support iOS 10. We now support iOS 11, 12 and 13. If you are still using iOS 10, please update your device to iOS 11 or a more recent version to use our iOS app.
Thank you
Thanks again for all your feedback, we always love to hear from you! If you have any comments or suggestions, please drop us a line at hello@flat.io.
Cheers,
Vincent & The Flat Team