Tutteo, the company behind Flat and Flat for Education, operates entirely online. Our team is spread worldwide, so we don't get to meet in person very often. Once a year, we come together for some bonding and intense brainstorming sessions to plan out the next steps for our products. This recent meeting was very special because we welcomed many new members!
It's truly inspiring to witness the team's growth. It feels like just yesterday when, back in 2015, four developer-musicians embarked on a journey in a garage, driven by a singular mission: to make music notation accessible to everyone. Today, the exhilarating reality of our expanded team fuels our unwavering commitment to continue chasing that very dream!
During this meeting, we picked up a lot of useful insights that we want to share with you. We've gathered some important points that we believe every startup should consider, as well as some interesting stories from our time together. These experiences and lessons are what make Tutteo's story so vibrant!
Interpersonal Bonds: How to Overcome the Physical Distance Barrier in a Remote Company

One of Tutteo's most valuable assets is its people; a collective of nice and interesting individuals. This lively crew injects a special kind of energy into our work, mixing in both enthusiasm and their own unique flair.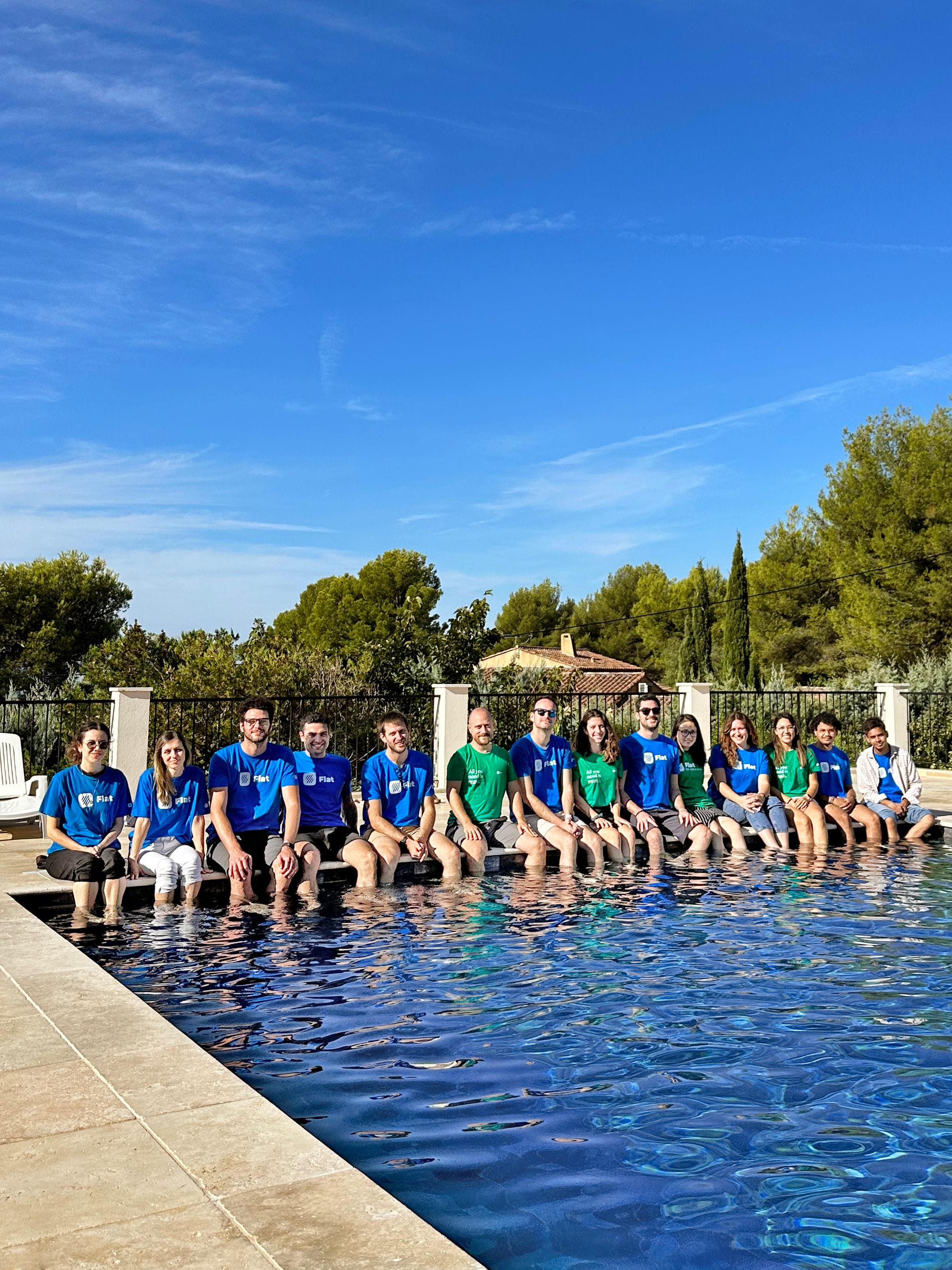 Diversity has been a foundational cornerstone in shaping our team. We actively seek individuals from various backgrounds, cultures, and professional fields, each contributing a unique set of experiences and skills. This not only fosters an engaging work environment conducive to continuous learning, but also cultivates a rich source of creativity. This dynamic empowers us to make forward-thinking and innovative decisions.

"It was both intentional and unintentional. We were looking for people who were not only qualified for the job but also nice individuals, in order to maintain a healthy and welcoming environment. But you can find such a person anywhere on the planet! The benefit is that it can offer different perspectives on things, although we've realized that we all have a lot in common. It can bring about some communication challenges, as codes of communication may differ, but we have always been able to make it work." - Cyril, Tutteo co-founder


One of the biggest challenges in terms of human resources for a remote company, based on our experience, is how to nurture and strengthen interpersonal connections, given the obvious limitation of physical distance.

The Challenge
From the company's perspective, the absence of face-to-face interaction and the time zone differences among team members can create hurdles in workflows if there is not a very clear communication and exceptional internal organization. It may sound obvious, but having a virtual office space is crucial, along with a tool for daily chats through various channels to organize different discussions, a shared calendar, a standardized system for project creation and management, and more. It's also important to ensure that each team member is aware and prolific with of all of this.
"One of the main challenges is that we don't get to see each other in person often enough. In an office, there is a natural synergy that brings people together and helps information flow. In a remote setting, you need to find ways to recreate this synergy." - Cyril, Tutteo co-founder


From an individual perspective, the process of socialization is very important for human fulfilment. During our working lives, considering that our jobs occupy a big portion of our time, it is at work where we predominantly socialize. In a remote company, this time spent in physical proximity with others is significantly reduced, which can affect our quality of life, sense of belonging, perception of connection, and other emotional and psychological needs inherent to human beings.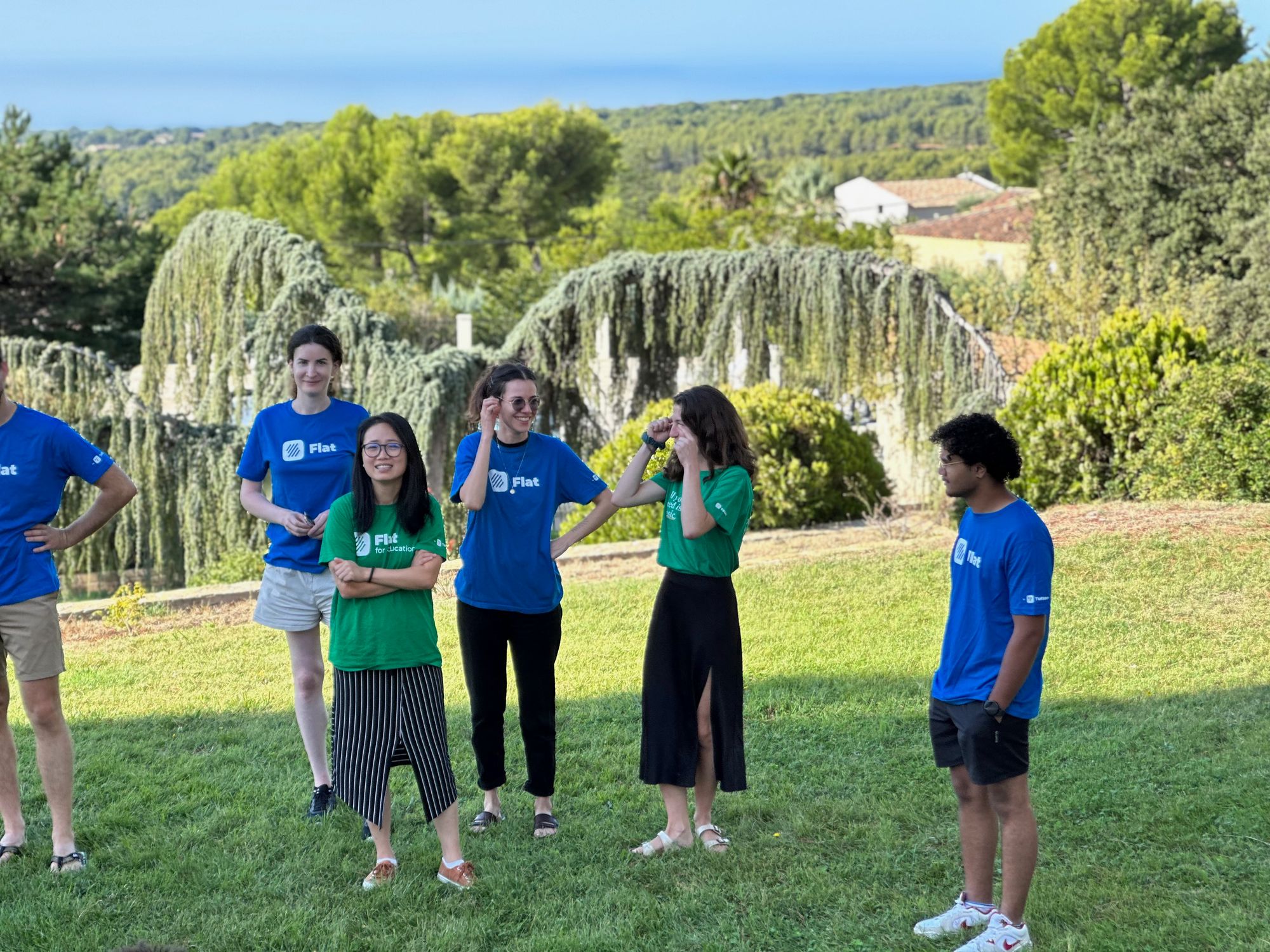 💡Another very interesting point that Carlos, our head of the mobile team, mentioned is that in the daily intercations of an in-person job, many interesting ideas can come up, some unnoticed problems can come to light, among other things. This is very valuable information that might get lost when each team member is working from their own home on their respective tasks. Perhaps during a coffee break, a member of the tech team might have an interesting solution for the marketing team on some matter that's being discussed, or vice versa.
To be honest, this has been quite a challenge for us because it's not easy! We've worked very hard to get to where we are, and we continue to improve. A key aspect for us has been organizing workshops during our yearly meet-ups and asking the team what they consider necessary to enhance internal organization and what they want/need to feel more comfortable in the workspace.


Overcoming The Challenge

At Tutteo, we've been encouraging interactions through various activities. We have yoga classes every two weeks, a "Beer Thursday" once a month to talk about things not related to work, and a Slack channel called "La Cantina" where we share non-work related things.
Now, working from home can be wonderful, but as we mentioned earlier, it can be very lonely too. That's why all members have the option to go to a co-working space to work and be around more people on a daily basis.
"The timezone difference can also be a challenge, but we addressed it by favoring written and asynchronous communication, resorting to calls only when words are not sufficient or not the most efficient means of communication." - Cyril, Tutteo co-founder
One thing we want to implement that was brought to during this year meet-up:
Setting up small group meetings (maximum 3 people) once a week so we can have more interactions with everyone. Kind of coffee breaks, where you join a video call and chat with two other colleagues for 15 minutes.

Now, regarding the organizational aspect and company processes. We noticed that each team has created project management processes that suit their needs, which works well for each team individually. However, on a company-wide scale, it doesn't work as smoothly. So, we decided to create a standardized process for all the teams.

For a startup, this can be tough
Because of the small team size, it's tricky to strictly define each member's roles or the tasks of sub-teams. E.g. the educational account manager, also works on support, creates content for our teachers, have marketing tasks, among other things. So, it's really important to set up standarized processes, but they need to be flexible and adaptable.

We thought it was crucial to do this exercise of creating a standard process for project creation and management with the entire team so we could figure out how to coordinate all the needs and strengths of the processes that had been established so far. It took us a whole day, but we came up with some interesting results. We're eager to see how they'll work out.

Crafting Our Roadmap: Listening to Data and Our Users' Feedback

Creating a roadmap is always a challenge. Our company has ambitious goals, and we're eager to introduce new features promptly. However, turning these aspirations into reality requires careful planning, one step at a time. It's akin to assembling a puzzle!
At Tutteo we use different methods to determine which tasks and objectives to prioritize. We involve every team member - from developers and marketers to designers, UX, CX, and community management. This way, we look at things from lots of different angles.
By engaging all the different teams, we can integrate factors such as project complexity, relevance, and our user's needs for our decision making process. This enables us to stay aligned with the right course of action!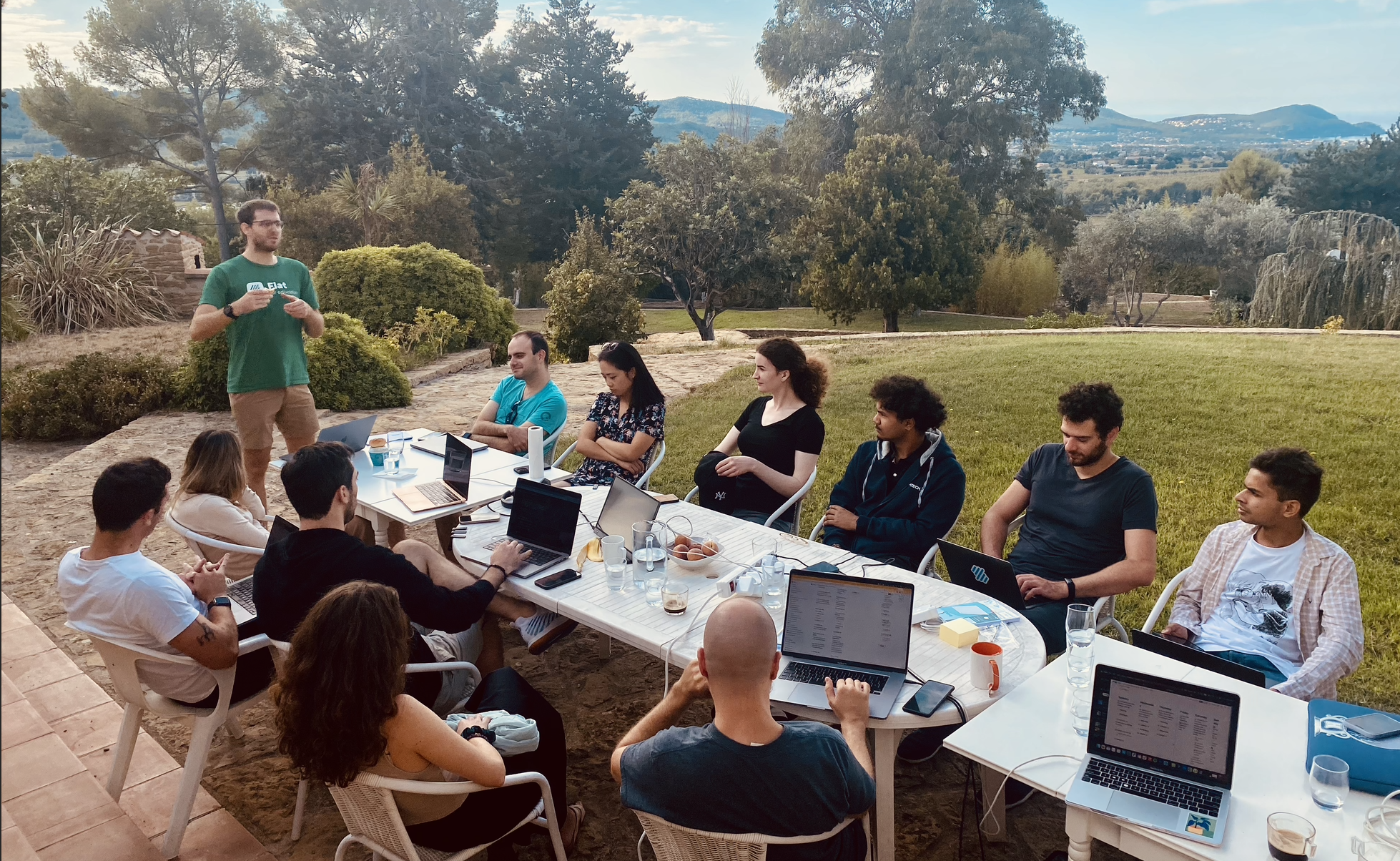 One of the most important parts of our work sessions, which laid the foundation for creating our roadmap, was the presentation by the CX and Marketing teams about user data and feedback from various surveys we've conducted, along with an analysis of platform usage.
For us, the feedback we receive from our community is vital, and we always take it into consideration. We want to provide composers with the product they need, which is why it's crucial to listen to their needs based on their requests and experiences, as well as through data analysis!
Highlights from Our Meet-up Experience

Now, let's talk about the fun part: the team bonding experience.
The most interesting part of being together during the meet-up was when we sat down to eat. You could hear different languages, accents, and stories...
Even though the work sessions were intense, we also had time for fun. In a team photo session, Vincent (our CTO) ended up in the pool by "accident".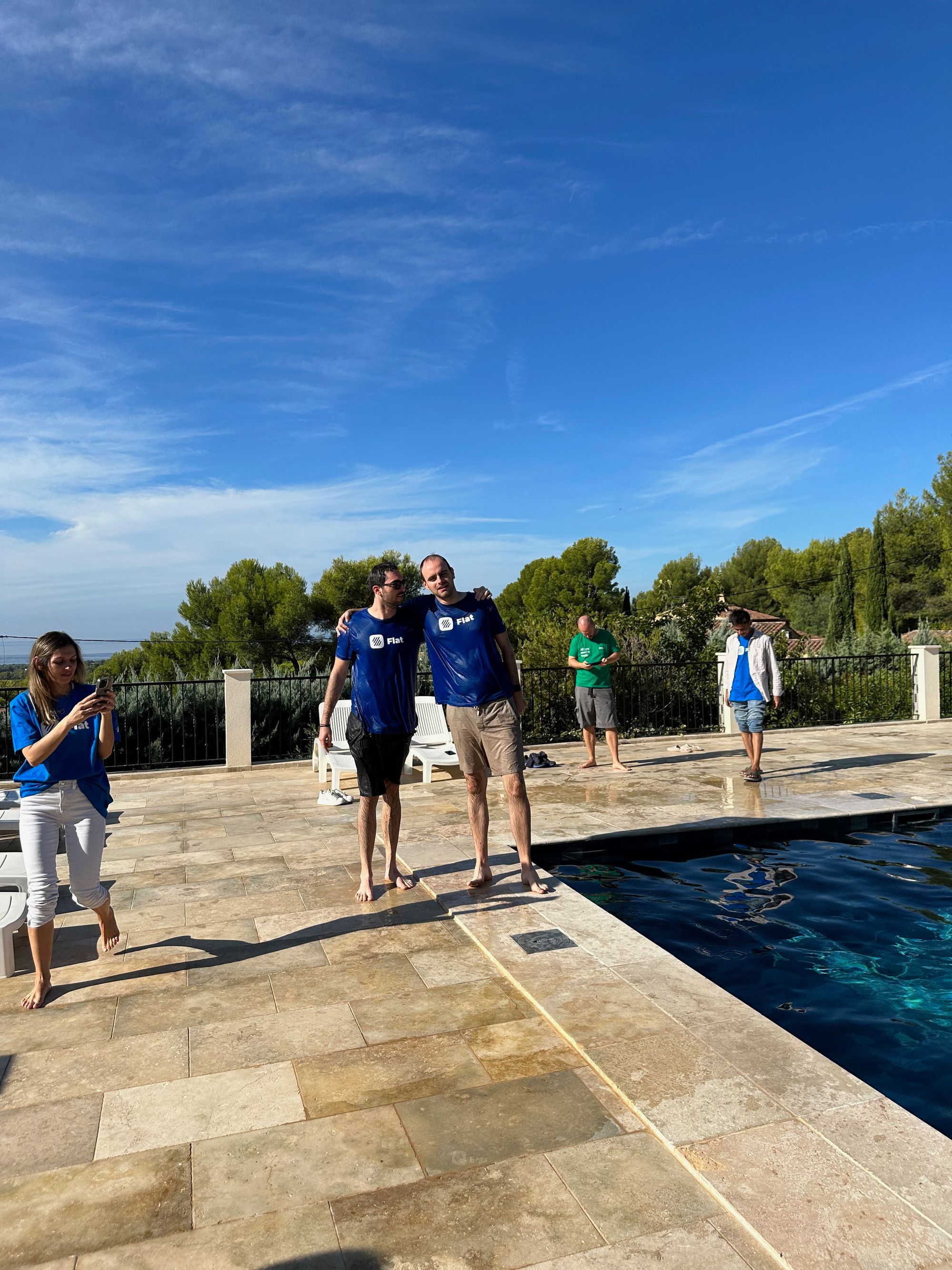 We also had a beautiful boat trip where we swam, ate, and laughed a lot!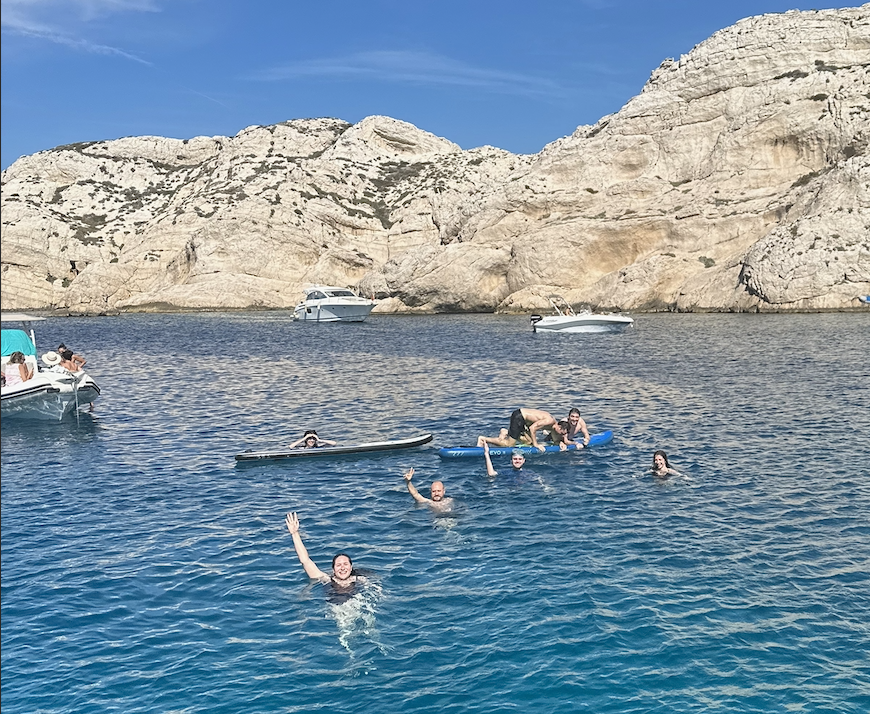 Cyril, Tutteo's co-founder, had a surprise for us: The Tutteo Olympics! Formed into teams, we had to overcome some extreme challenges: a paper airplane competition, an intense music theory trivia, and a song recognition game.
These meet-ups are truly special. They allow us to strengthen our team bonds. Besides, they're a very fertile time for creativity and innovation to create the roadmap to keep improving our products.

We can't wait for the next one!