The back-to-school season is back once again, providing a great moment for reevaluating our study methods and approaches. This isn't solely about maximizing the efficiency of your study sessions; it's also about nurturing the motivation that will carry you through the year, letting you stride confidently toward your aspirations.
In this article, I'll share some practical studying tips, but that's not all! I'll also walk you through how those tips can be put into action with some of the amazing features that Flat has to offer.  ‌‌
If you don't have an account yet, what are you waiting for? Sing up for free:
So let's go, and get this year of exceptional achievements started off right!
Set goals
‌‌🎯 A successful path for the upcoming year begins with setting goals. These goals act like road signs, guiding you toward your desired destination.
The crucial part is not just thinking of your objectives, but actually taking a moment to write them down. This could be in a journal you open every morning, a digital document on your computer, or even on colorful sticky notes that brighten up your workspace! The idea is to have your goals in a spot where you'll regularly see them.
🏃🏻‍♀️ These goals aren't a mere list; they're your personalized source of encouragement, your daily push, your ultimate strategy. With your goals written down, you're not just starting another year; you're embarking on a purpose-driven journey toward the accomplishments reached during 2023-2024.
✨ But do keep in mind that goals are guiding stars, not rigid milestones that are the only measure of success. No matter what, real success comes from consistently finding joy in what we're doing.
It's a good idea to check on your goals every few months and adapt them if needed. Life can be unpredictable, no matter our plans. So keep your goals close like walking companions, not things to obsess over.
💡 I have a great resource for you on remaining motivated while studying music, check it out here.
Have a study time plan
‌‌🗓️ It's really important to have a solid plan for managing your study time. Music covers a lot of ground, from theory to getting the hang of practical skills. Having a good handle on your time helps you improve in all areas.
🙅🏻‍♀️ Without a clear plan, you might end up focusing too much on one thing and missing out on the bigger picture.
⏰ One practical way to map out your music study time is to start by taking a good look at what you're naturally drawn to and what areas you need to work harder on. Then, split up your practice sessions into different parts, like warming up, working on specific techniques, playing pieces, and diving into theory. Decide how much time you'll dedicate to each aspect and stick to your schedule.
‌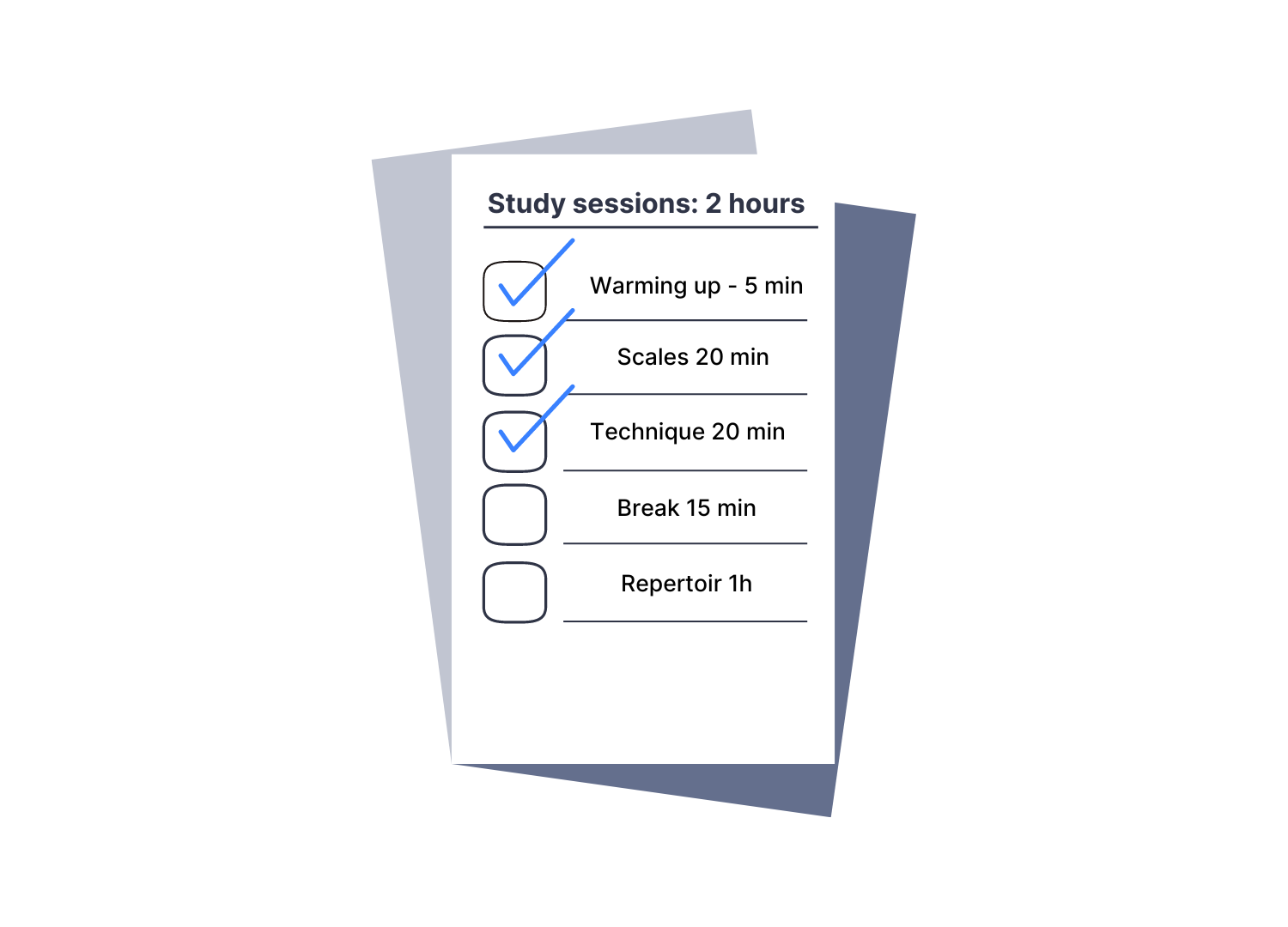 Always remember that it's better to practice a little every day than trying to cram in a lot once a week. You want to create a routine that fits into your daily life. ‌‌‌‌💡 If you want to learn more about time management for musicians, check out this article. ‌‌
Stay organized with Flat
‌‌Creating collections
Order brings clarity and allows us to save time on looking for things we need. My advice is to have all your study materials (that is, your sheet music) in one place where you can access them anytime, anywhere. That is precisely one of the virtues of music notation software like Flat.
‌‌🗂️ Moreover, with Flat you have the option to create collections, allowing you to categorize your scores based on varying requirements, such as classes or study techniques.‌‌‌‌
💡 Learn how to create collections in Flat here.
Keeping track of your progress
It's important and motivating to keep a record of the progress you make over time. This also lets you track the areas which need improvement. For this, there are 2 amazing tools available in Flat: annotations and inline comments both let you keep an ongoing record in the way that works best for you.
Annotations
‌‌🗒️ Annotations are little notes you add to the top of your sheet music. They can be used as reminders that help you play better what you are practicing. Imagine playing a song and struggling with a tricky part that needs more attention. Well, annotations can be your helpful companion, reminding you to play that part slowly until you can master it at full speed. And don't forget those emotional moments in the music – you can use annotations to remind yourself to put your heart into those sections.
💡Here's another scenario to use the annotations: you're practicing, and when you're done for the day, you write down where you stopped. When you return to it later, no more searching for where to begin! ‌‌‌‌And let's talk about those "aha" moments. You know, when you discover that taking a breath at a certain spot magically makes another section flow better? Well, you can capture those gems in your annotations.
Inline comments
This feature is similar to the annotations, but enables you to put more insights in your notes. Plus, you can add those notes inside of the score. When you come across a tough part in the score – a part that makes you scratch your head – don't sweat it! 🧠Instead, take a moment to figure out why it's giving you a hard time. Once you've cracked that code, it's time to add an inline comment in your score. This note will be your guide, reminding you of smart ways to tackle the challenge.

✨ And guess what? You keep that note right in your line of sight while you practice. As you work on it bit by bit, you'll notice something amazing – you're getting better!

And here comes the cool part: when you finally nail that section, you can resolve the inline comment – oh boy, the feeling of acomplishment when doing this is out of this world! It's like winning a mini-battle in the world of music! That feeling of "I did it!" is going to light up your motivation 💪.

🚀 Annotations and the inline comments are vital to make your learning journey smoother and more insightful. There's no limit to what you can do with them – it all depends on your needs and creativity.‌‌‌‌
💡 To learn more about using these tools and other features on Flat to improve your study methods, this is the article for  you.‌‌
The best way to share your scores
‌‌Whether you're sharing a score with a teacher to get their input or working on a project with a classmate, Flat's sharing and collaboration features are really useful.
✨ With Flat, you can easily send your scores to others, making it simple to get feedback from your teachers or friends. It's also great for creating music together in real-time.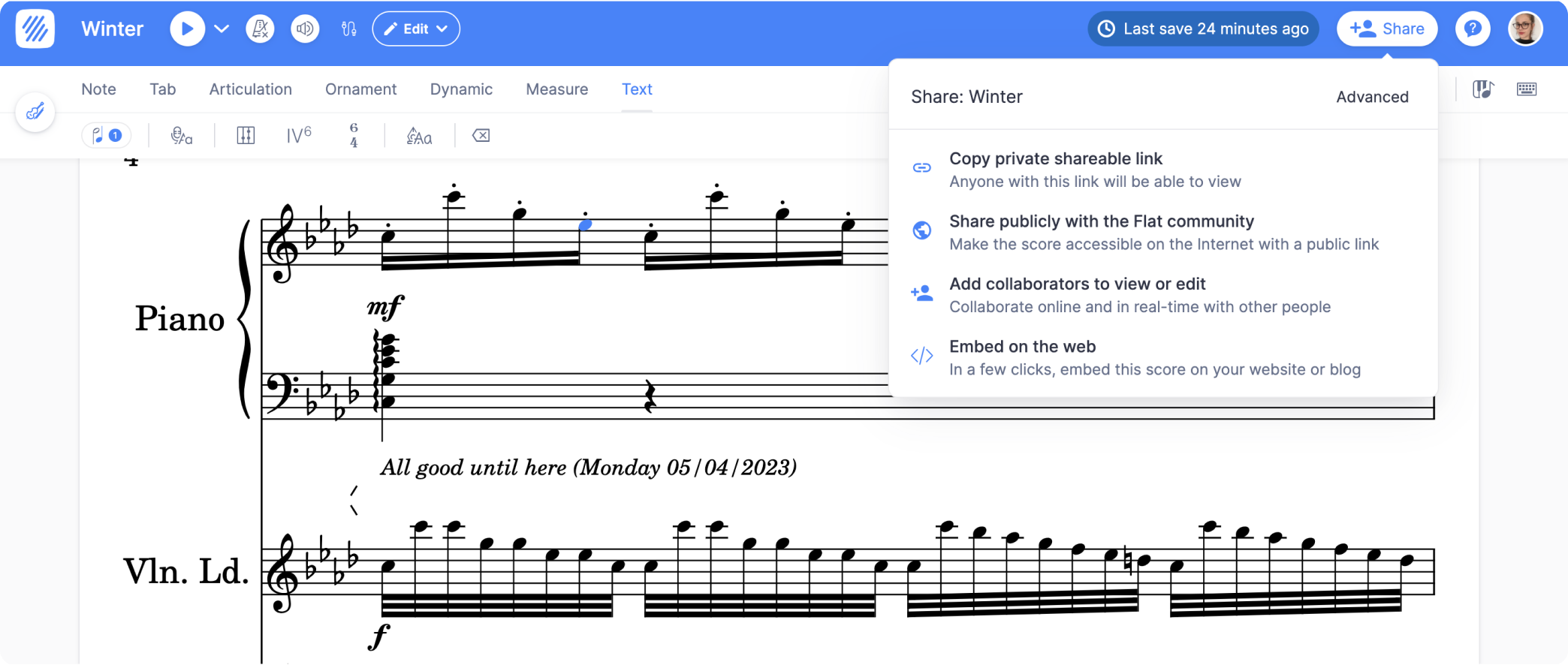 🚀 And if you want to share your music with a wider audience, the Flat community makes it easy to put your work online and connect with people who love music from around the world. These sharing and collaboration options are all designed to make your musical journey more interactive and enjoyable.
💡 Learn how to share your scores here.‌‌‌‌That's all for now!  Don't hesitate to reach out to our support team if you need any assistance with the platform at hello@flat.io. ‌‌
🍀 Wishing you all the best in this new school year, and see you next time!