Hello everyone,
As always, we want to keep you in the loop on our latest Flat product updates:
Editor
Updates on the new Roman numerals input
Reminder: What are Roman numerals?
Roman numerals are one way of writing music chords. They help identify chords in a key, no matter which notes are used. Musicians use Roman numerals to analyze the chord progressions in a piece of music.

💡 Learn how to use this feature in Flat here.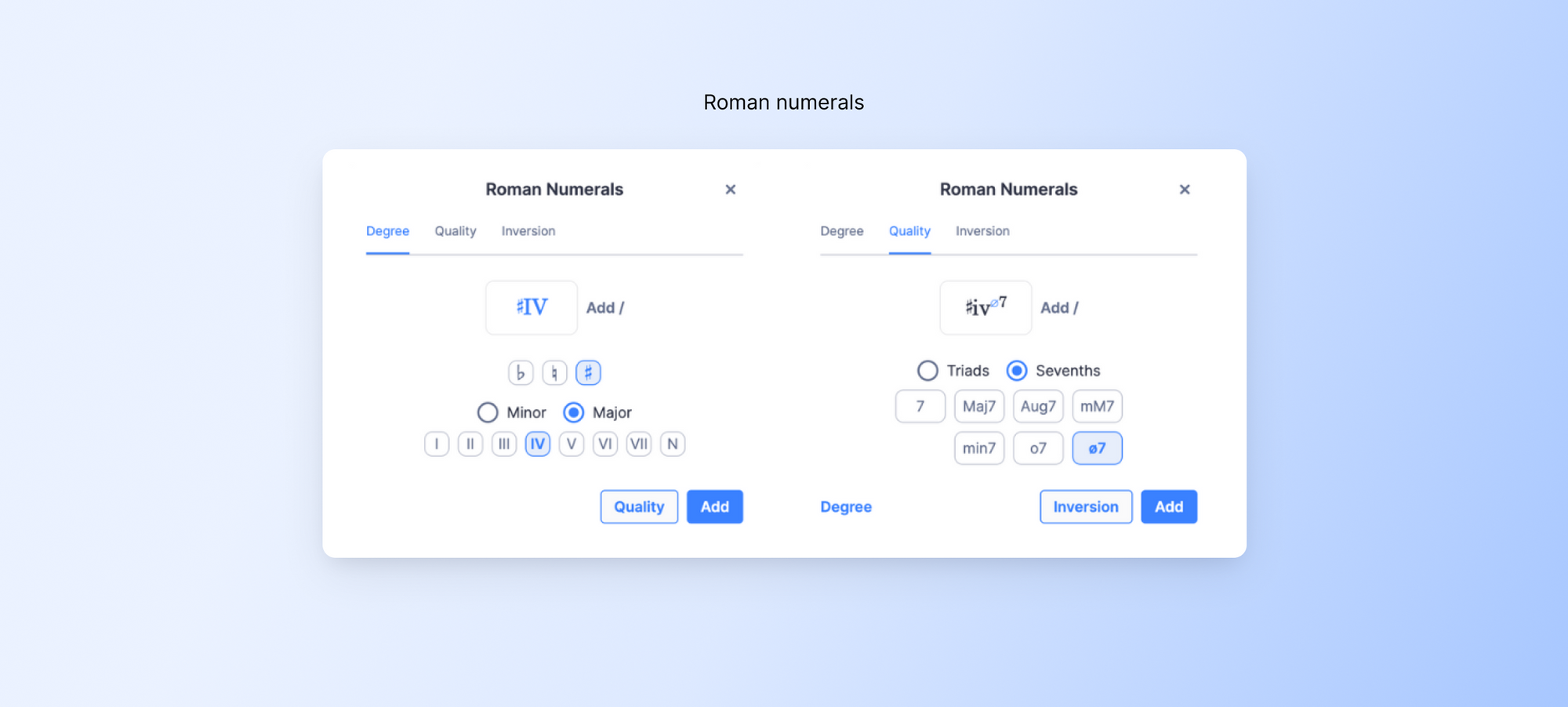 To enhance the overall user experience, we've implemented a set of helpful tooltips to provide clear guidance for using Roman numerals in your compositions. Additionally, we have made several adjustments to optimize the feature's usability with a keyboard, ensuring a seamless and efficient workflow.
New button for adding and removing measures
In order to significantly enhance your workflow and make score editing a breeze, we've implemented a user-friendly button directly within the score interface. With this handy addition, you can add or remove measures by simply clicking on the designated button, eliminating the need for time-consuming manual adjustments.
💡 This intuitive feature lets you achieve greater efficiency and flexibility when working on scores, saving you valuable time and effort throughout the editing process.
New option to export without time signatures
Thanks to your feedback we're excited to introduce a frequently requested feature: the ability to export scores without any time signatures. This allows for greater customization in your creations, giving you the freedom to explore and personalize your compositions even further.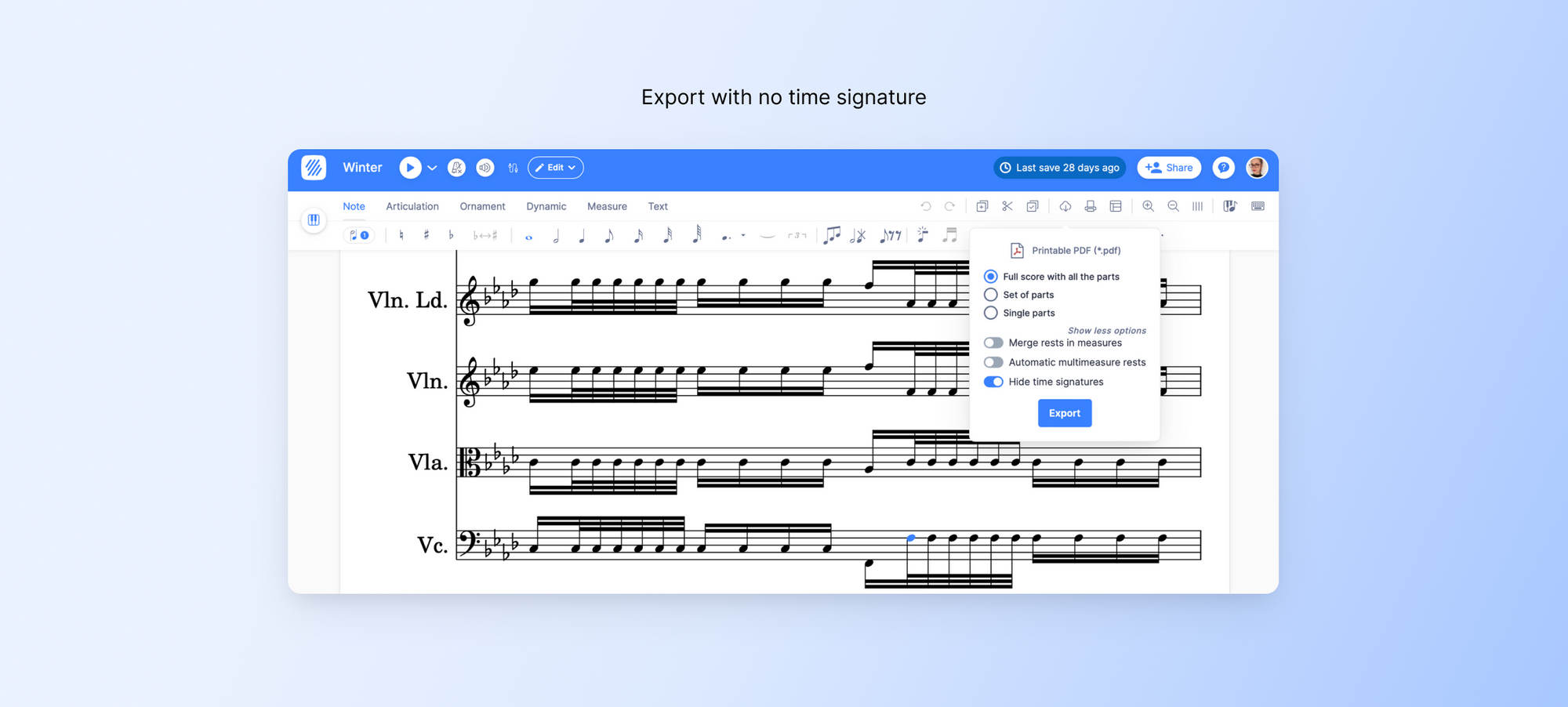 Learn how to export your scores without time signatures in this tutorial.
🔥 Get ready to unleash your creativity and take your musical expression to new heights with this exciting addition to our platform.
New instruments
We've added 2 amazing instruments!

Besides that, we have a new Ehru and 9 new Bass Synthesizers in Beta.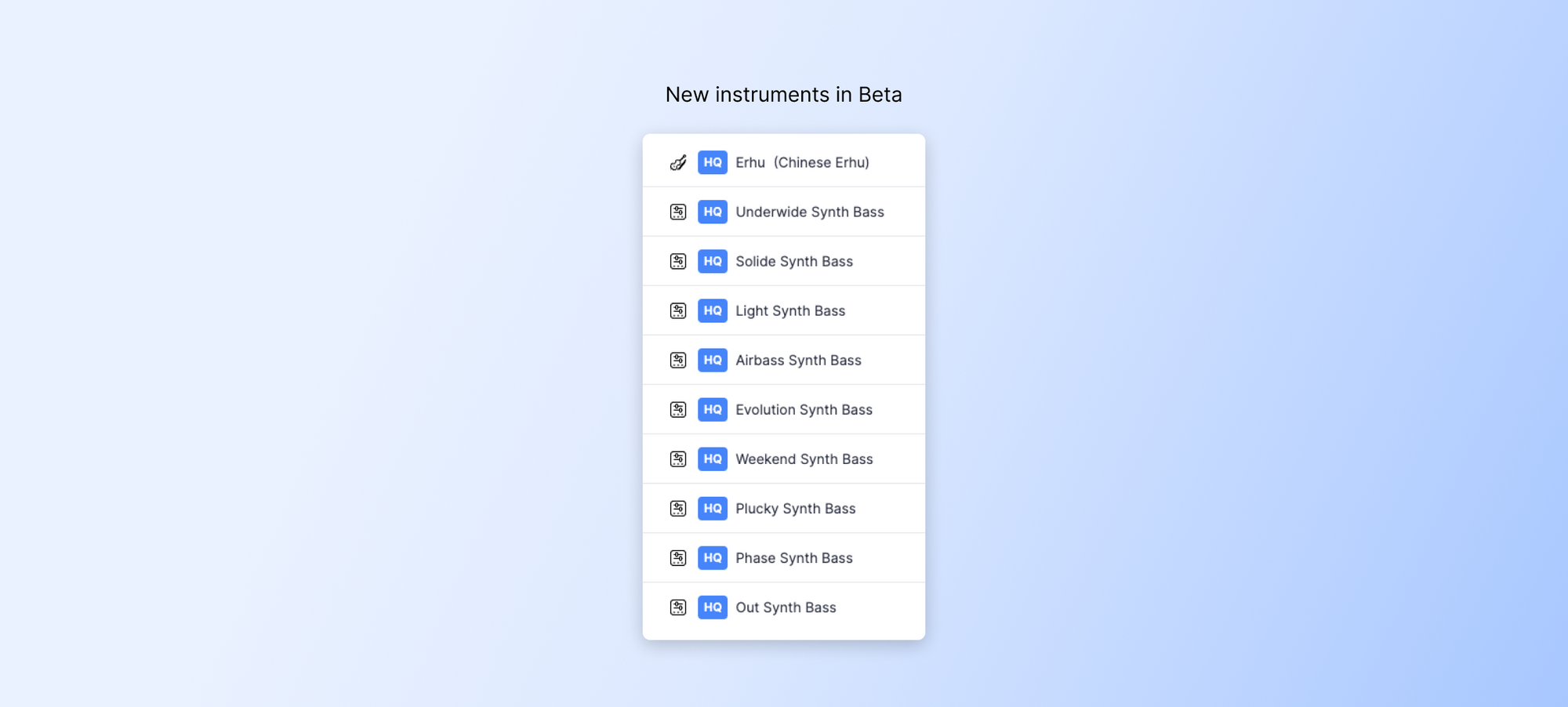 We can't wait to hear what you'll create with these new sounds!
Accidentals better interpreted by ornaments
We've made significant improvements to the interpretation of ornaments, such as trills and mordents, in relation to key signatures and previous accidentals within the measure. With these enhancements, the playback of these expressive embellishments now accurately reflects the intended musical interpretation, taking into account the appropriate key signature and any preceding accidentals. This refinement ensures a more faithful representation of your compositions, providing a richer and more nuanced musical experience.
Learn how to add ornaments to your score here.
Mobile apps
New editor
🚀 This update is designed to empower musicians of all levels – create, edit, and bring your musical ideas to life on the go!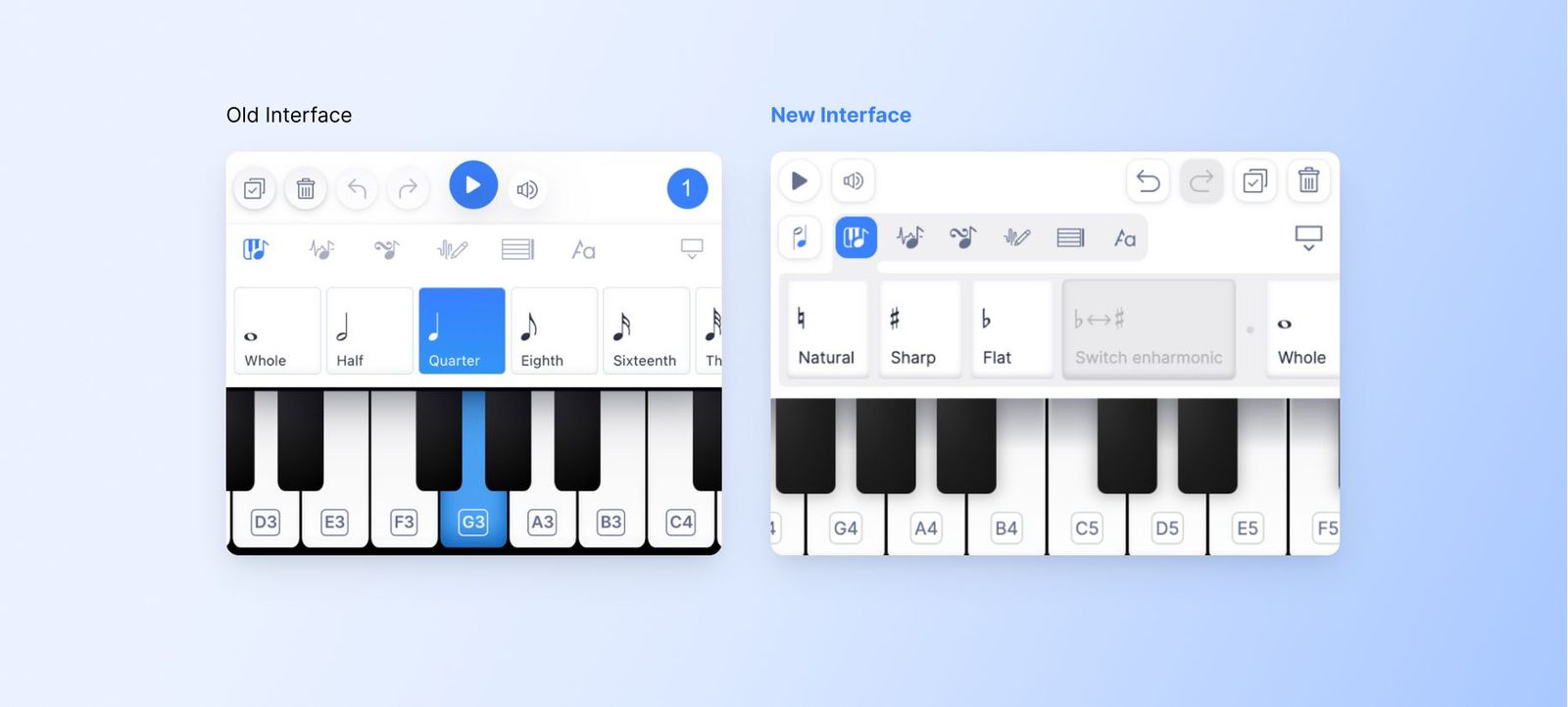 💡 Learn all about the available features and more in our dedicated article.
We hope this update takes your music to the next level and makes creating music in our mobile app even more enjoyable!
New instruments
We've added many new instruments in the mobile apps (Android and iOS):
🎶 Erhu
🎶 Out Synth Bass
🎶 Phase Synth Bass
🎶 Plucky Synth Bass
🎶 Out Synth Bass
🎶 Weekend Synth Bass
🎶 Evolution Synth Bass
🎶 Airbass Synth Bass
🎶 Light Synth Bass
🎶 Solid Synth Bass
🎶 Underwide Synth Bass
🎶 Contrabassoon
🎶 Woodblock
New feature in iOS
Great news! The custom instruments feature that has been enjoyed on Android is now also available for iOS users. This update brings a consistent and unified experience to both platforms, ensuring that iOS users can now benefit from the same powerful features and functionalities as on Android.
Custom instruments when creating a score
Now you can add custom instruments while creating a score instead of having to wait until the score is already created. This allows for a smoother and more convenient workflow, giving you the flexibility to personalize your compositions right from the start.
😎 Enjoy the freedom to easily include your preferred instruments and create unique musical pieces that suit your artistic vision.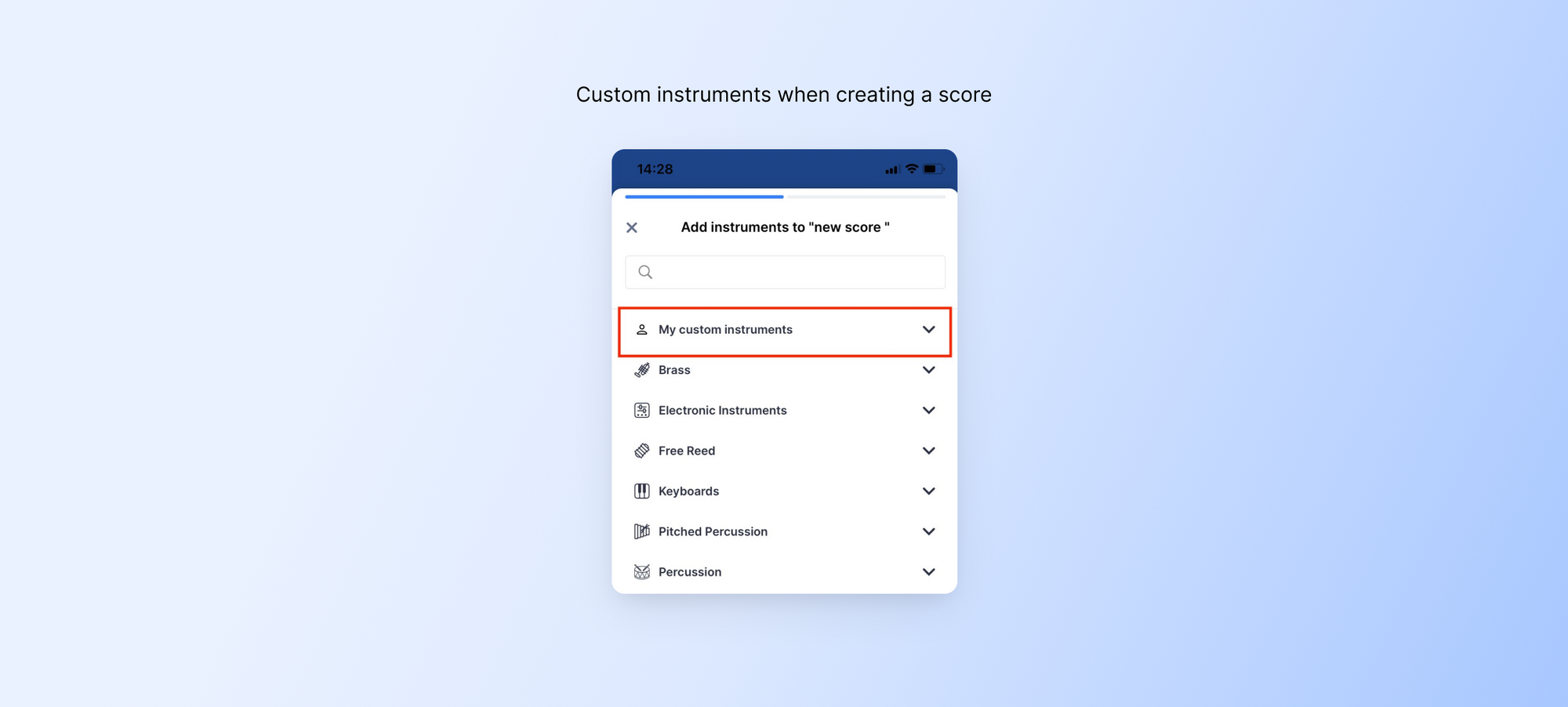 💡Learn more about custom instruments here.
The community
May challenge
We are honored to have such a diverse group here, and we cherish the cultural richness that each of you brings to our community. In this challenge we're celebrating that diversity, giving everyone a chance to share their culture. We will announce the winner very soon, so stay tuned!

Find out more here.
Composer of the month: LG15

LG15 gives us all the opportunity to marvel at such big talent in such a young package!

Check out the full interview in this article.  
Recent articles

If you haven't read them yet:
✍🏽 Water, water everywhere with April's Challenge

Prof P, winner of April's challenge, shares some valuable tips on how to win a Flat challenge.
✍🏽 Harnessing Creativity to Improve Your Music Composing
In speaking with Flat's community of 5M+ music lovers, we've heard some great ideas for how to find and use inspiration while making sheet music. In this article, you'll find some of the best.
✍🏽 What is rhythm? A simple music definition
Rhythm is all around us, yet it tends to lull us into a place where we go about our lives largely unaware of its presence. In this article we try to explain simply what rhythm is.
Follow us on social media
It would be fantastic if you'd follow us on Instagram and Twitter.
You'll get great content while also supporting our project 🤩.
Feedback?
If you have any questions or suggestions for our product team, please reach out: hello@flat.io.
Have a wonderful day!