Hello everyone,
As always, we want to keep you in the loop on our latest Flat for Education product updates:
Editor
Updates on the new Roman numerals input
Reminder: What are Roman numerals?
Roman numerals are one way of writing music chords. They help identify chords in a key, no matter which notes are used. Musicians use Roman numerals to analyze the chord progressions in a piece of music.

💡 Learn how to use this feature in Flat here.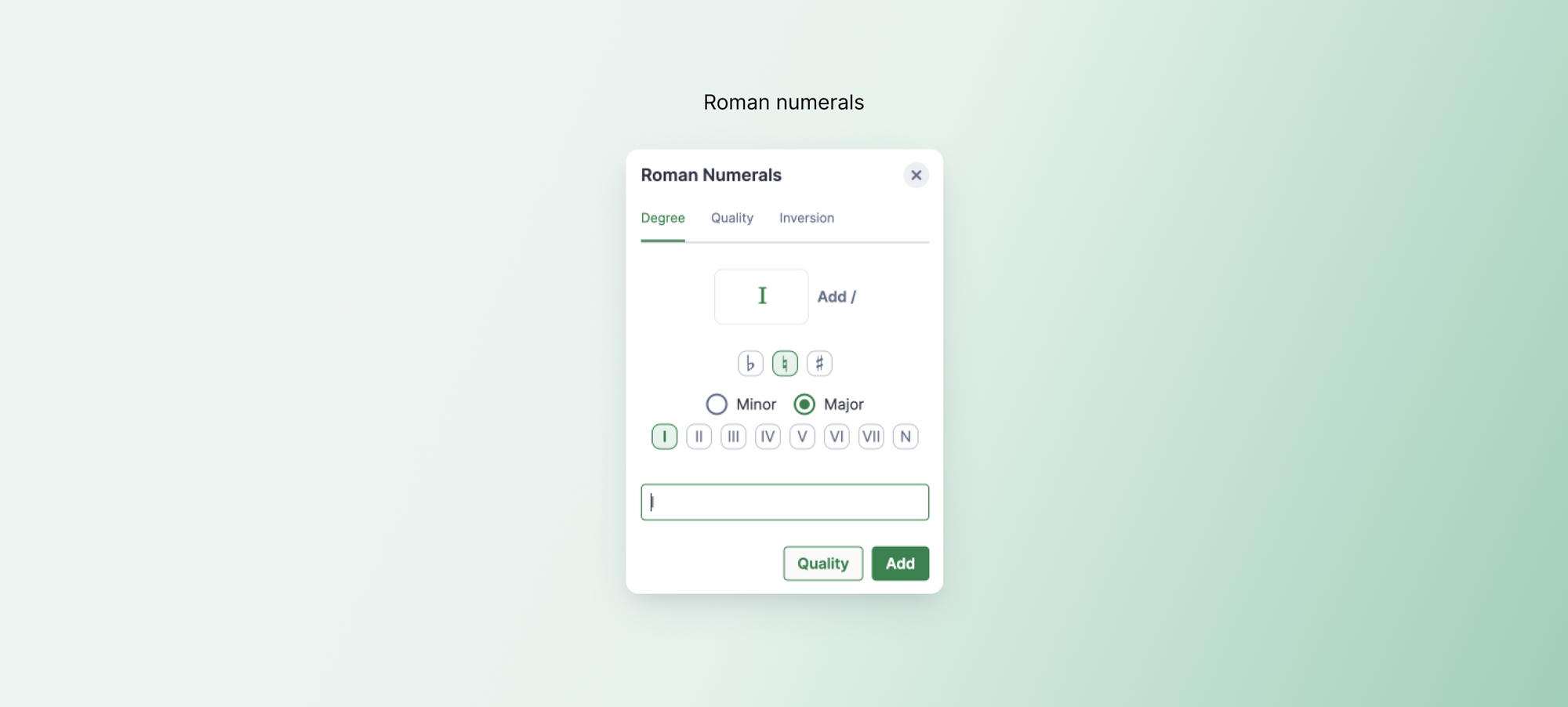 To enhance the overall user experience, we've implemented a set of helpful tooltips to provide clear guidance for using Roman numerals in your compositions. Additionally, we have made several adjustments to optimize the feature's usability with a keyboard, ensuring a seamless and efficient workflow.
New button for adding and removing measures
In order to significantly enhance your workflow and make score editing a breeze, we've implemented a user-friendly button directly within the score interface. With this handy addition, you can add or remove measures by simply clicking on the designated button, eliminating the need for time-consuming manual adjustments.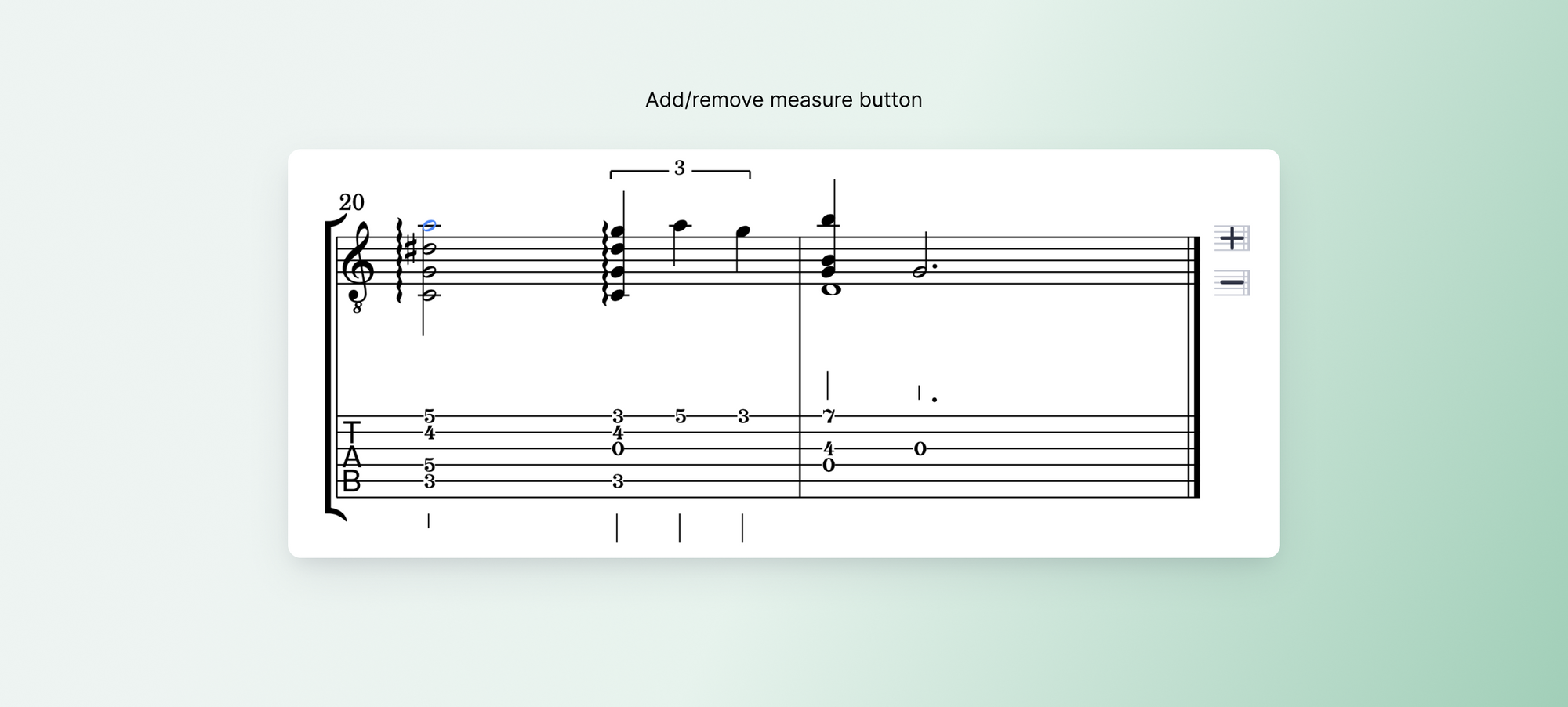 💡 This intuitive feature lets you achieve greater efficiency and flexibility when working on scores, saving you valuable time and effort throughout the editing process.
New option to export without time signatures
Thanks to your feedback we're excited to introduce a frequently requested feature: the ability to export scores without any time signatures. This allows for greater customization in your creations, giving you the freedom to explore and personalize your compositions even further.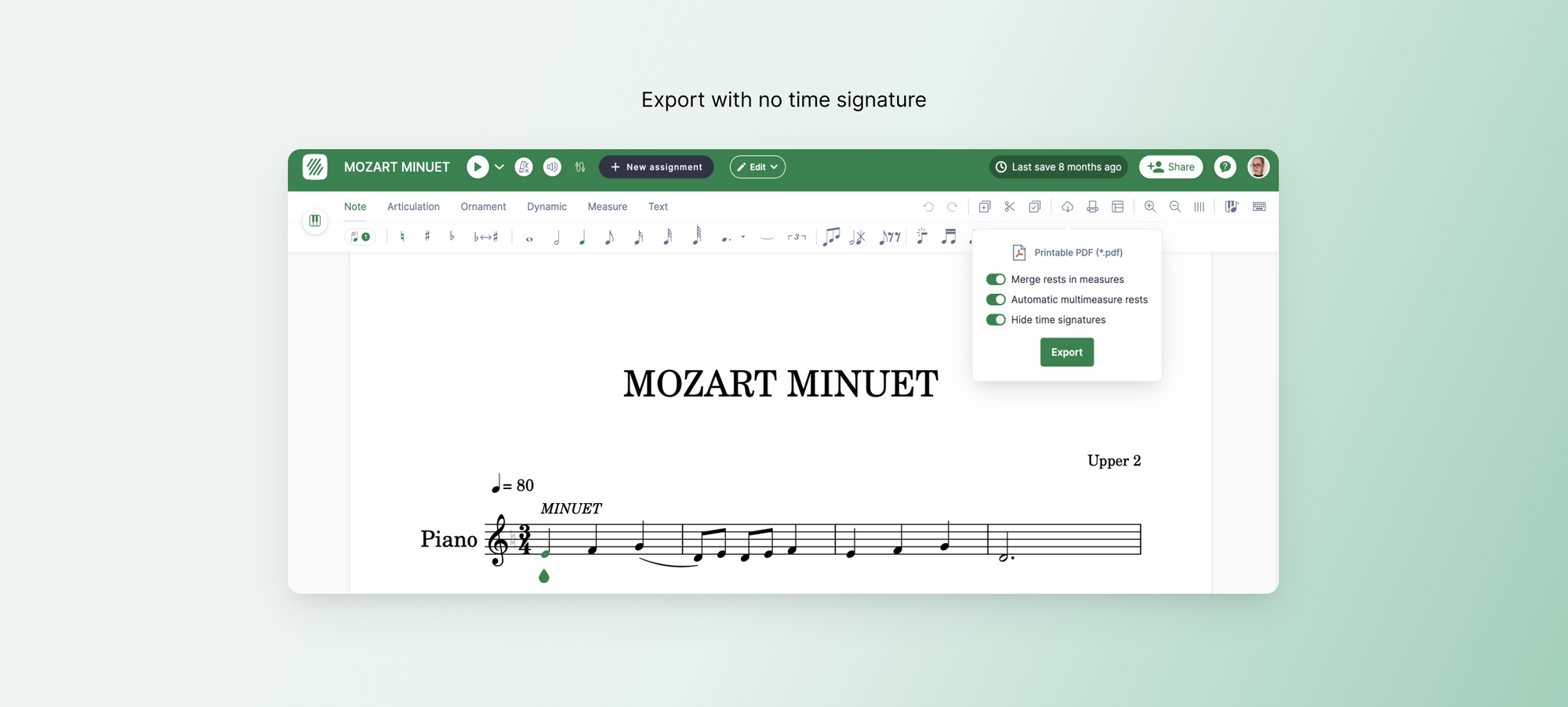 Learn how to export your scores without time signatures in this tutorial.
🔥 Get ready to unleash your creativity and take your musical expression to new heights with this exciting addition to our platform.
New instruments
We've added 2 amazing instruments!

We  can't wait to listen what you will create with these new sounds!
Accidentals better interpreted by ornaments
We've made significant improvements to the interpretation of ornaments, such as trills and mordents, in relation to key signatures and previous accidentals within the measure. With these enhancements, the playback of these expressive embellishments now accurately reflects the intended musical interpretation, taking into account the appropriate key signature and any preceding accidentals. This refinement ensures a more faithful representation of your compositions, providing a richer and more nuanced musical experience.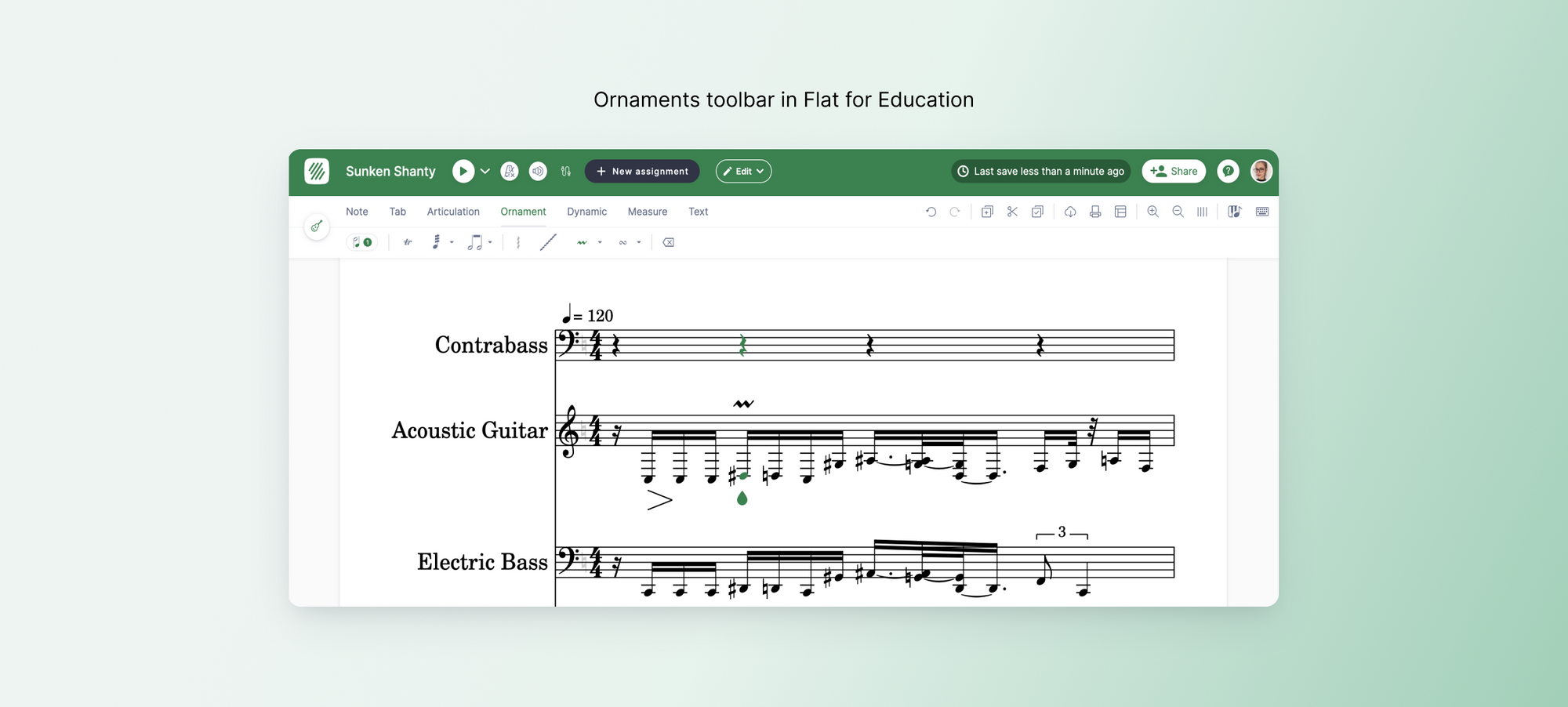 Learn how to add ornaments to your score here.
Edu features
Resource Library for all
The Resource Library is now available for all users, and we can't wait for you to explore it. You'll love the updated features, and don't worry - we're here to help you every step of the way! Check out this guide we've made; it'll help you understand all the changes and get the most out of the Resource Library.

Let's work together to shape the future of education! 🌟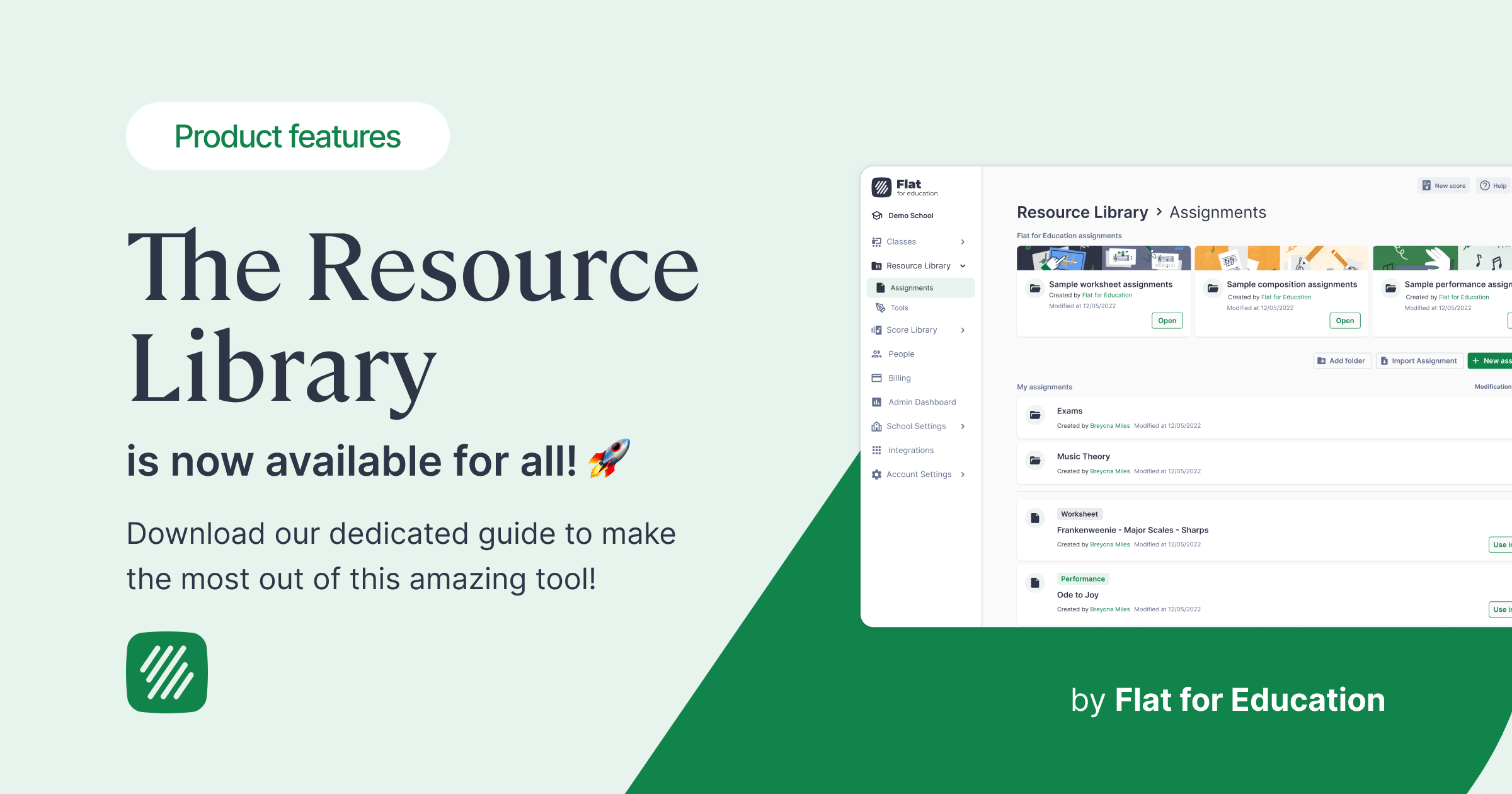 Top articles
Here are some recent articles that will help you optimize your teaching routine and make the most out of Flat for Education:
✅ Customizing the Editor for More Effective Music Composition Assignments
✅ Hack for busy teachers… Sample Resources!
✅ Optimize your teaching routine with our Resource Library!
✅ Jazz Ensembles on Flat for Education
Feedback?
If you have any questions or suggestions for our product team, please reach out: edu@flat.io.
Have a wonderful day!