Our company is well-known for our products; Flat and Flat for Education, but there is a whole company behind those two: Tutteo. We thought it would be appropriate to bring it closer to our community. Therefore, we decided to launch a page dedicated to Tutteo.
In this article, we share with you our story, the content you can find on the page, and some interesting design-related facts.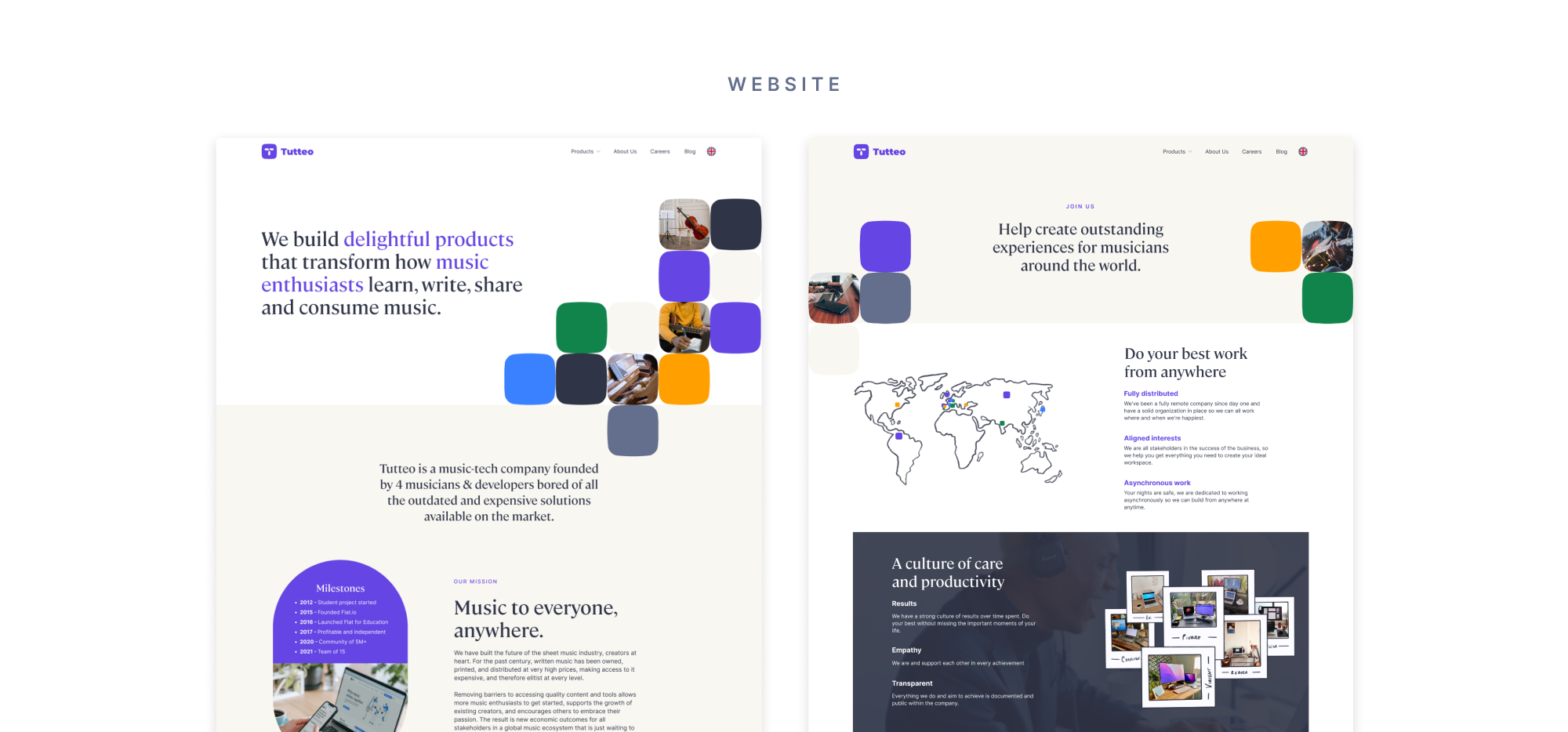 Our Journey
In 2015, Tutteo's founders were in college finalizing their graduation project.
The love for music, the dissatisfaction with existing music notation software, and the dream to make music accessible to everyone led them to create the first version of Flat.
The founders never imagined the passion Flat would ignite in them and that this university project would become the purpose of their lives.
After three years of hard work, they founded Tutteo.
"Personally, the past years have been the most intense years of my life so far. We have put so much energy into the company, failed so many times, pushing us to reconsider, reflect and move over any wrong decision. It's impossible to put a value on everything we have learned during this period but when we look back we can see that we built the foundation of an amazing music company that we can't wait to scale up" - Pierre, CEO & Founder at Tutteo
In these years, Tutteo built the first and only platform on the market that offers the ability to collaborate in real-time on the same score and keep on working even without a network connection. All of that without the hassle of installing software on your computer.
"Through all our discussions with the community, we quickly understood that something was missing. A solution, to support music teachers to build more engaging and interactive music activities where students can be more active and experiment by themselves" - Pierre, CEO & Founder at Tutteo
This is how Flat for Education was born.
Our name
Creating a community has always been important to us. The collaborative features of our products are proof of that. And that's where our company name was born.
Naming things is always hard. You can't imagine how intimidating it is to find the perfect name for your company. And, this is harder when it is more than your company, is the project where you are putting all your heart.
Faced with the dizzying task of choosing a name, the founders found two clues that pointed them in the right direction. First, they knew it had to be something related to music. Second, they knew that it had to represent the importance of creating a community.
After a lot of thinking, they thought about "tutti" - an Italian word.
As you might know, "tutti" means together, and we use it in music notation to indicate that the entire orchestra plays together.
Isn't that beautiful?
With "tutti" in mind and adding a creative twist, the founders created the word Tutteo, which became the name of our company.
Page content
On our new page, you will find all the information about our products, our values & mission, career opportunities, and more.
Come and take a look 👀 Tutteo👈🏻 !
Design
About the beautiful design of our website, who better than Sara, our Brand Manager and design lover, to tell us about it?
"When we thought about creating a unique identity for Tutteo, we considered three main pillars: the team members, the community, and its products" - Sara, Brand Manager at Tutteo
With this vision in mind, it was essential to find a color that represented those pillars in its strength, identity, and goals. Consequently, we chose the color Purple.

Why this color?
Purple is a vibrant and powerful color. A color without shyness that shows just that: a team made up of ambitious and dedicated people who work daily to provide our communities with the best experience possible through our products well-designed, studied, and developed.  
About the logo
The letter "T" in the middle of the square - a symbol presented in every Tutteo's product - represents the beginning of everything: the first letter of the word Tutteo, meaning the beginning of the company.

"The "T" made by the three parts also symbolizes that Tutteo is a sum of multiple products, and they are all connected" - Sara, Brand Manager at Flat
Paraphrasing Eduardo Galeano, humans are not made of atoms, we are made of stories. We hope you have enjoyed ours, which is just getting started.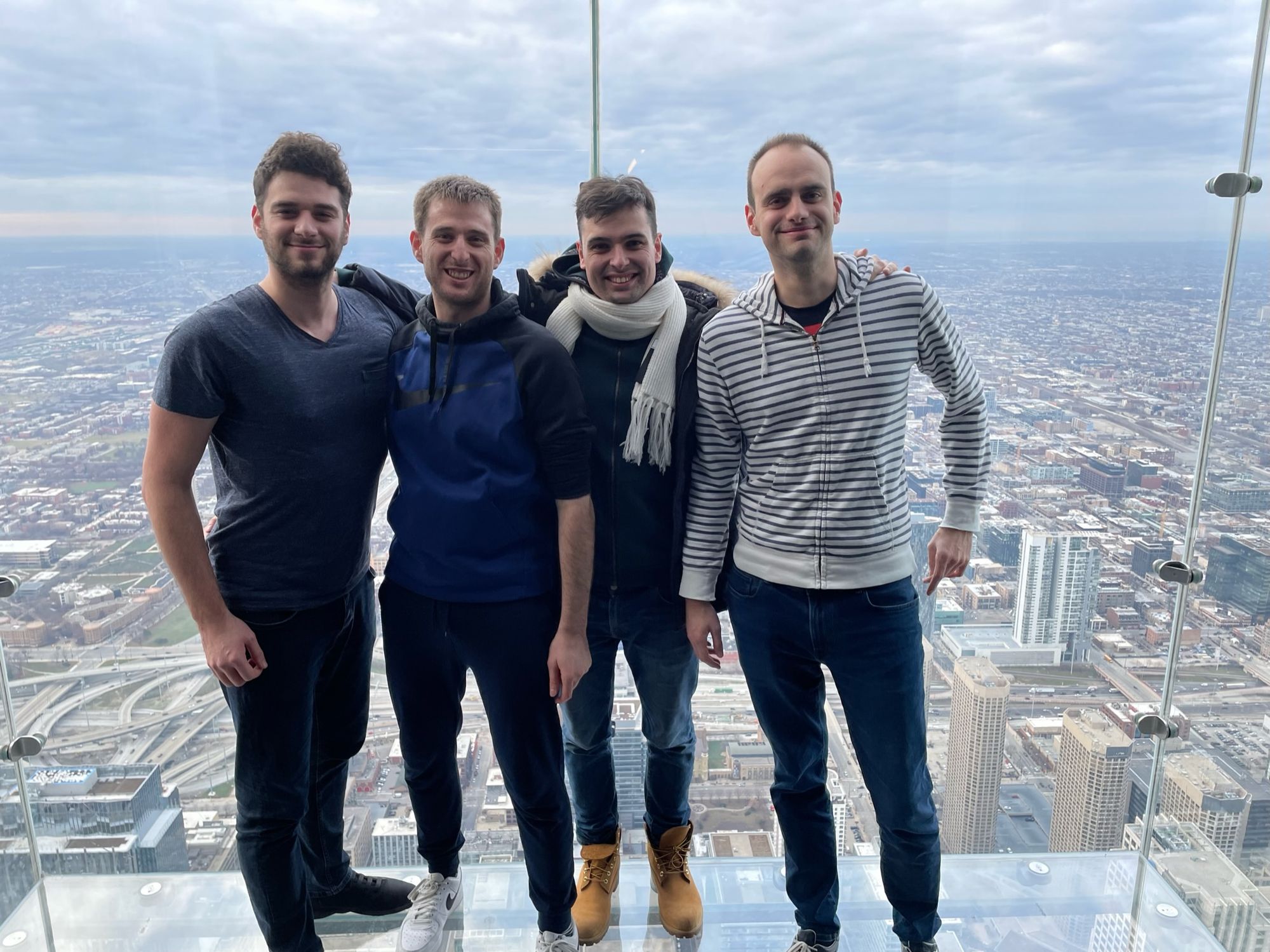 With nothing more to say, thank you for being part of this community and to our team for the great work on this page!