Hello everyone,
As always, we want to keep you in the loop on our latest Flat product updates:
Editor
Enhanced usability for touch devices
Thanks to your invaluable feedback coupled with our teammates' unwavering commitment, we made a significant update that enhances Flat's touch-based usability. This update includes:
More precise note and range selections.
Range selection now being initiated by a long press instead of a swipe movement.
An improved, smoother anchor selection system.
Scrolling through the score no longer cancels the range selection.
The paste menu being accessed now by double tapping instead of a long touch or second touch.
The paste menu is now located above the staff for consistency and easier access.
Zooming now occurring from the pinched area.
Easier updates of note pitch, done by clicking directly on the notehead and dragging the anchor to adjust the pitch.

💡 Go into more detail on using Flat with touch devices in our dedicated article.
Error details while importing MusicMXL files
When a MusicXML file fails to import, we now display specific reasons for the failure, especially for common issues.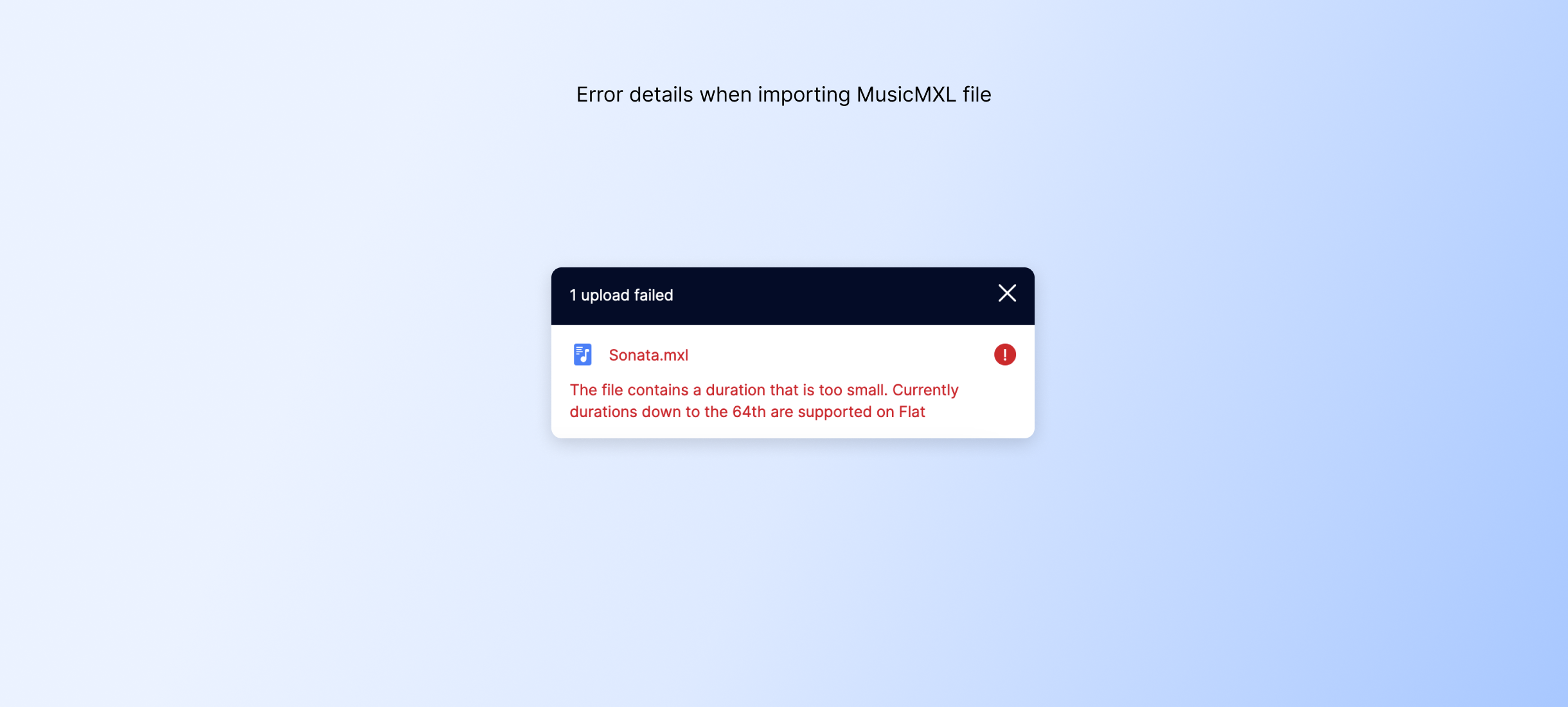 This enhanced functionality not only enhances the user experience but also empowers users to troubleshoot their MusicXML file imports more effectively. By gaining insight into the exact reasons behind failed imports, users can proactively address the underlying issues and seamlessly continue their work with music notation.
⚡️ Remember, you can always reach out to our support team at hello@flat.io!
Roman numerals input improvement
What are Roman numerals?
Roman numerals are a way of writing music chords. They help identify chords in a key, no matter which notes are used. Musicians use Roman numerals to analyze the chord progressions in a piece of music.
💡 Learn how to use this feature in Flat here.
Recently we've made some improvements to enhance the usability of inputting Roman numerals. These include tooltips to provide keyboard shortcut information as well as navigation arrows to conveniently change the selected note while inputting Roman numerals.

Flat allows you to write customizable tablatures for any instrument! Learn all about this amazing feature here.

With this update, rests are now displayed within the tab even when the staff is hidden during printing or PDF export.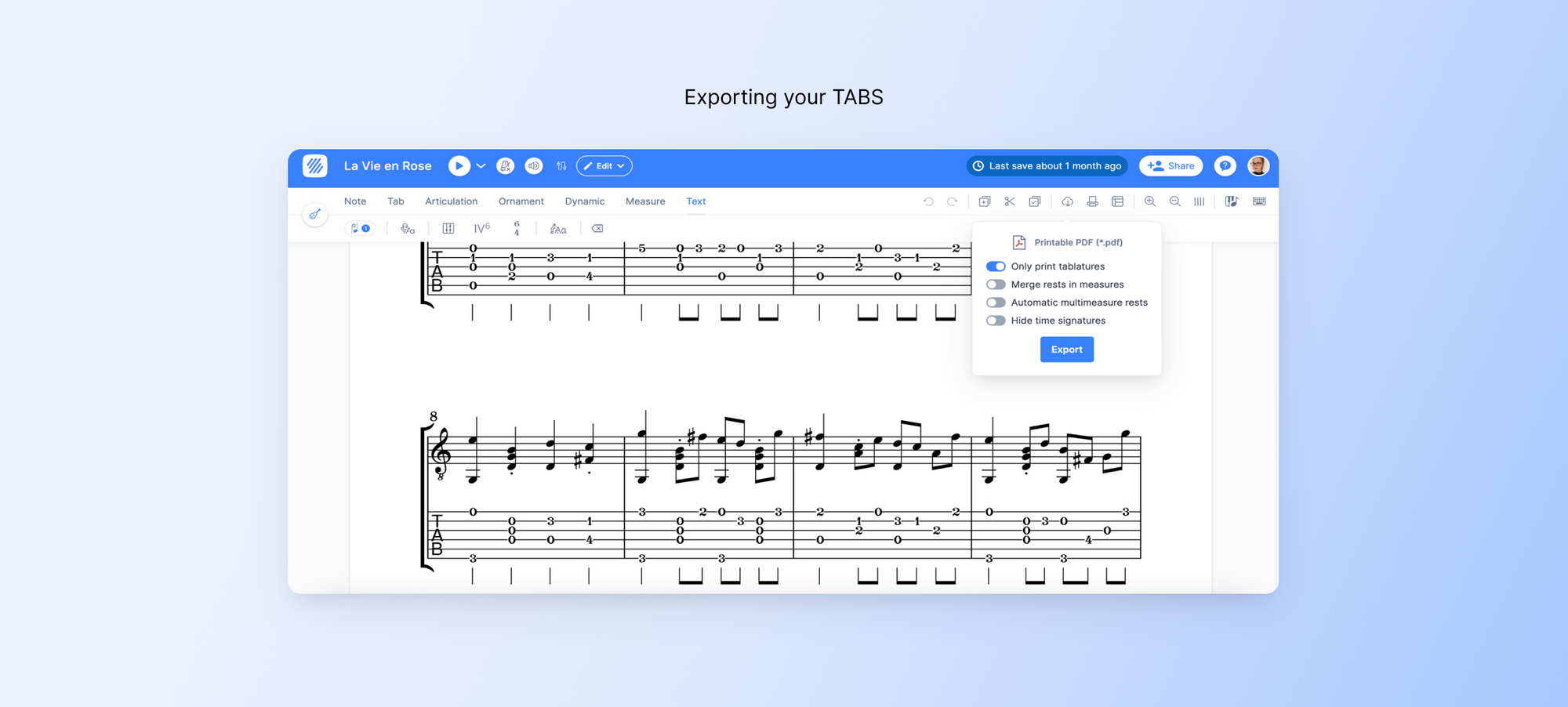 This enhancement ensures that the tabs accurately represent the presence of rests, maintaining consistency and clarity in the exported version.

💡 Learn how to export/print your tabs in this tutorial.


Improved transposition by semi-tones
Transposition in music is the process of changing the key of a piece by shifting all the notes up or down while maintaining the existing musical relationships. It allows musicians to perform music in different keys while preserving the original structure.

In Flat you can transpose your scores by instrument, interval, key and semi-tone. Learn how in this tutorial.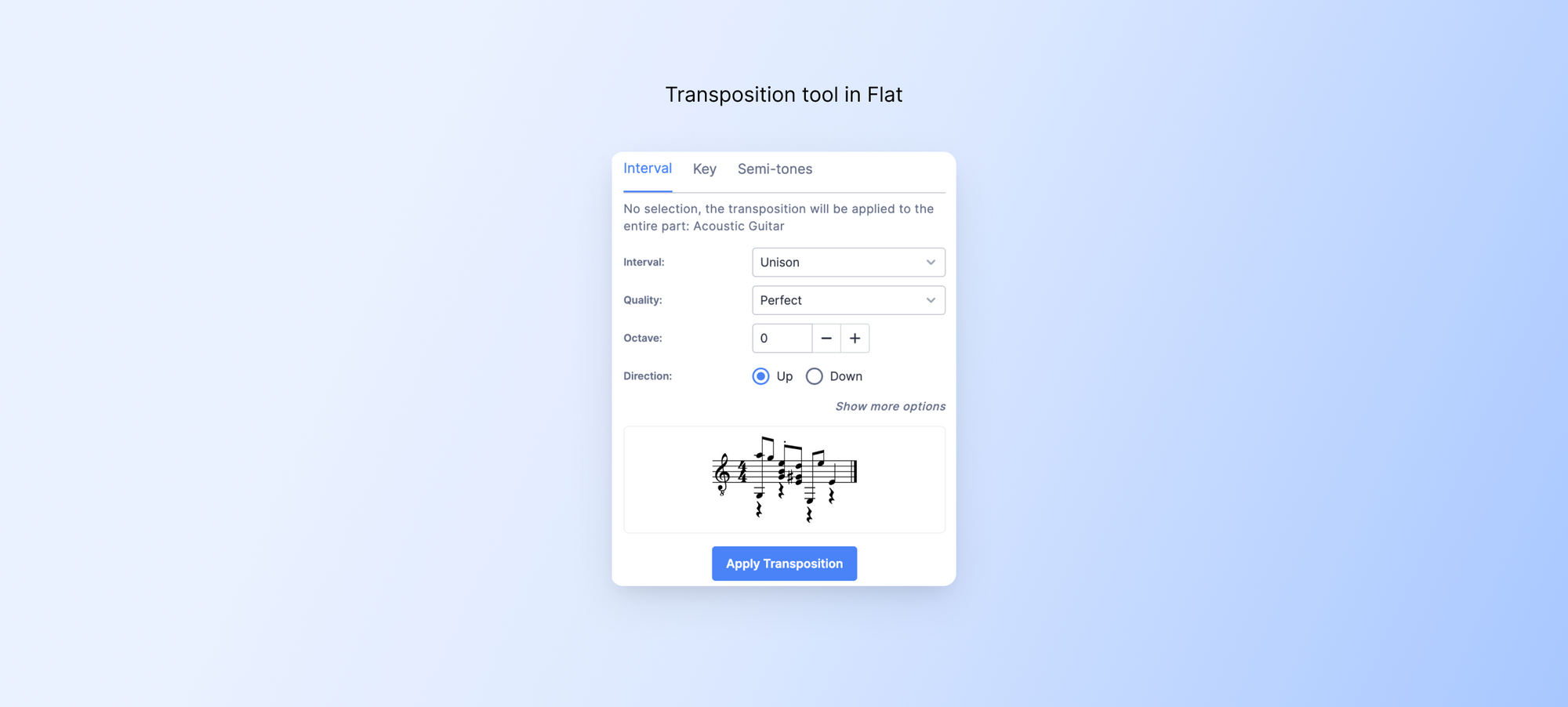 This month, we made significant improvements to the transposition feature by semi-tones. Users now have the flexibility to choose their preferred enharmonic option when transposing by semi-tones. This allows for more precise and customized transpositions, catering to individual preferences and musical requirements.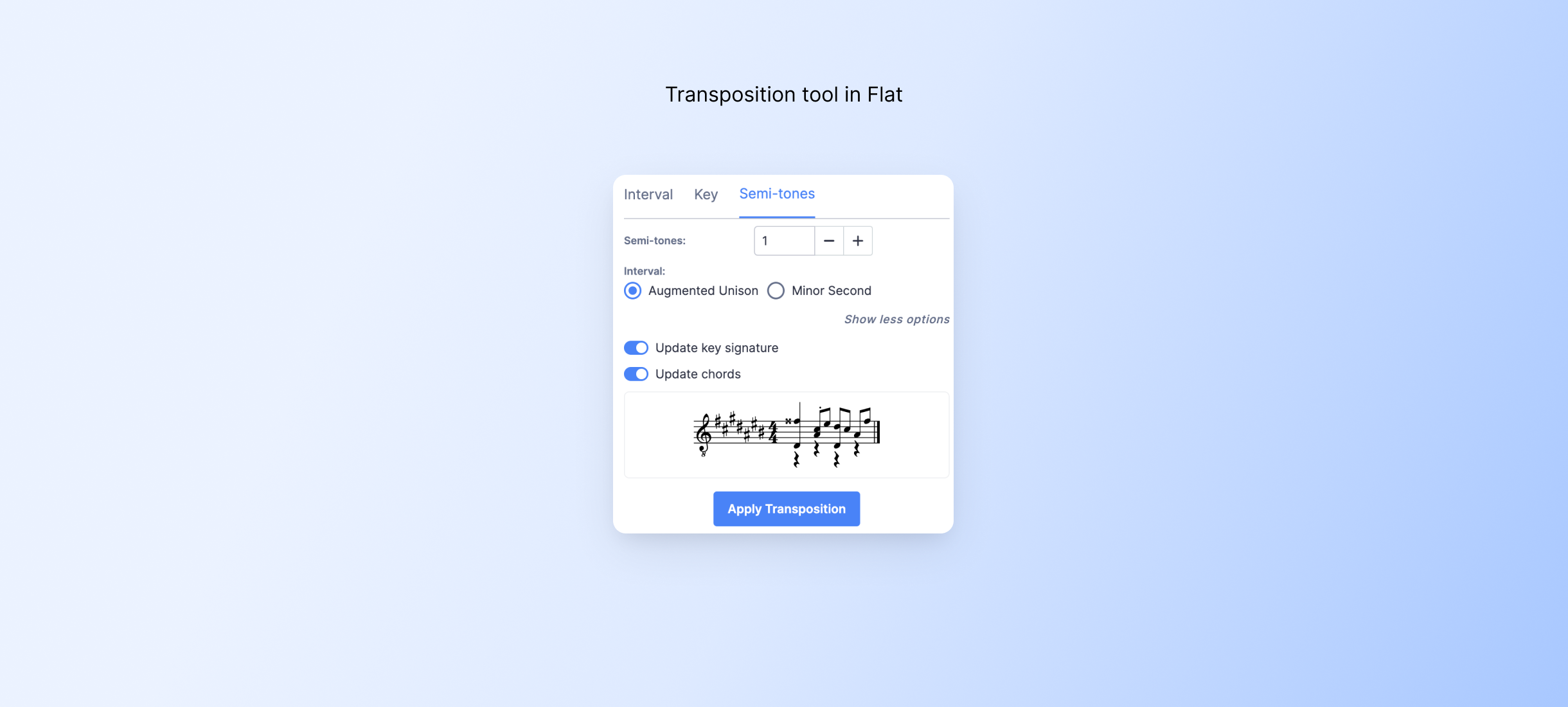 ✨ By providing the option to select the desired enharmonic when transposing, we offer greater control and accuracy in achieving the desired musical outcome.
Web push notifications
We've recently added push notification support for both desktop and mobile devices. These notifications include deep links that quickly direct users to specific categories like score comments.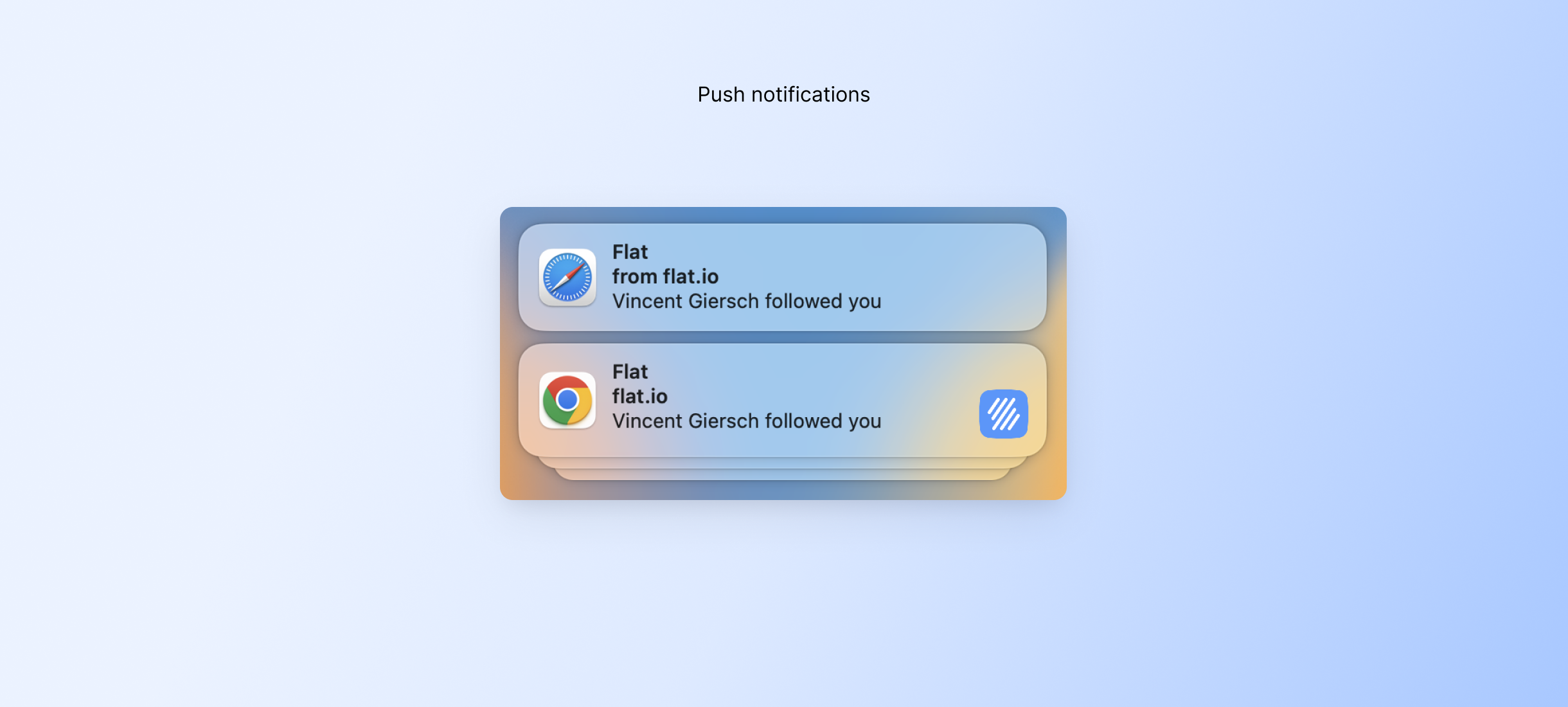 🙌🏻 Stay informed and navigate effortlessly with this new feature.
Mobile apps
Enhancements to the score-saving mechanism
We've identified some issues related to save states within our mobile apps. We've improved our logging mechanisms to accurately track and diagnose the problem so that we can make sure this doesn't keep happening.
Bug fixes
We've successfully squashed the following bugs in our mobile apps:
Proper tab resizing on screen orientation change. Previously, the tabs in the community page did not resize correctly when the screen orientation changed. We fixed this issue, ensuring that the tabs adjust properly to provide a seamless user experience.
Collaborator list functionality in public scores.  Previously, the collaborator list did not work as intended when viewing public scores. We addressed this issue and the list now functions properly, allowing users to view the relevant information while accessing public scores.
These bug fixes will provide an improved and smoother user experience on our mobile apps.

The community
June challenge
Superheroes have a backstory and symbolic power that makes it easy to draw inspiration from them! This month, we invited you to select your favorite superhero and compose a score that embodies their true essence. We'll announce the winner very soon, so stay tuned!

Find out more here.
Composer of the month

This month, we're featuring Miraclx, a rising composer in the Flat community. Discover their story in this article!
New articles

If you haven't read them yet:
✍🏽 From Eurovision to Flat: Caballo Negro, May Challenge Winner

Erik Compte, winner of May's challenge, shares some valuable tips on how to win a Flat challenge.

✍🏽 A Composer's Guide to Effective Music Marketing and Promotion
While this article around music marketing may not answer all your questions, we wanted to help you get started with some valuable tools that can enhance your music career.
Follow us on social media
It would be fantastic if you'd follow us on Instagram and Twitter.
You'll get great content while also supporting our project 🤩.
Feedback?
If you have any questions or suggestions for our product team, please reach out: hello@flat.io.
Have a wonderful day!