Hi Everyone,
We started the new year with new updates. Here is a summary of the main updates from last month, to catch up on all thing:
A new editor for our education users
Last December, we made available our new editor for all individual users. We started the year by making it available to all Flat for Education users. Check out our full changelog to learn what's new in t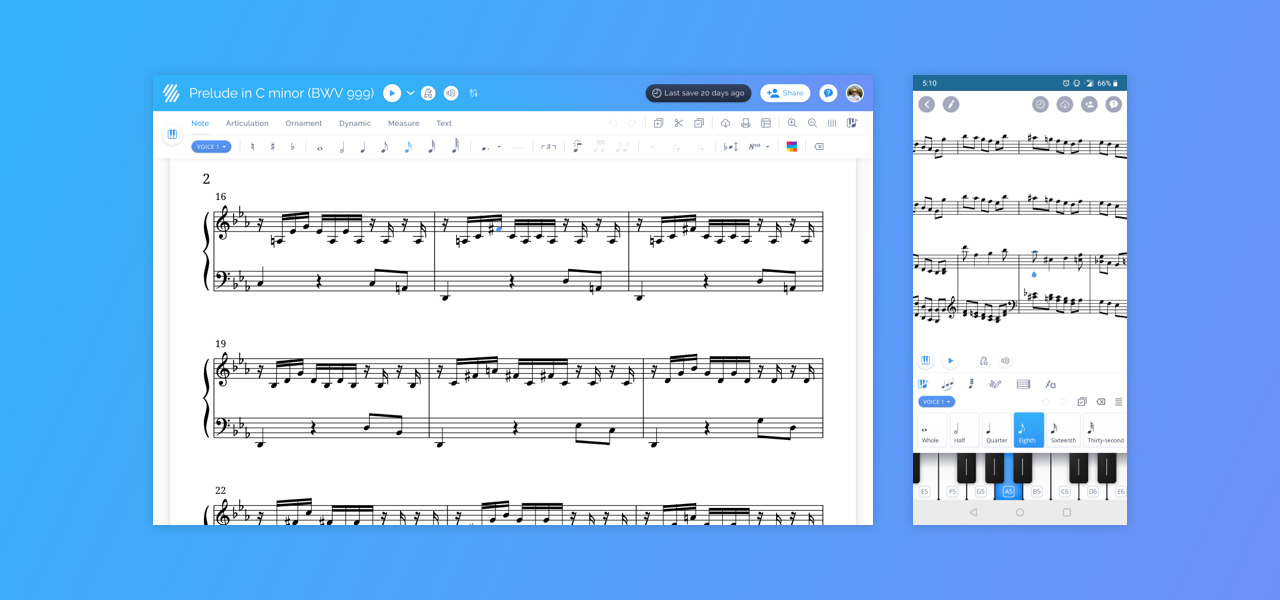 /12/2018-upadte.png)](/the-new-flat-is-available-to-all/)
A new history with a simpler interface
In January, we also released a brand new history for your scores. This one has a better interface to quickly browse the major versions of your scores, as well every single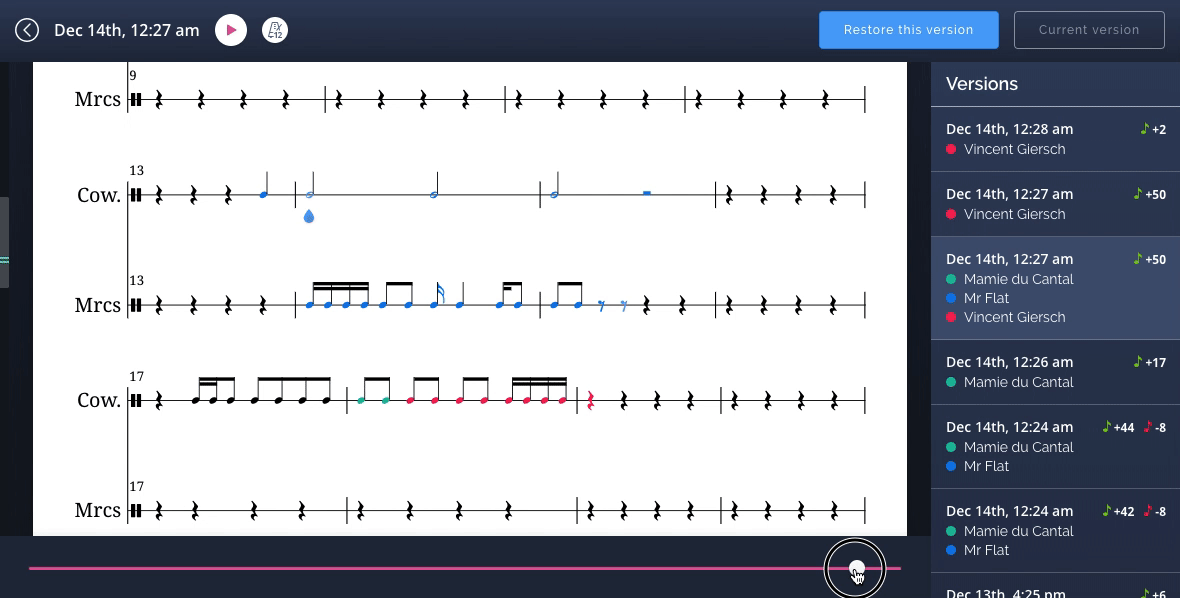 istory-advanced.gif)](/a-better-history-for-your-scores/)
Engraving for the Swing notation
We reworked our Swing feature last month: this one is now available in the Measure toolbar, is now displayed on your scores and can be used on the sections and measures that you want, unlike the previous implementation.

New Keyboard Shortcuts & Listing
Following your feedback, we added new keyboard shortcuts for everyone, here are the new ones:
P                         Toggle Pedal
Home                      Go beginning of part
End                       Go end of part
Ctrl/⌘ + G                Prompt & Go to a measure number
Ctrl/⌘ + Left             Go previous measure
Ctrl/⌘ + Right            Go next measure
Ctrl/⌘ + Shift + Up       Go previous staff
Ctrl/⌘ + Shift + Down     Go next staff
Alt + ?                   Display shortcuts
Shift + Alt + Left        Shorten current duration
Shift + Alt + Right       Lengthen current duration

You can list them by pressing Alt + ? in the editor, or clicking on the ? on the top right of the editor and choosing Keyboard Shortcuts. A printable version is also available in our Help Center.
We reworked the listing of these keyboard shortcuts to make it easier to browse and read: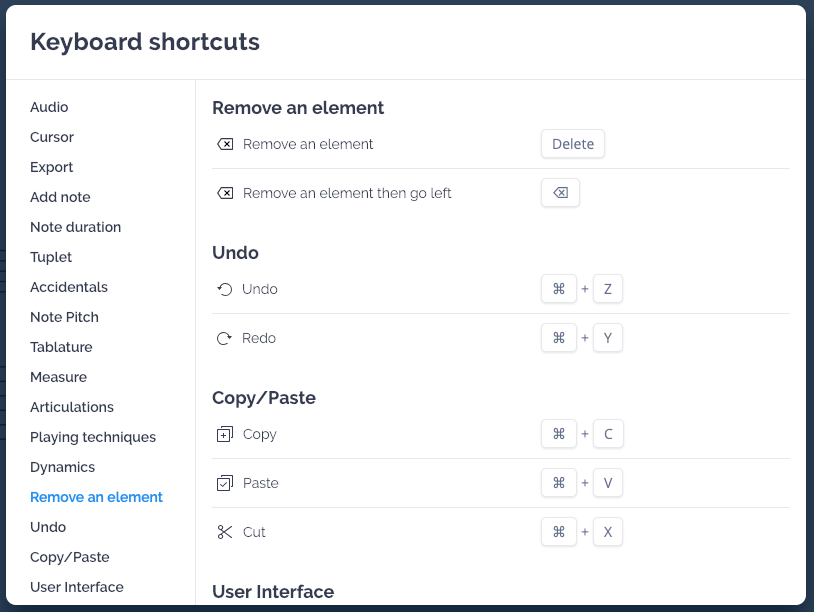 Articulations on a selection of notes
We improved the articulations addition/removal: you can now select multiple notes and add the same articulation on all the selected notes in 1-click:
Chords
We've made new chords available to our suggestions list:
C7(b5b9)
C(#5)
C6/9
C6/9(#11)
Cmaj7(#5)
C(sus4, add9)
C(sus4,add11)
iOS app update (2.5.14)
We released an update of our iOS app coming with a new look for the library view also optimized for iPad users. This version comes with bug fixes as well as performance improvements, you are now able to play "Violin Lead" instrument.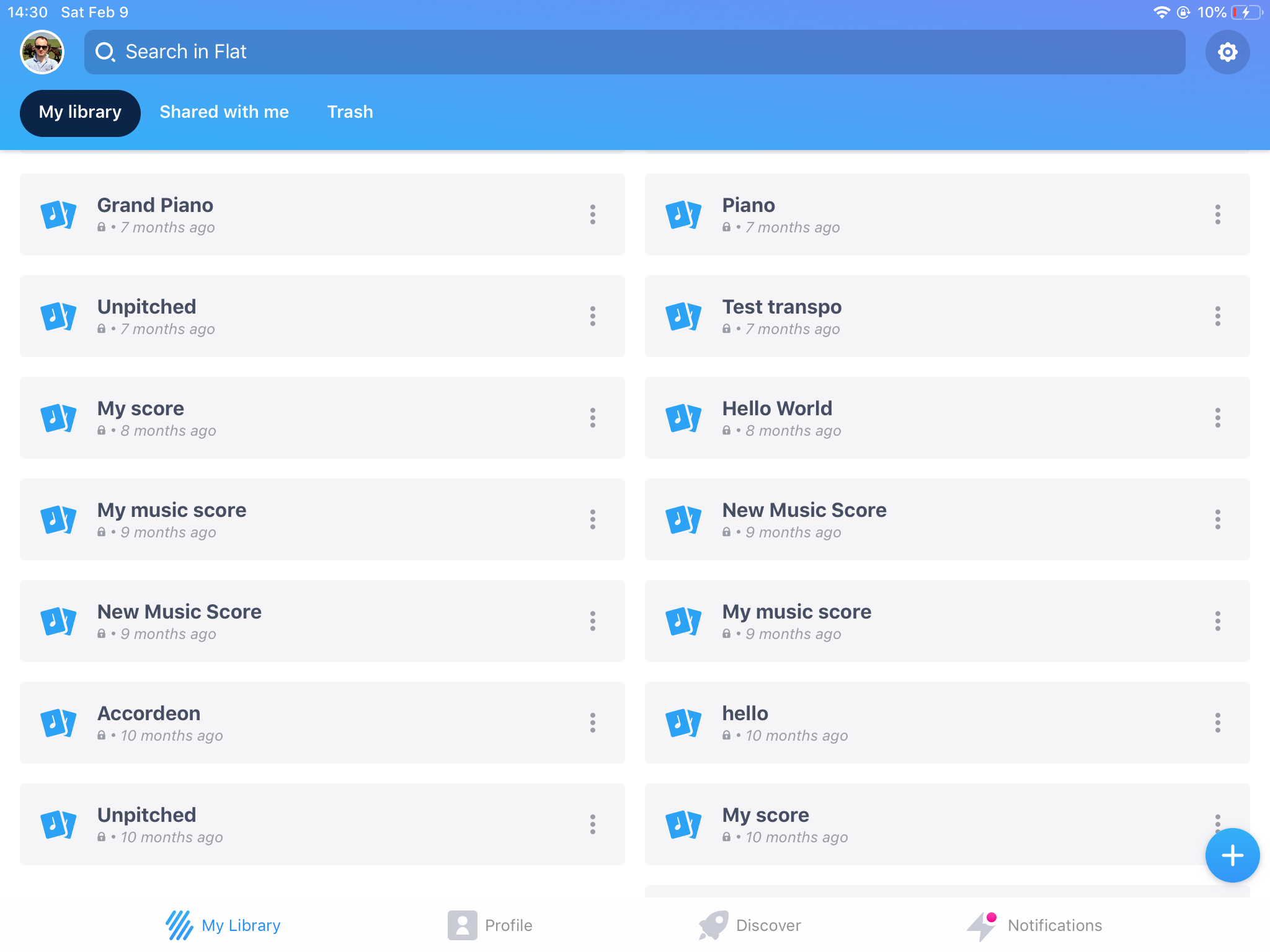 Google Docs & Slides Add-ons
We've updated our Google Docs & Slides add-ons:
A new template for Ukulele Tabs is now available;
The padding in inserted images has been improved & reduced, so you don't need to crop them anymore;
The default tempo mark has been removed, you can add it from the "Measure" toolbar if you need one.
These free add-ons allow you to quickly insert some music notation snippets in your documents and presentations. To learn more about how to install and use them, check out our dedicated help page.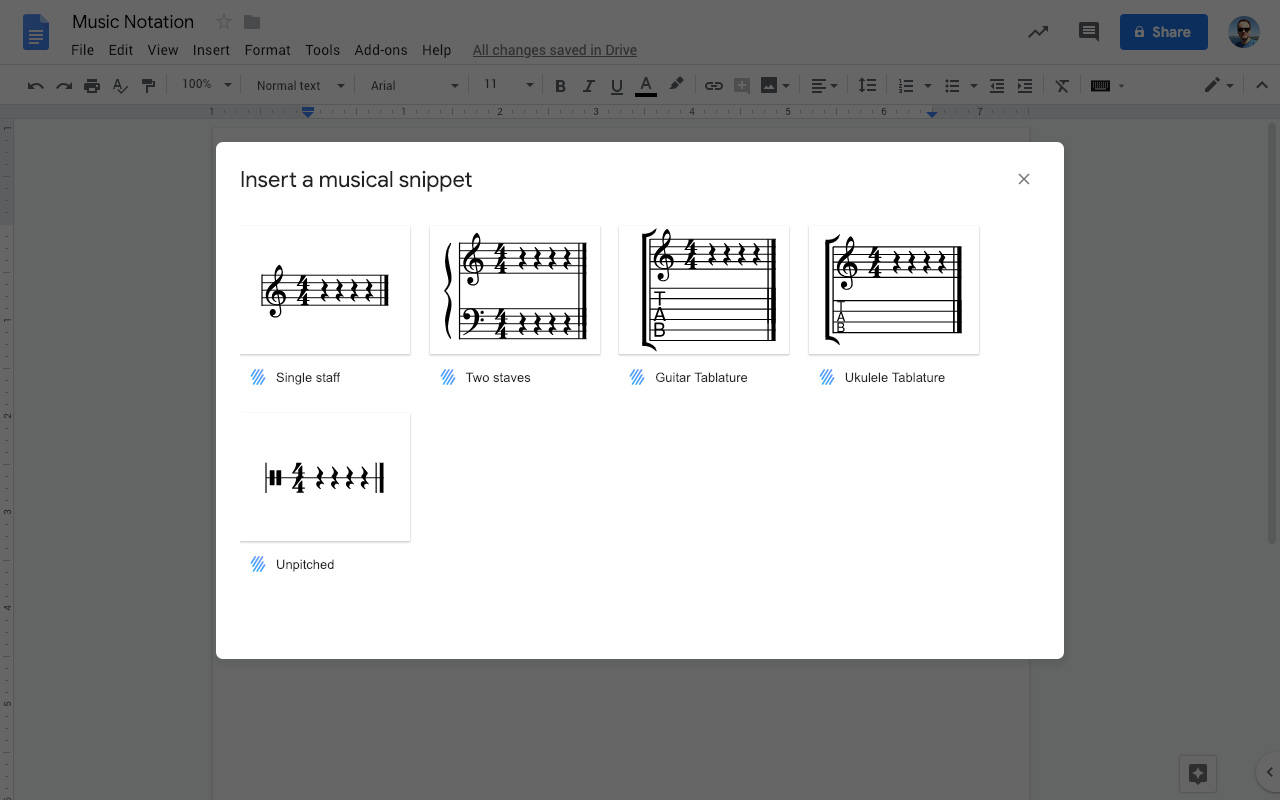 January Events
Last month, we attended the Bett Show in London, UK, and the NAMM Show in Anaheim, CA, US. It was great to meet all of you, and we are looking forward to meeting you there next year!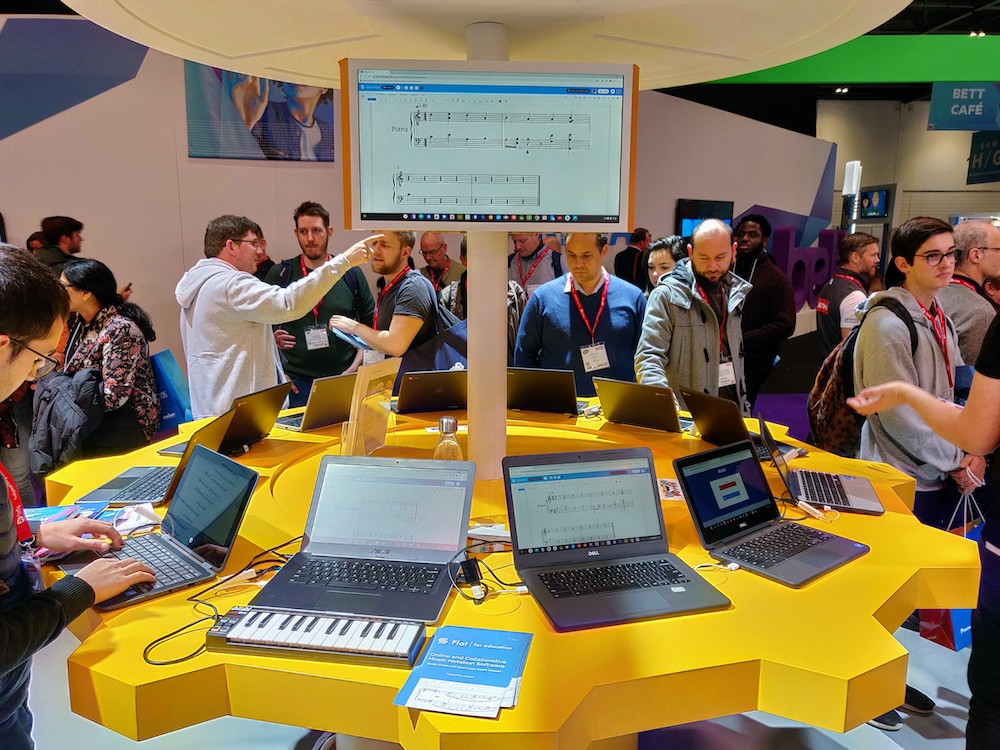 Thanks again for all your feedback, we always love to hear from you! If you have any comments or suggestions, please drop us a line at hello@flat.io.
Cheers,
Vincent & The Flat Team