Flat for Education's Google Add-on is now live. 💚 Discover how to use it to create music notation snippets in Google Docs and Google Slides.
What is Music Snippet?
Many of you are familiar with Flat for Docs. It was launched in November 2017 to help music educators create composition-focused lesson plans and music theory assignments on Google Docs & Slides. Having grown to include more than 9M users worldwide, we thought it was time to improve the user experience around this product. Here are the major updates:
Name change. Flat for Education for Docs was too long (and with "for" used twice!). We needed a new name to go with our product upgrade – hello, Music Snippet 👋
Color change: We chose contrasting colors to ensure accessibility for all, regardless of potential disabilities or the user's device.  
Ability to connect to your Flat For Education account. Users can access their entire sheet music library and save & edit their creations. The best part is that connected users can access all the editor functions! This was specifically designed to help our music educators and learners save time and create more engaging resources without redundant tasks!
Easily import your creations. Yes, you can import scores and tablatures – we support MusicXML (XML / XML) and MIDI (mid / midi) files. For more formats and information, check out this page.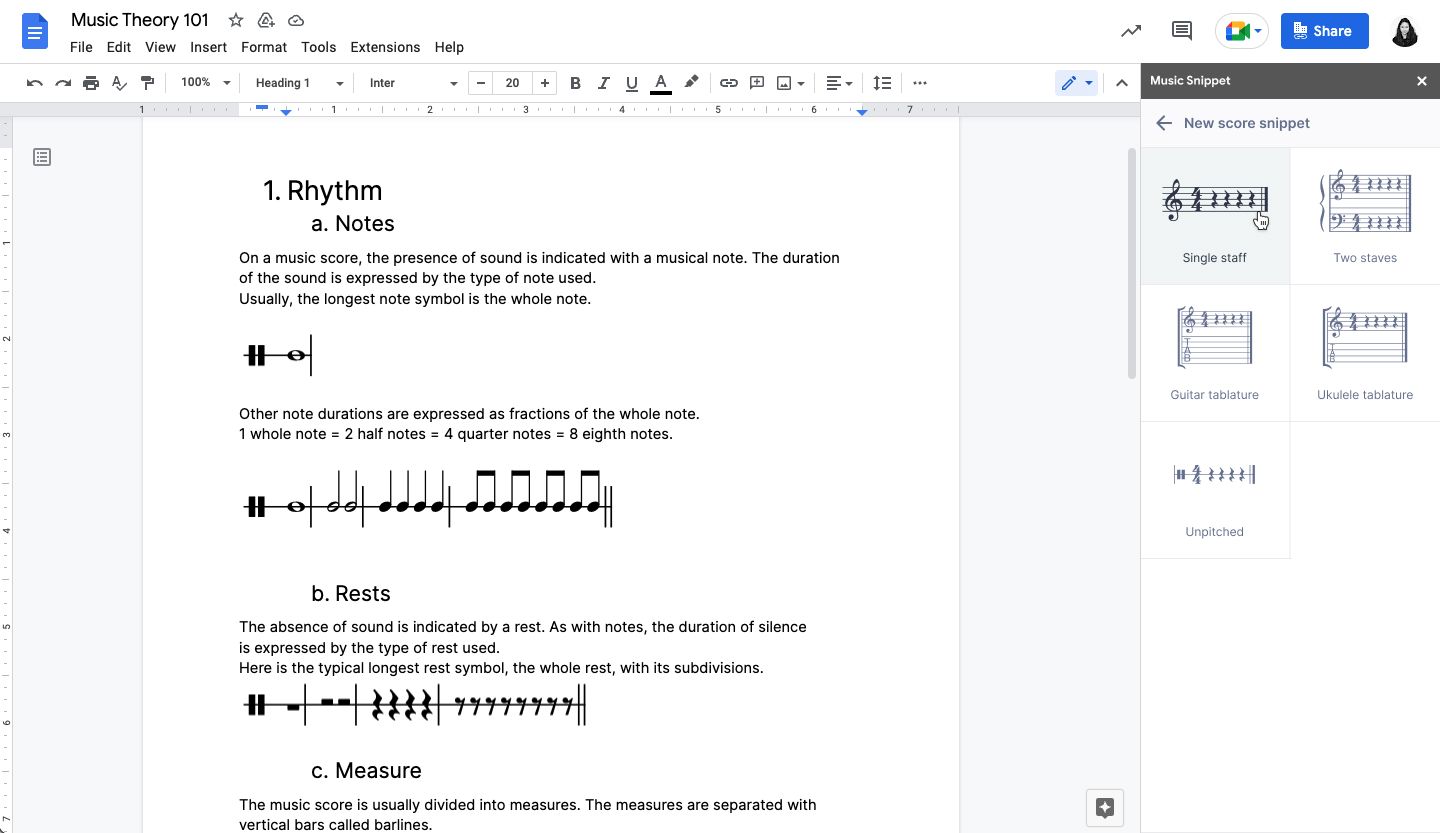 How to get started?
Intuitiveness is one of Flat for Education's core values, and Music Snippet was designed with that principle always in mind.
In Google Slides or Google Docs, go to your add-ons menu and select "Get Add-Ons".
Search for "Music Snippet" and install.
When you are ready to use Flat for Education, return to your add-ons menu to select "Music Snippet" and "Open Music Snippet" From there you can start creating!
Once you've finished creating, select "Add to document" to insert your composition as an image within a document.
Flat for Education users can connect their account to the Music Snippet add-on, allowing them to use the full Flat for Education editor. Additionally, this will allow users to edit compositions and save them in their library.
💡
Are you currently using Music Snippet? Would you like to share your experience with us and help inspire teachers around the world? Write to us at
hello@musicsnippet.com
and get the conversation started.
Thank you all for your immense support during our latest launch 💞 For more details about Music Snippet, why it's a huge win, and how to set it up (it's really easy!), click here. And stay tuned, as we'll be sharing plenty of ways Music Snippet can be used.
As always, let us know if there is anything we can do to make your experience better. Your feedback is always appreciated!
🚀 Musically Yours,
The Flat for Education team