Hello everyone,
As always, we want to keep you in the loop with our latest Flat product updates:
Editor
A new experience on our Help page
From the beginning, Flat has been built to be as intuitive as possible so you can focus on creating. An important part of making a product intuitive is providing resources that help users make the most of the platform. As you know, we have a support channel (hello@flat.io) where you can reach out to us for any assistance you may need. But we also know it's crucial for you to have access to an easy-to-use help page so you can resolve any questions quickly and effectively. That's why we've given our help page a complete revamp in terms of design, organization, and search functionality.
If you have a question, simply type what you're looking for and browse through our tutorials!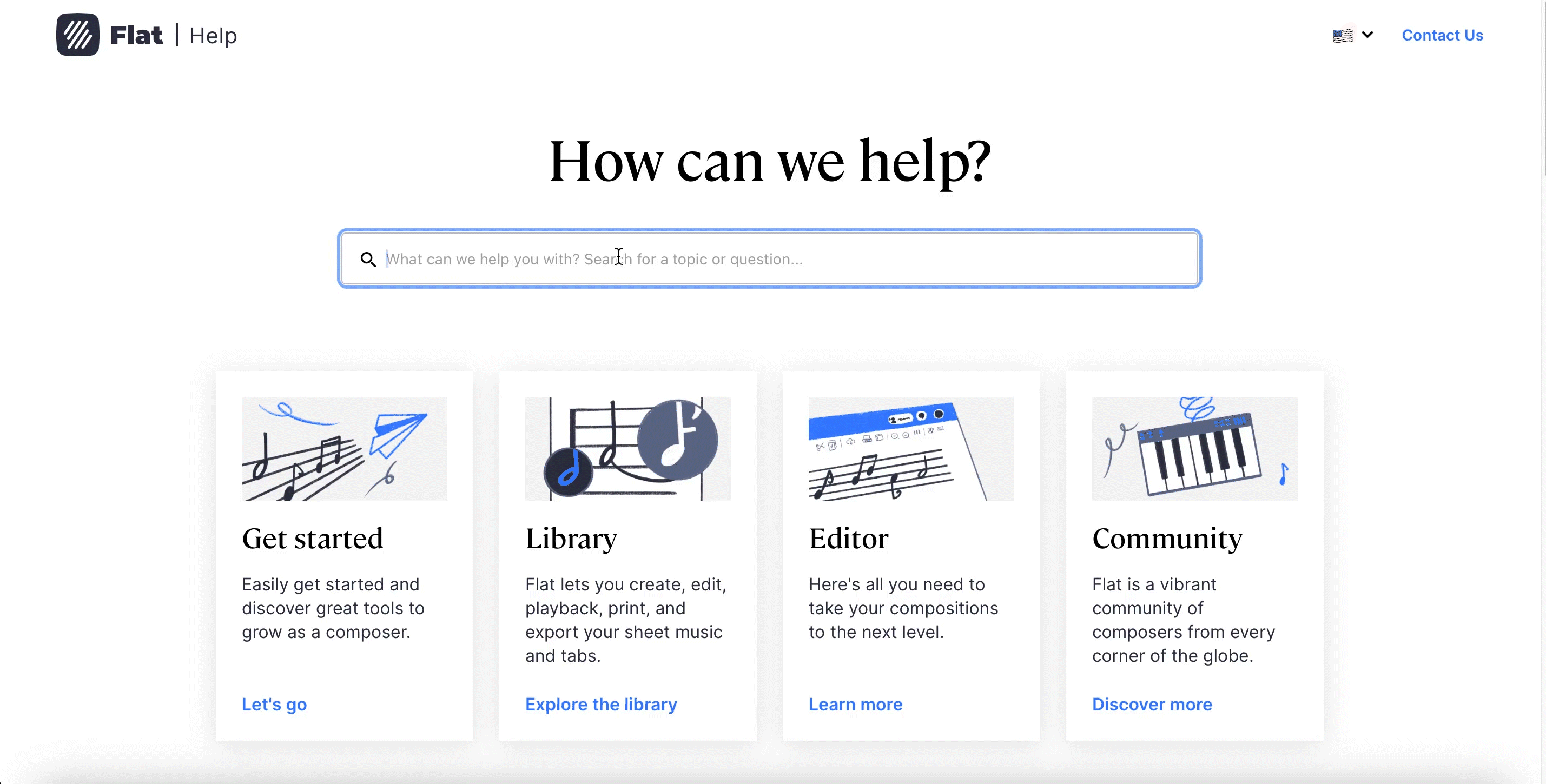 Page breaks
🔥 This is a feature many of you asked for, and we're excited to let you know it's now available!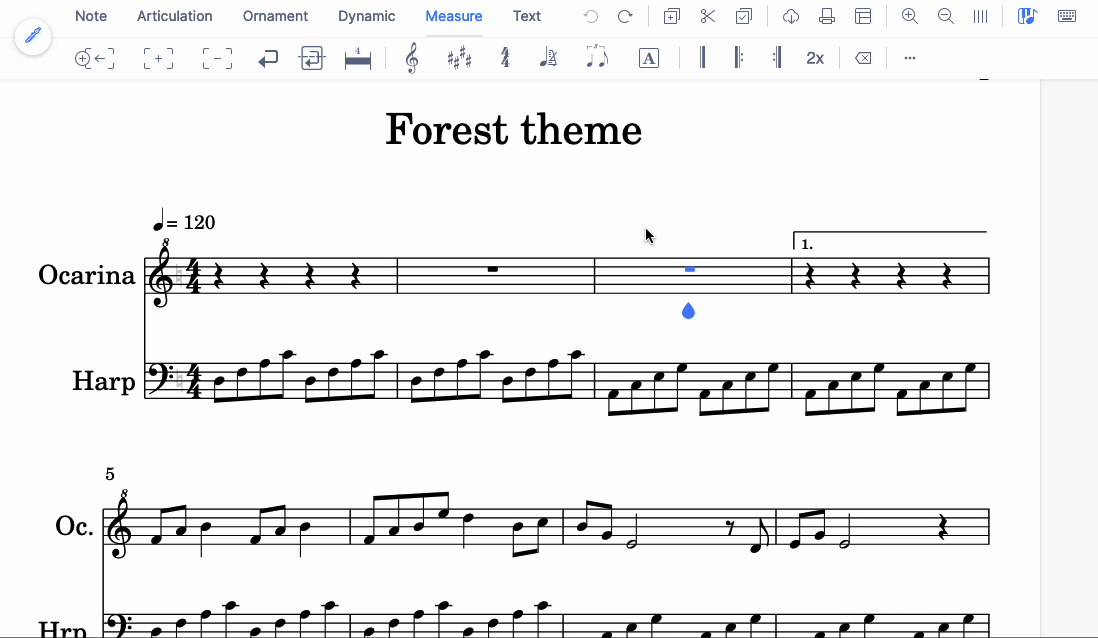 With page breaks, you have more control over how you arrange your musical creations. This new feature allows you to:
✅ Include different scores in one document
✅ Separate orchestration parts into separate scores within one document
✅ Create entire concerts with various movements all in one place
... and much more!
If you're interested in learning how to use this feature, check this out 👇🏼

Alto recorder in F
Some of you have said you'd like to have an Alto recorder in F for transposition purposes. While the alto recorder is typically in concert pitch, having one in F can be beneficial for educational purposes.
This tuning can be particularly beneficial for beginners, especially young students:
Simpler Finger Positions: This tuning makes it easier for beginners to produce clear, accurate notes due to its straightforward finger positions.
Transposition Practice: It provides an opportunity for students to practice transposing music.
Integration into Ensembles: This tuning allows for easier integration into ensembles where other instruments may be in different keys.
Introduction to Transposition: It offers an introduction to the concept of transposition, helping students understand how music can be written and played in different keys.
To find this new instrument, just look for it in the instruments options of your score: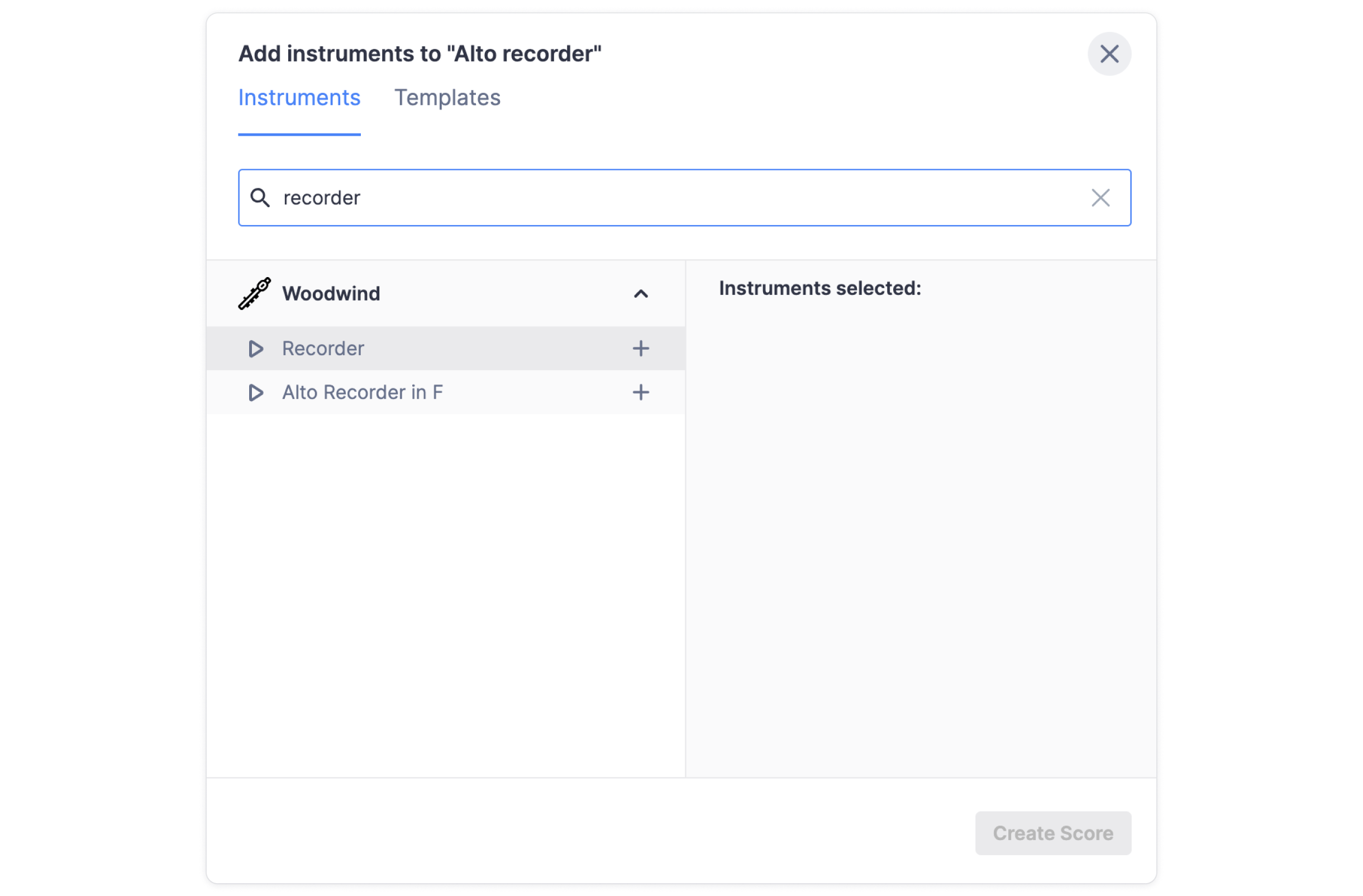 Music Snippet Updates
Music Snippet is the Google add-on for creating and embedding music notation into your Slides and Docs. The free version lets you insert short music snippets in your documents, which is amazing. But there's more...
If you have an education account or a Flat Power account, you can link it with Music Snippet and get access to awesome features that make your content even better! This option gives you the complete notation editor with premium features like colored notes, slurs, bows, Kodaly notation, and more. Plus, you can save, edit, and export your scores in different formats. That's a lot of creative power!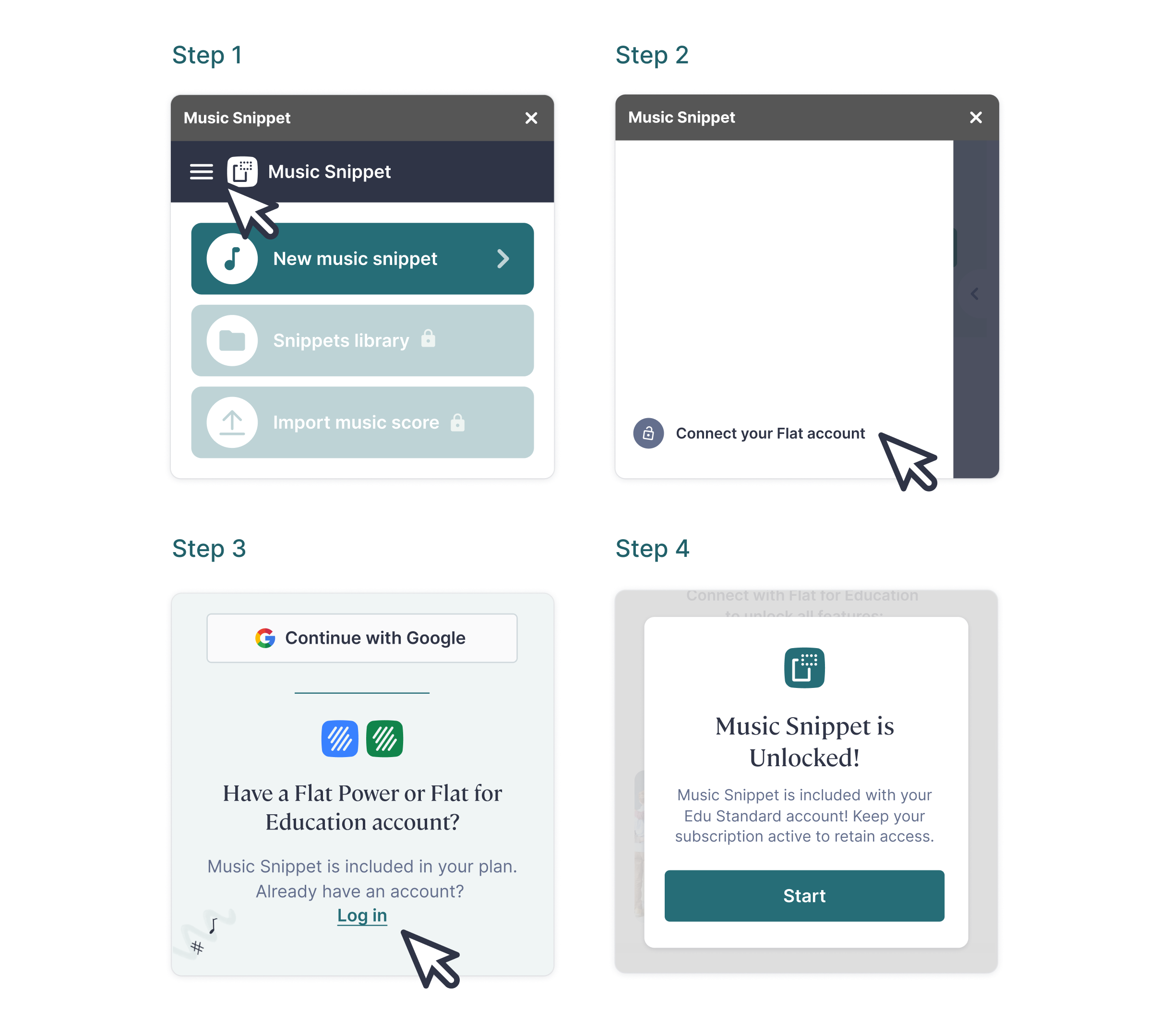 Besides this amazing update, we've created a guide for you to make the most out of Music Snippet:


Mobile apps
Displaying more instruments when opening your score
Previously, when opening a score in horizontal view, we only displayed one instrument to save space and keep your creative space cleaner. However, some of you asked us to show more instruments, as it is easier to manage the score that way. We're always listening to your feedback, so we've enabled the option to display more instruments, as long as there is space available to show them.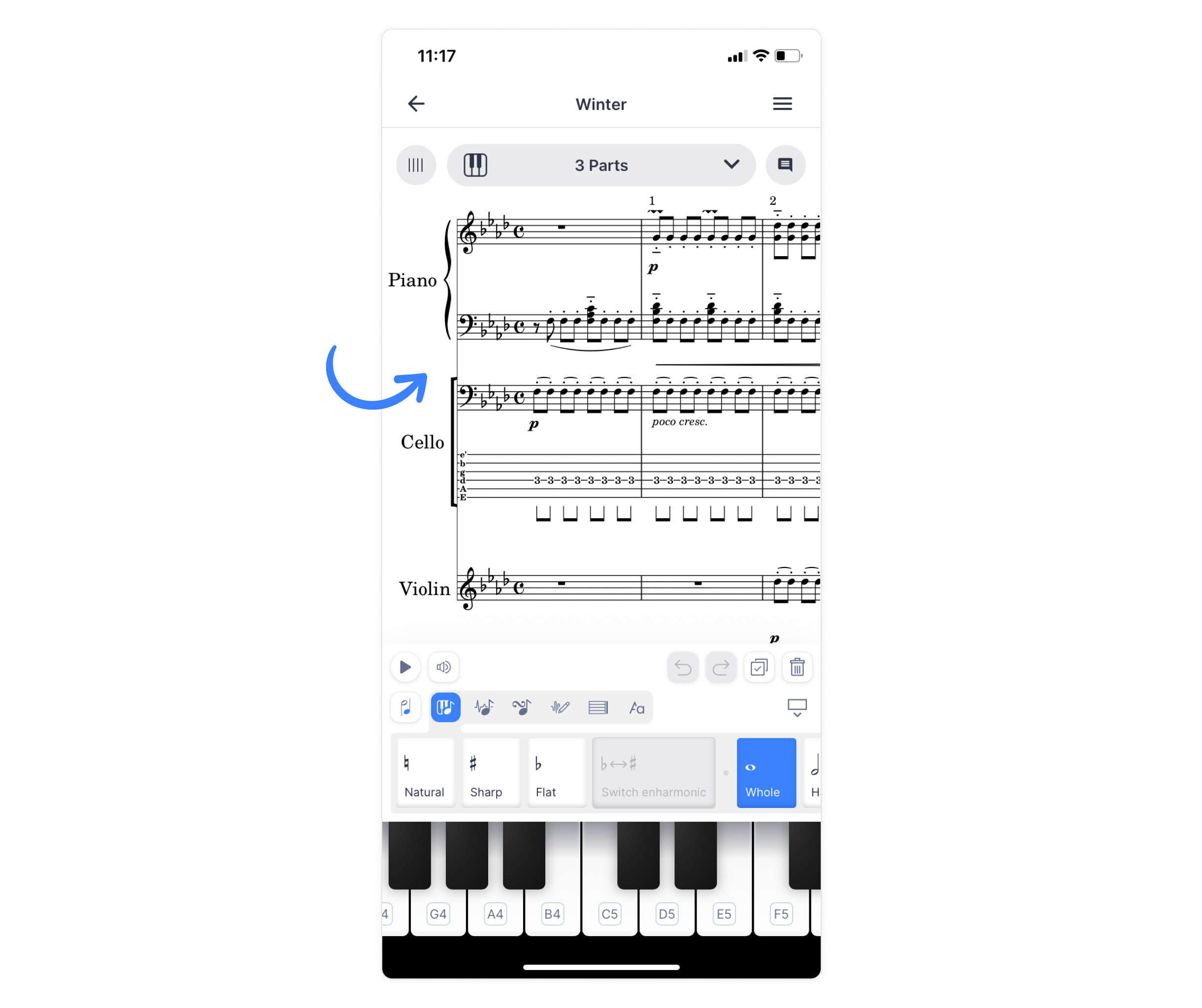 🙌🏻 We hope this will enhance your composition process!
Android Updates
Custom colored note heads
Using colors to learn music is a common and effective technique. It helps beginners learn faster and even helps experienced musicians spot important changes in their music. It's all about finding connections and patterns to improve our learning process.

Now, you have the ability to create your own custom color scheme! This feature was available on the web editor but we've finally enabled it for Android, too.
To begin, navigate to the layout settings. Within this section, you'll discover the option of selecting colors for each individual note pitch. This grants you the artistic freedom to design a musical experience tailored to your preferences.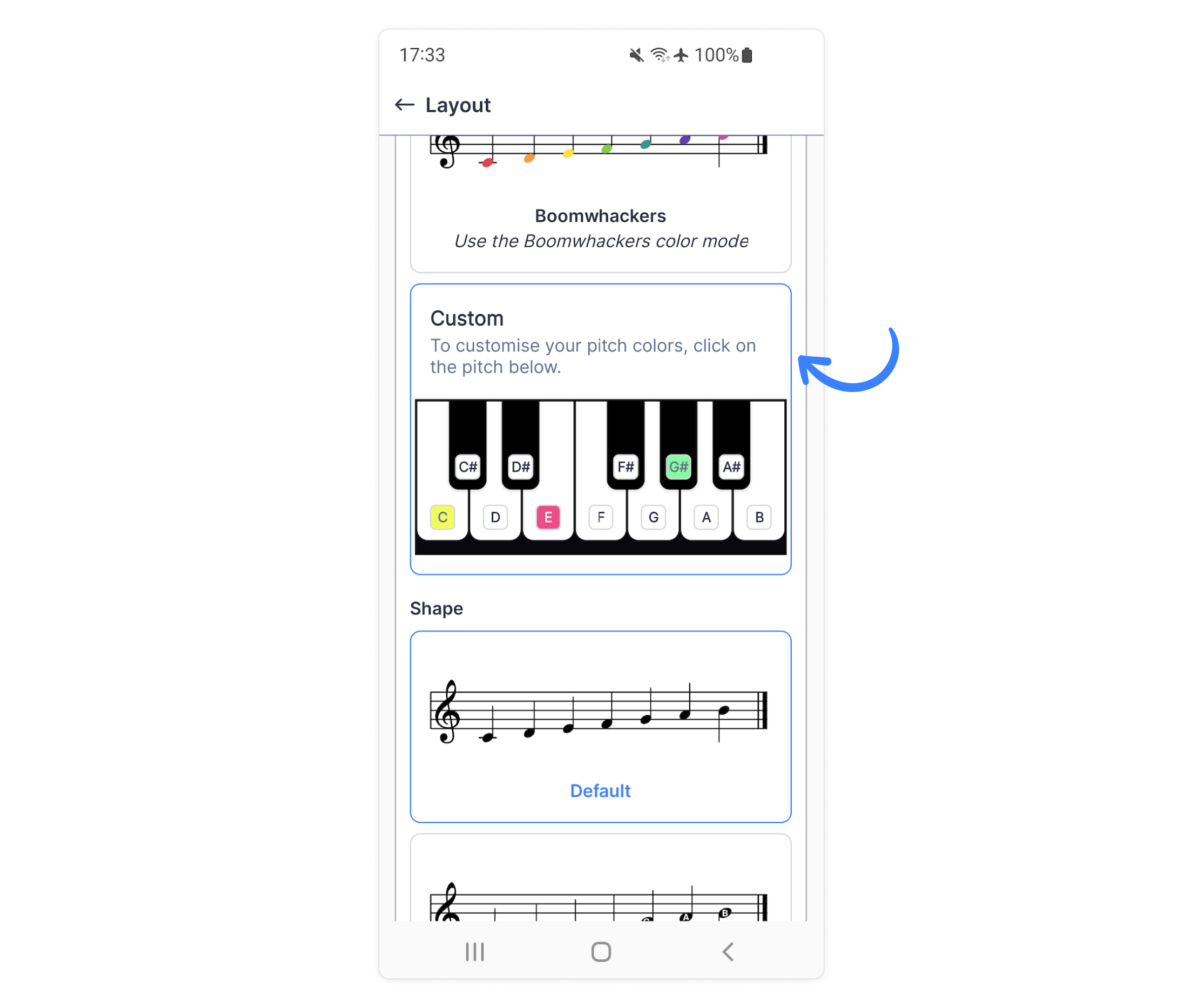 Hotkeys management
We know that the keyboard shortcuts can speed up the composition process. That's why we've enabled the option to connect your keyboard to your Android mobile device so you can compose more smoothly.

Remember, you can customize your keyboard shortcuts to create a personalized composition process that helps you focus on the creative aspect of composing.

Flat Community News
October challenge

In this spectral adventure, we invited you to weave a musical tale that captured the essence of this bewitching season. We got more than 80 submissions this time!

🔥 We'll announce the winner very soon, so stay tuned! Find out more here.
Composer of the month

Our newest composer of the month is Lorenzo William Lejarde, a young composer with a very unique style. He talked with us about his composing journey, including how he developed his unique "techniques" that now let him produce sounds unlike any you've probably heard before.

🙌🏻 Find out more in this article!
New articles
If you haven't read them yet:
✍🏽 How to identify music intervals (series)

✍🏽 Tutteo's 2023 Meetup: Bridging Innovation and User Feedback in Music Notation
Follow us on social media
It would be fantastic if you'd follow us on Instagram and Twitter.
You'll get great content while also supporting our project 🤩.
Feedback?
If you have any questions or suggestions for our product team, please reach out: hello@flat.io.
Have a wonderful day!