Hi everyone,
Flat is now 7 months old and we're growing faster month after month. We experienced a growth of more than 60% last month and we have already achieved the very same by mid-May.
First we would like to thank all of you for your confidence and all the amazing stuff you're already creating on Flat. We can't tell how much energy it gives us!
Last eagerly awaited features such as:
Opened a new range of composition capabilities. There is still a lot to do and we're just at the beginning of the journey.
Growing is great but...
Since the beginning of Flat we spent a lot of time trying to find the perfect balance between developing Flat and being available for each of our users.
We decided to start using Uservoice last December. It took us some time to get organised but we finally made it.
Thanks to this tool the average awaited time moved from 100h to 2.1h!


We're really proud of that number and we know that we can still improve it.
However since we had a really great article written by @mariajesusmusic, our number of Spanish users has just exploded.
We started to receiving tickets fully written in Spanish and unfortunately none of us has enough skills in Spanish to ensure a good support.
Yes - for Flat - google trad isn't good enough 😏.
That's why we needed someone to help us!
So! Please welcome our two happiness heroes!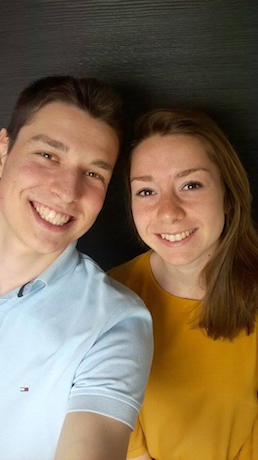 Maxime and Adele are both business French students who are fond of Spanish, Music and most importantly Flat's spirit! They're also instrument players, Maxime types his guitar like no one and Adele produces crazy sounds with her recorder.
From now on they will work with us so as to answer all of your questions and also translate Flat 😀. Feel free to welcome them by writing at hola@flat.io.
If you want to change the Flat's langage just go to your Account settings.
So what's the point ?
We are proud to announce that ¡Flat habla español!
Maxime and Adele join us to thanks all of you for your confidence and your support!
Have a great week!
With love,
The Flat Team